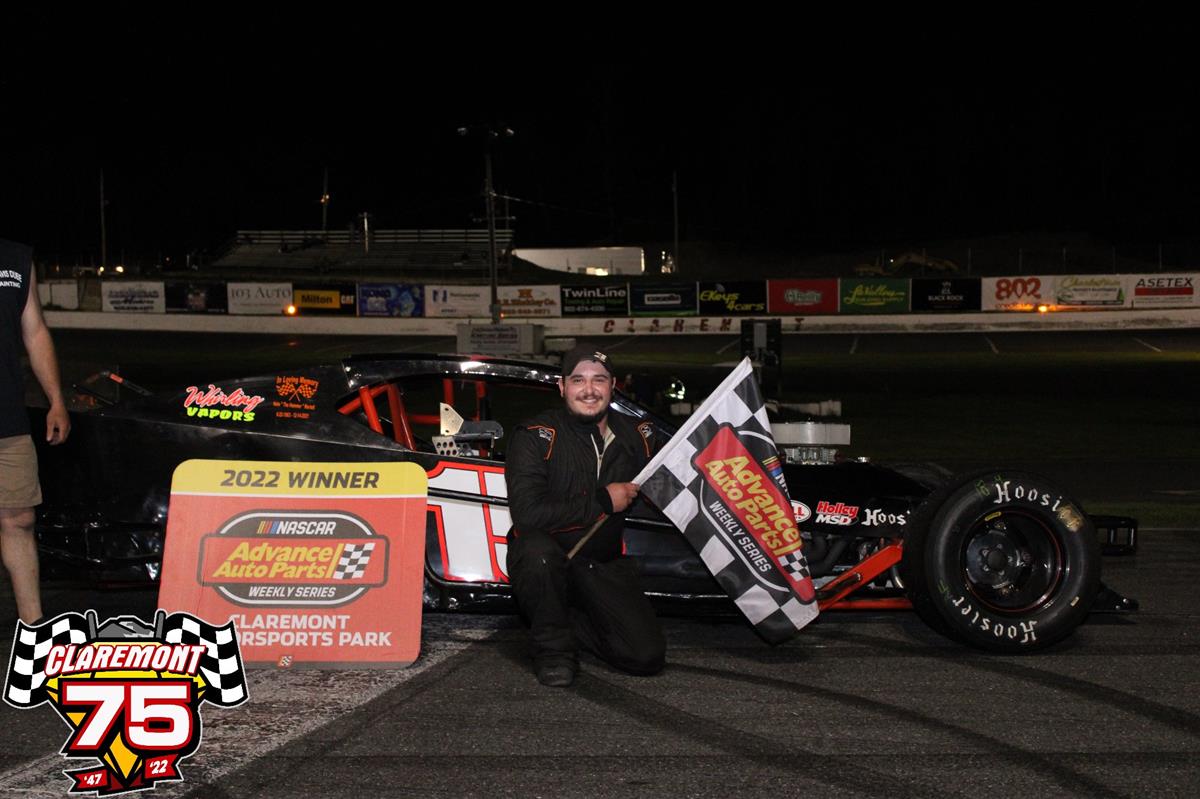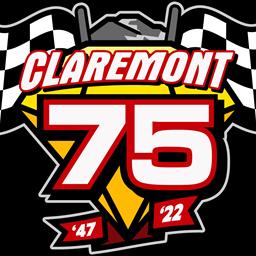 5/14/2022
Claremont Motorsports Park
---
Martell. Three Others Win First of Year Friday at Claremont
CLAREMONT, N.H. – Andrew Martell dominated the NHSTRA Modifieds Friday at Claremont Motorsports Park, setting fast time in qualifying and then driving away from the field to easily win his second career Modified feature at the Thrasher Road speedplant.
Ricky Bly again stayed perfect on the year, blasting to his fourth consecutive Late Model Sportsman victory, and Robert Hagar was solid in topping his first Street Stock main event of the summer.
Greg Millette romped to his second 2022 Mini Stock victory, while second-generation pilot Nolan McClay scored his first win of the season in the Pure Stocks, and Steve Miller earned his third victory lap this campaign in the Six Shooters.
And, while it may have been Friday the 13th for the rest of the 25-car Red Neck Enduro field, it was business as usual for Drake Nelson.
Nelson, who won everything in sight in last season's Enduro season, picked up right where he'd left off, lapping the field in Friday's 50-lapper to finish far ahead of runner-up Xander Stillwell.
Martell, a winner here last year the Modifieds, was just too much for the rest of the thin field Friday. After setting fast time in qualifying, he started up front in the open-wheel 30-lapper and just drove away, Trevor Bleau was second under the checkers, and Aaron Fellows notched his second top-three of the young season.
R.E. Hinkley Street Stock rookie Haydon Grenier, the speedway's Mini Stock champ a year ago, led the first ten circuits of Friday's 25-lapper. Veteran Robert Hagar, rocketing low along the backchute, then took over and held strong to earn Friday's victory lap tour of the third-mile.
Division super man Dave Greenslit, charging from row five, claimed second on lap 21 but could advance no further in the caution-free event. Brandon Gray's late-race charge earned him a season-best third, just ahead of opening-weekend winner Cody Schoolcraft and Grenier.
The Route 103 Auto/Heads Up Motorsports Late Model Sportsmen? Who else, Ricky Bly came from the back of the field twice to win Friday's 25-lapper with ease and stay undefeated on the year.
This one was slowed by four cautions and a red, but none of that could keep Bly from his destination in victory lane. Cam Curtis, who'd taken the lead from Steve Bly on lap five, held strong in second after giving way to Ricky Bly 13 go-rounds later, and Craig Smith – the original Craig Smith – was strong again Friday in third.
Nolan McClay passed Bruce Jaycox to take the lead on lap eight of the LaValley Building Supply Pure Stock 25, then survived a late-race restart to score his first win of the summer. Jaycox, who'd fired from row three of the 18-car field, was strong in second, and former division champ Kyle Templeton's closing-laps charge earned him third on the night.
The In City Sugar Shack Mini Stock 25-lapper sailed into the books caution-free, with opening-day winner Greg Millette storming to his second win of the summer
Rookie strongman Nick Houle led the first 15 go-rounds, with Millette then firing low into turn three to take the lead and quickly dash off to victory. Houle stayed strong to finish second, with last week's winner, Bradon Morrie, a solid third on the night.
Steve Miller Sr. took the lead from Robert Shaw on lap 11 of the Avery Insurance Six Shooter feature and then pulled away to win for the third time this season. Shaw added to his boatload of runner-up finishes over the past two seasons, and Andrew Scott, in only his second time in the division, came home third.
Claremont Motorsports Park roars back into action next Friday, May 20, when the Peanut's Auto Sales 602 Dirt Modifieds make their second run of the season. The Late Model Sportsmen, Street Stocks, Pure Stocks, and Six Shooters will also compete.
Fans are reminded that one of the season's biggest events is only two weeks away, with the $15,000-to-win Racers Honoring Racers Tour-Type Modified 100 set for Friday, May 27, the first of two big CMP Memorial Day Weekend events.
CLAREMONT MOTORSPORTS PARK MAY 13 TOP FIVES:
LATE MODEL SPORTSMAN: Ricky Bly, Camdyn Curtis, Craig Smith, Jack McClay, Scott Boisvert.
NHSTRA MODIFIED: Andrew Martell, Trevor Bleau, Aaron Fellows, Walter Hammond, Nate Wenzel.
STREET STOCK: Robert Hagar, Dave Greenslit, Brandon Gray, Cody Schoolcraft, Haydon Grenier.
MINI STOCK: Greg Millette, Nick Houle, Bradon Morrie, Sean Lantas, Lane Lantas.
PURE STOCK: Nolan McClay, Bruce Jaycox, Kyle Templeton, Colton Martin, Aiden White.
SIX SHOOTER: Steve Miller Sr., Robert Shaw, Andrew Scott, Ryan Partridge, Eric Griffin.
RED NECK ENDURO: Drake Nelson, Xander Stillwell, Bre Nelson, Travis Hanch, Matt Johnson.
---
Article Credit: Gary Dutton
Submitted By: Toby Batchelder
Back to News