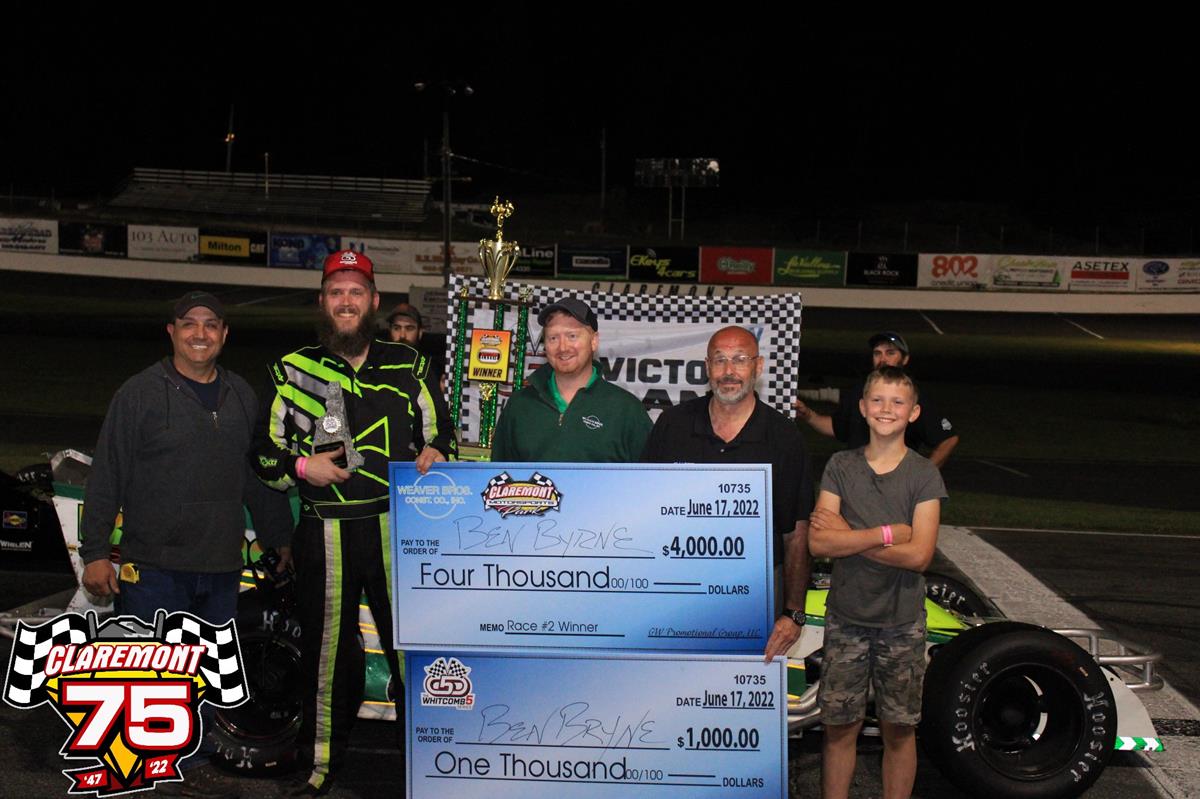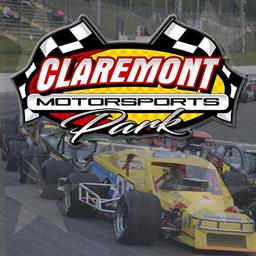 6/19/2022
Claremont Motorsports Park
---
Two First Timers - Bly and Greenslit Repeat Friday at Claremont
CLAREMONT, N.H. – Ben Byrne was the unofficial winner of Friday's Weaver Brothers Construction Modified 125 at Claremont Motorsports Park. While the Dearfield, Mass. hot shoe led most of the way in the night's main event, the race's final outcome was still uncertain pending the outcome of post-race tech inspections.
While the finish of the second race in the 2022 Whitcomb 5 Modified Series was temporarily on hold, what was certain Friday night was that two drivers – Aiden White and Nick Houle – had each taken first-time victory laps on the Thrasher Road speedplant's eighth event of the season.
Former track NHSTRA Modified champion Brian Robie set fast time with a lap of 13.576 seconds in Whitcomb qualifying, with a top-ten redraw putting race-one winner Todd Patnode on the pole of the night's 21-car starting field, taking the green alongside Nate Wenzel and then leading the first 26 laps.
Laps 27-82 saw Byrne at the front, with Robie then setting the pace until Sam Rameau took charge on 101. Byrne was again at the front on lap 121, taking the checkers first in the eight-caution event, followed across the stripe by Matt Kimball and Rameau.
The young teeners – the too-young-for-a-drivers-license brigade continued to write the record book in the LaValley Building Supply Pure Stocks. Friday, it was Aiden White, the runner-up a week earlier, earning his first career victory lap.
Close behind White under the checkers was Colton Martin, himself a first-time winner just a week ago, with two-time 2022 winner, another sub-16 hot shoe, JD Stockwell finishing third on the night. Bruce Jaycox, whose singular age far exceeds the combined ages of the top three, finished fourth.
Ricky Bly dominated the Route 103 Auto/Heads Up Motorsports Late Model Sportsmen again. Taking the lead from Jack McClay on lap four, the Sunapee speedster then soared off to his second win in a row and sixth on the season.
Defending LMS champ Ben Poland got up for second on lap seven but, on Friday, was no match for Bly. Green Mountain Boy Cam Curtis was in the mix all night, coming home third.
Street Stock star Dave Greenslit stormed to his sixth win of the summer Friday. Taking the lead from Andrew Brousseau on lap 16, the two-time defending track champ won for the fourth week in a row.
With the top three the same as a week earlier, Brousseau impressed again with his third 2022 runner-up performance, and Trevor Rocke was strong in third. Brandon Gray got up for fourth out of the final turn, nipping Haydon Grenier.
Bradon Morrie was almost unstoppable in the In City Sugar Shack Mini Stocks Friday. He won his heat race, took the lead from rookie Nick Houle on lap three of the feature and had driven off into a different time zone when fate took over on lap 17.
The event's only caution waved for Morrie as his suddenly sour racer skidded uptrack to the turn-three wall on lap 17, with Houle then taking charge again and speeding off to his first Mini Stock victory. Chris Judd, close behind, equaled his May 6 finish in second.
Steve Miller Jr. led most of the way, and then again when it counted most, Friday to score his second victory of the summer in the Six Shooters. The Grantham racer led the first 16 go-rounds, conceded the top spot briefly to his father, and then held Robert Shaw in his shadow the final two laps to earn the win.
It was Shaw's fifth runner-up finish of the summer, against one win. Andrew Scott was solid in posting the fourth bronze medal finish of his rookie campaign.
Claremont Motorsports Park will return to action next Friday, June 24, when the 75-year-old third mile will host a five-division card of NASCAR Weekly Racing Series events. The New England Antique Racers will also be in town, with post time set for 7:30 p.m.
CLAREMONT MOTORSPORTS PARK JUNE 17 TOP TENS
WHITCOMB 125 MODIFIED (Unofficial at press time): Ben Byrne, Matt Kimball, Sam Rameau, Brian Robie, Trevor Bleau, Todd Patnode, Tyler Leary, Geoff Rollins, Kimmy Rivet, Nate Wenzel.
LATE MODEL SPORTSMAN: Ricky Bly, Ben Poland, Cam Curtis, Craig Smith, Jack McClay, Dylan Zullo, Cory Bly, Greg Belisle, Andrew Campbell, Cody Schoolcraft.
STREET STOCK: Dave Greenslit, Andrew Brousseau, Trevor Rocke, Brandon Gray, Haydon Grenier, Cody Schoolcraft, Matt Sonnhalter, Briana Akusis, Mike Williams, Dennis Greenwood.
MINI STOCK: Nick Houle, Chris Judd, Sean Lantas, Wayne Kendall, Josh Dunn, Dave Pratt, Bradon Morrie.
PURE STOCK: Aiden White, Colton Martin, JD Stockwell, Bruce Jaycox, Travis Sykes, Chris Chambers, Tom Coates, Amy Jaycox, Colton Hull, Doug Nelson.
SIX SHOOTER: Steve Miller Jr., Robert Shaw, Andrew Scott, John Voorhees, Eric Griffin, Steve Miller Sr., Jim Wilson, Tyler Scott, Lucas Bernatchy.
---
Article Credit: Gary Dutton
Back to News