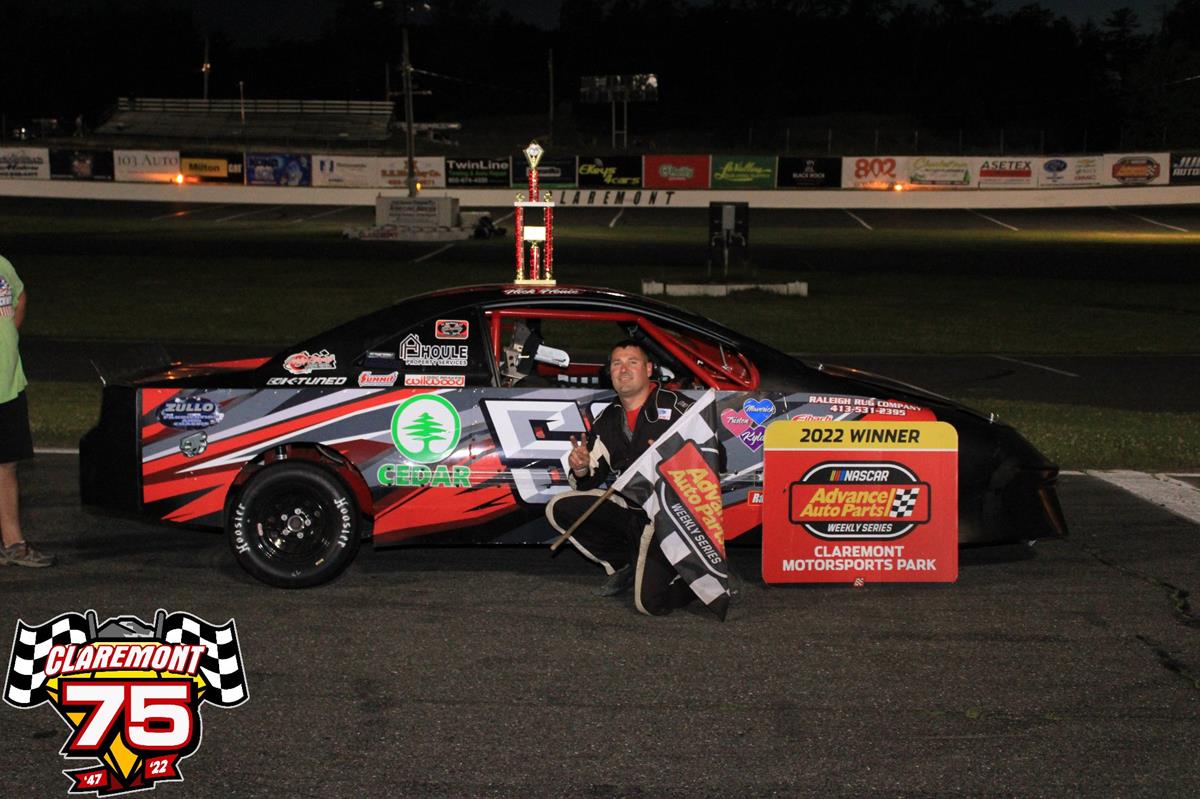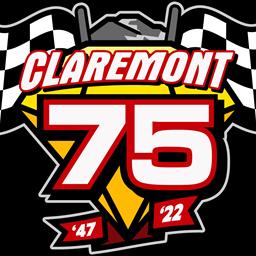 6/25/2022
Claremont Motorsports Park
---
Houle, White Repeat; Bly Stays Red Hot Friday at Claremont
CLAREMONT, N.H. – Making sure nobody had the wrong impression that their first wins a week earlier may have been flukes, rookies Nick Houle and Aiden White both scored back-to-back feature wins Friday night at Claremont.
And then there was Ricky Bly, red hot on the first night of summer racing as he stormed to his third consecutive victory, and seventh of the still-young season in the Route 103 Auto/Heads Up Motorsports Late Model Sportsman main event.
Six Shooter rookie Andrew Scott celebrated his birthday in style Friday, blowing out all his candles en route to scoring his first career victory at the Thrasher Road speedplant, while Dirt Modified veteran Tim LaDuc dominated in winning for the second time this season.
Travis Sykes and Doug Nelson led the 21-car LaValley Building Supply Pure Stock field to the green, with Sykes pouncing all over the opening lead. He would pace the swarming pack until Andrea St. Amour – from row two – took the lead on lap seven.
There was some paint swapped in this one. Sykes got boosted from second on lap 14 and, three laps later, White – firing from row four Friday in search of his second win in a row, - was knocking. The rookie powerhouse took the lead on lap 21.
And, while White had danced closely with St. Amour in taking the top spot, he soon felt the same touch from former track champ Kodi Sabins. In this battle of new versus old, the teenaged White would prevail, leading Sabins under the checkers in a blanket finish. St. Amour finished her impressive run in third, and Chris Chambers stormed into fourth on the final lap, finishing just ahead of Colton Martin.
JD Stockwell, soft in seventh Friday, still moved up in the points parade, finishing the night only six markers behind Nolan McClay.
Ricky Bly was wobbled on lap one of the Late Model Sportsman feature, one of four cars out of sorts in turn one as the race began. No problem. With Jack McClay and Cody Schoolcraft racing hard at the front, Bly charged through the field to claim third on lap 11 and quickly set his sights on Schoolcraft.
Blistering the inside groove, he moved up to second on lap 17, hit the stripe just a wheel short of the leading McClay on lap 22, and then took charge with two to go, with Ben Poland following his lead to claim second on lap 24, as McClay was wobbled back. With Poland second behind the seven-time 2022 winner, Schoolcraft came home third.
Nick Houle took the lead from points leader Sean Lantas on lap four of the In City Sugar Shack Mini Stock feature and never looked back. Lantas stayed in his shadow the final 20 laps, as the pair ended the race even-steven atop the points parade. Wayne Kendall earned his first trophy of the season, finishing at Lantas' back bumper in third.
Andrew Scott led all the way in the Avery Insurance Six Shooter feature, taking the first checkers of his career just ahead of Robert Shaw. With Shaw finding yet another driver to finish second to – albeit a team mate Friday – points leader Steve Miller finished third.
Tim LaDuc led all the way in the Peanut's Auto 602 Dirt Modified feature. Taking the checkers comfortably ahead of heat race winner Marty Kelly. Jeff Parker, hauling all the way from eastern Pennsylvania, was third.
In New England Antique Racer Sportsman action, Bruce Taylor, a former Bay State pilot now hailing from nearby West Unity, put his Pinto bodied 400-cube small block in victory lane. Bear Ridge Speedway owner Butch Elms was second, aboard a 1937 Chevy Coupe in which he scored 55 dirt track victories and eight BRS championships in the 1970s and 80s.
Paul Jacques, from Killingly, CT, topped the NEAR Modifieds, winning a battle of two coupes over Bay State driver Joe Henderson. Longtime Claremont competitor Danny Ferland was third.
FIREWORKS! Next Friday, July 1, Claremont Motorsports Park will host what has long been recognized as one of the top sporting events in the region, with a huge aerial fireworks display capping an eight-division card of racing.
The Street Stocks will lead the charge, competing in the annual 73-lap Richard Tetreault Memorial Race. The NELCAR Legend and Bandelero series will both be in town, and the night's action will conclude with an NHSTRA.King of The Hill Enduro 50-lapper.
Post time for CMP's huge Independence Day Weekend event is 7 p.m.
CLAREMONT MOTORSPORTS PARK JUNE 24 TOP FIVES
LATE MODEL SPORTSMAN: Ricky Bly, Ben Poland, Cody Schoolcraft, Jack McClay, Ryan Bell.
PURE STOCK: Aiden White, Kodi Sabins, Andrea St. Amour, Chris Chambers, Colton Martin.
MINI STOCK: Nick Houle, Sean Lantas, Wayne Kendall, Ryan Carman, Dave Thibodeau.
SIX SHOOTER: Andrew Scott, Robert Shaw, Steve Miller Sr., Tyler Scott, Steve Miller Jr.
602 DIRT MODIFIED: Tim LaDuc, Marty Kelly, Jeff Parker, Lenny Pillsbury, Bob Kilburn.
---
Article Credit: Gary Dutton
Back to News