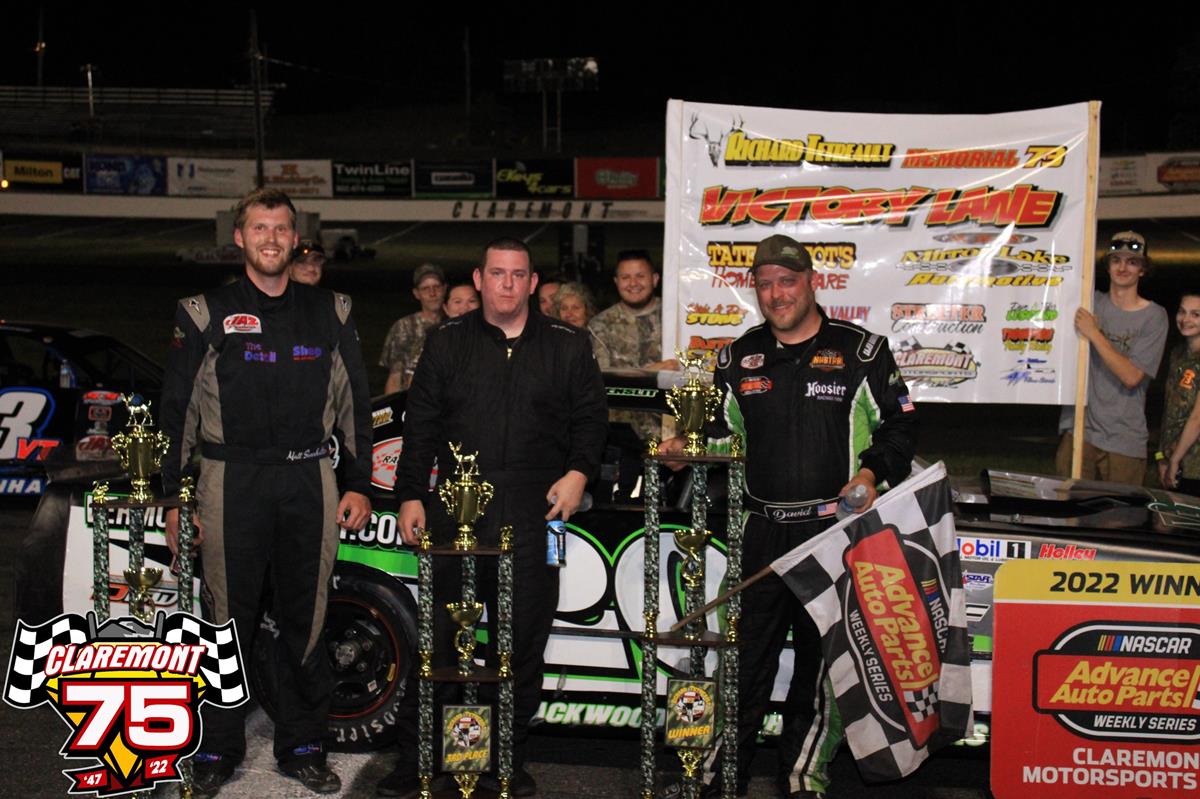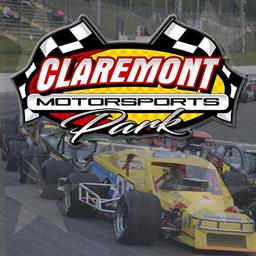 7/2/2022
Claremont Motorsports Park
---
Greenslit Tops Tetreault Memorial, St. Amour Wins First at Claremont
CLAREMONT, N.N. – Dynamite Dave Greenslit continued his domination of the R.E. Hinkley Street Stocks Friday at Claremont Motorsports Park, winning the 73-lap Richard Tetreault Memorial race and its $1,000 top prize in front of the season's largest crowd on fireworks night at the storied Thrasher Road oval.
Also the Tetreault winner a year ago, Greenslit's Friday victory was his fifth in a row this summer and seventh overall. Not to be outdone, Late Model Sportsman star Ricky Bly won for the eighth time Friday.
And then there was Andrea St. Amour, the newest shining star in CMP's galaxy of feature winners.
Matt Sonnhalter and Clark Brooks led the 22-car Street Stock field to the green in the night's main event. Greenslit, firing from row four, took charge on a lap-11 restart and never looked back.
With cone race rules in effect, the battle for second was fast and furious. First Sonnhalter and Andrew Brousseau battled and then Chris Riendeau, from all the way back in row six, joined in.
Sonnhalter reclaimed the deuce spot from Riendeau on lap 61 to earn the runner-up hardware, while Brousseau, who turned many fast laps at the top of the track, finished back in sixth, as the low groove won again. Brandon Gray and Chris Lindquist rounded out the top five, as a quartet of Green Mountain drivers followed Greenslit under the checkers.
In the LMS feature, rocketman Ricky Bly – from row four – took the lead from Jack McClay on lap ten and drove off into another time zone to win for the eighth time this summer. Cam Curtis held onto second all 25 laps to equal his May 13 runner-up performance, with McClay strong in third.
Often the playground of veteran hot shoes like Kodi Sabins and Joey Jarvis in recent years, the LaValley Building Supply Pure Stocks keep rolling out talented teen first-time winners in 2022. JD Stockwell, Colton Martin, Aiden White, and now Andrea St. Amour have all joined that parade.
The race leader a week ago before settling for third, Chelsea, VT's St. Amour took the lead from Travis Sykes on lap 17 Friday and sped off to her first career victory. Teammate Chris Chambers was second, with points leader JD Stockwell third. Previous winners Nolan McClay and Aiden White both ducked pitside on lap four, then returning to post top-ten finishes.
Lucas Bernatchy won his heat and led the first 16 laps of the Six Shooter feature until he and Steve Miller Sr. were picked off by a turn-three lapper. Andrew Scott then took over and charged off to his second win in a row. Robert Shaw – who else – was second, with two-time winner Steve Miller Jr. third.
Mini Stock star Braden Morrie, who's run in all sorts of bad luck recently, had clear sailing Friday, blowing the field away to score his second win of the summer. Desmond Skillings made his first run of the season a good one, impressing in second, just ahead of two-time winner Nick Houle. Points contender Sean Lantas did not take the green.
Xander Stillwell, second back on May 13, was victorious in Friday's nightcap 50-lap King of The Hill Enduro. Matt Gauffin was second, with Street Stocker Brandon Gray strong in third. Master blaster Drake Nelson was not in Friday's starting field.
NELCAR Legend hot shoe Trevor Krause won his second race in a row Friday at CMP. Devin Deschaies charged back from a lap-eight incident to finish second. The Bandalero checkers went to 14-year-old Bay State blaster Richie Helger Jr.
CMP returns to action next Friday, July 8, with the Route 103 Auto/Heads Up Motorsports Late Models competing in the annual Dean Smith Memorial 52. The NHSTRA Modifieds, Street Stocks, Mini Stocks, Pure Stocks, and Six Shooters will also be in action. Post time is 7:30 p.m.
CLAREMONT MOTORSPORTS PARK JULY 1 TOP PERFORMERS
73-LAP TETREAULT MEMORIAL STREET STOCK: Dave Greenslit, Matt Sonnhalter, Chris Riendeau, Brandon Gray, Chris Lindquist, Andrew Brousseau, Clark Brooks, Haydon Grenier, Joe Tetreault, Briana Akusis.
LATE MODEL SPORTSMAN: Ricky Bly, Camdyn Curtis, Jack McClay, Ben Poland, Cody Schoolcraft, Steve Bly, Jeff Murray, Dylan Zullo, Scott Boisvert, DNS Travis Cass.
PURE STOCK: Andrea St. Amour, Chris Chambers, JD Stockwell, Travis Sykes, Colton Martin, Aiden White, Tom Coates, Amy Jaycox, Chris Conroy, Nolan McClay.
MINI STOCK: Bradon Morrie, Desmond Skillings, Nick Houle, Ryan Carman, Skylar Shippee, Wayne Kendall, Eric Pomasko, Dave Pratt, DNS Sean Lantas.
SIX SHOOTER: Andrew Scott, Robert Shaw, Steve Miller Jr., Lucas Bernatchy, Steve Miller Sr., Tyler Scott, Eric Griffin, Montana Miller, Jacob Scott.
KING OF THE HILL ENDURO: Xander Stillwell, Matt Gauffin, Brandon Gray, Jason Sears, John Champagne, Bre Nelson, Travis Handt, Tony Whitcomb, Wyatt Osgood, Travis Sykes.
---
Article Credit: Gary Dutton
Submitted By: Toby Batchelder
Back to News