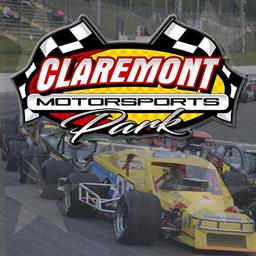 7/9/2022
Claremont Motorsports Park
---
Bly, Brousseau, Houle Big Winners Friday at Claremont
CLAREMONT, N.H. – Ricky Bly continued his 2022 mastery of the Late Model Sportsman division Friday at Claremont Motorsports Park winning for the ninth time this summer as he dominated the night's 52-lap Dean Smith Memorial main event.
But while Bly earned the night's biggest accolades, it was also an action-filled show in which both Andrew Brousseau and Lucas Bernatchy scored his first career victory.
Dallas Trombley and Craig Smith led the 21-car field to the green Friday in the night's 52-lap Route 103 Auto/Heads Up Motorsports LMS Dean Smith Memorial race, also an NHSTRA Race For The Ring event.
Trombley, in his first CMP outing of the summer, grabbed the opening lead, then giving way to hometown hot shoe Hayden Scott on lap four. Eight-time winner Ricky Bly, though, was quickly up to second and knocking.
Taking charge on lap 12, Bly then rocketed off into another zip code as he won his fifth straight, and ninth overall, LMS feature of the summer at the Thrasher Road speedplant. Defending track champ Ben Poland got up for second on lap 17 but again had to settle for a distant second. Scott was third, edging Cam Curtis.
Doing what his late father did many times decades ago, Andrew Brousseau thrilled as he soared to his first career victory in the night's action-packed RE Hinkley Oil Co. Street Stock main.
Firing from row four, Brousseau took the lead from Trevor Rocke on lap nine and never looked back. Starting at the rear in hopes of collecting a $300 bonus, seven-time winner Dave Greenslit got up for second on lap 21 but was no match for Brousseau in the closing laps.
Brandon Gray and Matt Sonnhalter, both in the mix all night, were third and fourth, with Rocke a solid fifth. Rocke and Gray won the night's qualifying races.
Former track and New Hampshire state Modified champion Brian Robie made a guest appearance Friday at CMP, subbing for May 13 winner Andrew Martell, who had more important business elsewhere, spending Friday at a maternity ward while leaving the night's easy work to Robie.
Taking the lead from Trevor Bleau on lap three of the caution-free NHSTRA Modified main, Robie never looked back, scoring his first win of the summer ahead of Bleau and Aaron Fellows.
Rookie Nick Houle and Greg Millette raced inches apart over the last 13 laps of the Mini Stock feature, with week-ten winner Braden Morrie nestled in their shadow. When the friendly top groove of turn four suddenly got very narrow on the final lap, Houle emerged victorious.
It was Houle's third win of the summer. With Millette settling for second, and Morrie's ride detonating on lap 22, Sunshine Towner Sean Lantas earned the third-place hardware.
It was Clan McClay night in the LaValley Building Supply Pure Stocks. Son Nolan led Dad Mark McClay all the way in this one to earn his second victory lap of the summer. Not only did the son and father duo finish one-two, they did it in take-no-prisoners, romping, stomping style.
Andrea St. Amour, victorious a week earlier, finished third, with multi-race winner JD Stockwell fourth and Aiden White fifth. Nolan McClay, who last won here on May 13, also won his heat race Friday.
The night belonged to Lucas Bernatchy in the Avery Insurance Six Shooters, as he dominated his heat race and then came back to score his first-ever CMP feature win. Robert Shaw – who else – was second, and top points man Steve Miller Sr. came home third.
Hailey Maxham made easy work of winning the 15-lap Claremont Karting Series Carleton Plumbing and Heating event. Asher Stoddard was second, and Olivia Smith third.
Claremont Motorsports Park will be silent next weekend, as it pauses after 11 successful 2022 events for its annual summer break. The third-mile speedplant will return to action on Friday, July 22.
CLAREMONT MOTORSPORTS PARK JULY 8 TOP PERFORMERS
LATE MODEL SPORTSMAN: Ricky Bly, Ben Poland, Hayden Scott, Cam Curtis, Cody Schoolcraft, Cole Littlewood, Craig Smith, Travis Cass, Kevin Vaudrien, Dylan Zullo.
STREET STOCK: Andrew Brousseau, Dave Greenslit, Brandon Gray, Matt Sonnhalter, Trevor Rocke, Chris Lindquist, Haydon Grenier, Clark Brooks, Briana Akusis, Erik Smith.
NHSTRA MODIFIED: Brian Robie, Trevor Bleau, Aaron Fellows, Nate Wenzel, Brian Morway.
MINI STOCK: Nick Houle, Greg Millette, Sean Lantas, Josh Dunn, Dave Thibodeau, Bradon Morrie, Dan Young, Skylar Shippee, Carlos Grenier.
PURE STOCK: Nolan McClay, Mark McClay, Andrea St. Amour, JD Stockwell, Aiden White, Colton Martin, Travis Sykes, Chris Chambers, Kyle Templeton, Amy Jaycox.
SIX SHOOTER: Lucas Bernatchy, Robert Shaw, Steve Miller Sr., Tyler Scott, Bucky Thibodeau, Eric Griffin, Madison Laduc, Steve Miller Jr., Andrew Scott.
---
Article Credit: Gary Dutton
Back to News