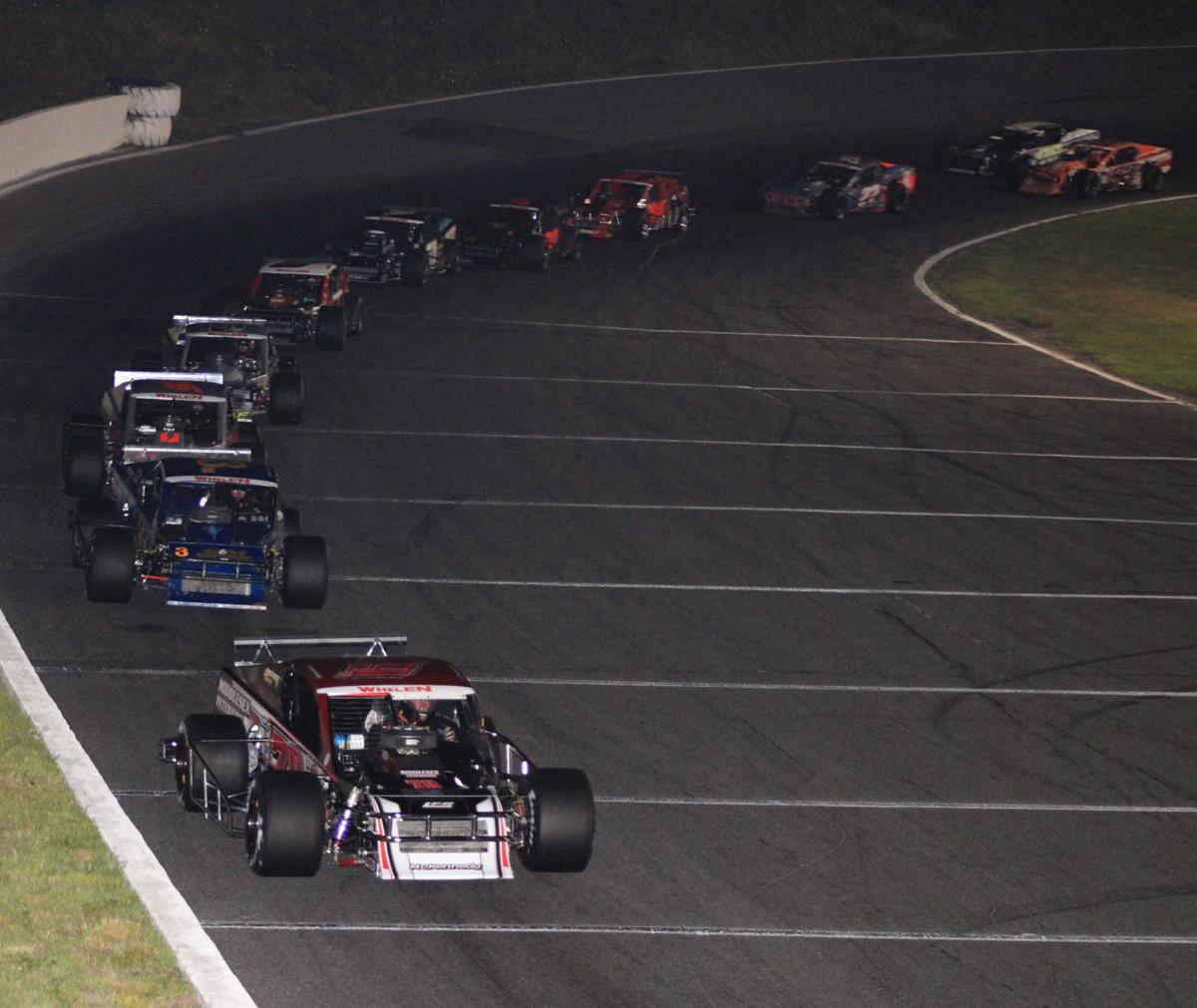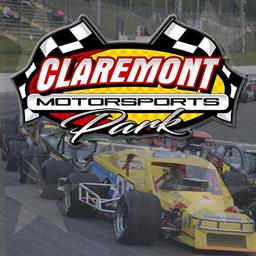 7/31/2022
Claremont Motorsports Park
---
McKennedy Tops Mod 150, Mini Series to Hirschman at Claremont
CLAREMONT, N.H. – Bay State blaster Jon McKennedy knows well the way to victory lane at Claremont Motorsports Park. Until Friday, though, he'd never made the stop in a NASCAR Whelen Modified Series open-wheeler.
A four-time MRS series champion and one-time Tri Track Modified crown winner, the 35-year-old Chelmsford, Mass. won the second Whelen series main event of his storied career Friday at the Thrasher Road speedplant, scoring the victory in front of the historic third-mile oval's largest crowd in decades.
And, while McKennedy won the night's biggest prize, dominating the Clash at Claremont 150-lapper, Matt Hirschman did well for himself too. The Keystone State hot shoe, fourth on the night, picked up a cool $5,000 after edging Ron Silk to top the three-race Granite State Short Track Cup series that concluded with Friday's main event.
Street Stock super star Dave Greenslit, a champ both here and on NASCAR's Division Two short track series, earned his eighth CMP victory lap of the summer Friday, while Mini Stock rookie Nick Houle continued to shine, notching his fourth win of the season.
Pure Stock rookie Colton Martin won for the second time this summer, and Six Shooter strong man Steve Miller Jr. took his third 2022 victory lap on Friday.
Nineteen-year-old Whelen rookie Jake Johnson set fast time to start on the pole in the night's JDV Productions Clash at Claremont main event. Multi-time series champion Justin Bonsignore started beside him as the 150-lapper went green.
Rocketing low through turn two, McKennedy took the lead from Johnson on lap 13, then holding Johnson and Ronnie Silk in his shadow the rest of the way to win the night's main event. With Bonsignore sifted as far back as 12th, only Silk and Johnson could keep McKennedy within reach, but Silk –taking over second on lap 89 – had to settle for second on the night and second in the Granite State series.
With Johnson completing his impressive Clash performance in third, Hirschman came home fourth, and Kyle Bonsignore was solid in fifth. Former CMP track champion Brian Robie ran strongly in the top five before finishing eighth on the night, and fellow NHSTRA strong man Matt Kimball was tenth.
With Erik Smith booted out of the lead before a lap had been completed in the Street Stock feature, row-two starter Trevor Rocke took charge, setting his sights on repeating his victory of a week earlier. Toward that goal, he led the first dozen go-rounds, then seeing his night ending in disappointing fashion as he crashed in turn four.
Andrew Brousseau was then briefly at the point, but Dave Greenslit, who'd started beside him in row four, took charge and left everyone else to fight for his leftovers far behind. Haydon Grenier low-lined to second on lap 20, with Brousseau then holding strong for third.
Nick Houle inched past Bradon Morrie on lap six of the Mini Stock feature and then held him at bay to score his second win in a row and fourth on the season. Morrie, a two-time winner himself, was strong in second, with Monadnock hot shoe Gordon Farnum charging from the last row to claim third.
Heat winner Bruce Jaycox led the first ten laps of the Pure Stock 25-lapper but teen rookie Colton Martin then rocketed to the front on a restart and charged off to his second win of the summer. Fellow teen Aiden White got up for second on lap 18, but Martin had all the bases covered in this one.
With Jaycox holding strong to come home third, Chris Chambers used his fourth-place finish to vault to the top of the points parade on week 13 of the 2022 season.
Nolan McClay and JD Stockwell entered the night tied atop the leader board but, with McClay a no-show, and Stockwell a woefull 16th after nightlong mechanical problems, it was Chambers – still winless on the year – taking over the top spot.
Steve Miller Jr. took the lead on lap three of the Six Shooter feature and never looked back en route to his third win of the summer. Lucas Bernatchy got up for second on lap 18, with Steve Miller Sr. claiming third on the final turn of the caution-free 20-lapper.
Claremont Motorsports Park returns to action next Friday, August 5, when the vintage STAR racers join the Late Model Sportsmen, Street Stocks, Mini Stocks, Pure Stocks and Six Shooters in a full card of racing. Post time is 7:30 p.m.
CLAREMONT MOTORSPORTS PARK JULY 29 TOP TENS
WHELEN MODIFIED SERIES CLASH AT CLAREMONT: Jon McKennedy, Ron Silk, Jake Johnson, Matt Hirschman, Kyle Bonsignore, Justin Bonsignore, Tommy Catalano, Brian Robie, Doug Coby, Matt Kimball.
STREET STOCK: Dave Greenslit, Haydon Grenier, Andrew Brousseau, Brandon Gray, Chris Lindquist, Briana Akusis, Joe Tetreault, Jimmy Zullo, Chris Riendeau, Chris Colburn.
MINI STOCK: Nick Houle, Bradon Morrie, Gordon Farnum, Chris Judd, Kevin Clayton, Josh Dunn, Sean Lantas, David Thibodeau,, David Pratt, Wayne Kendall.
PURE STOCK: Colton Martin, Aiden White, Bruce Jaycox, Chris Chambers, Travis Sykes, Amy Jaycox, Kyle Templeton, Zach Richardson, Jim Rhodes, Colton Hull.
SIX SHOOTER: Steve Miller Jr., Lucas Bernatchy, Steve Miller Sr., Andrew Scott, John Voorhees, Jacob Scott, Eric Griffin, Tyler Scott, Robert Shaw, Madison Leduc.
---
Article Credit: Gary Dutton
Back to News