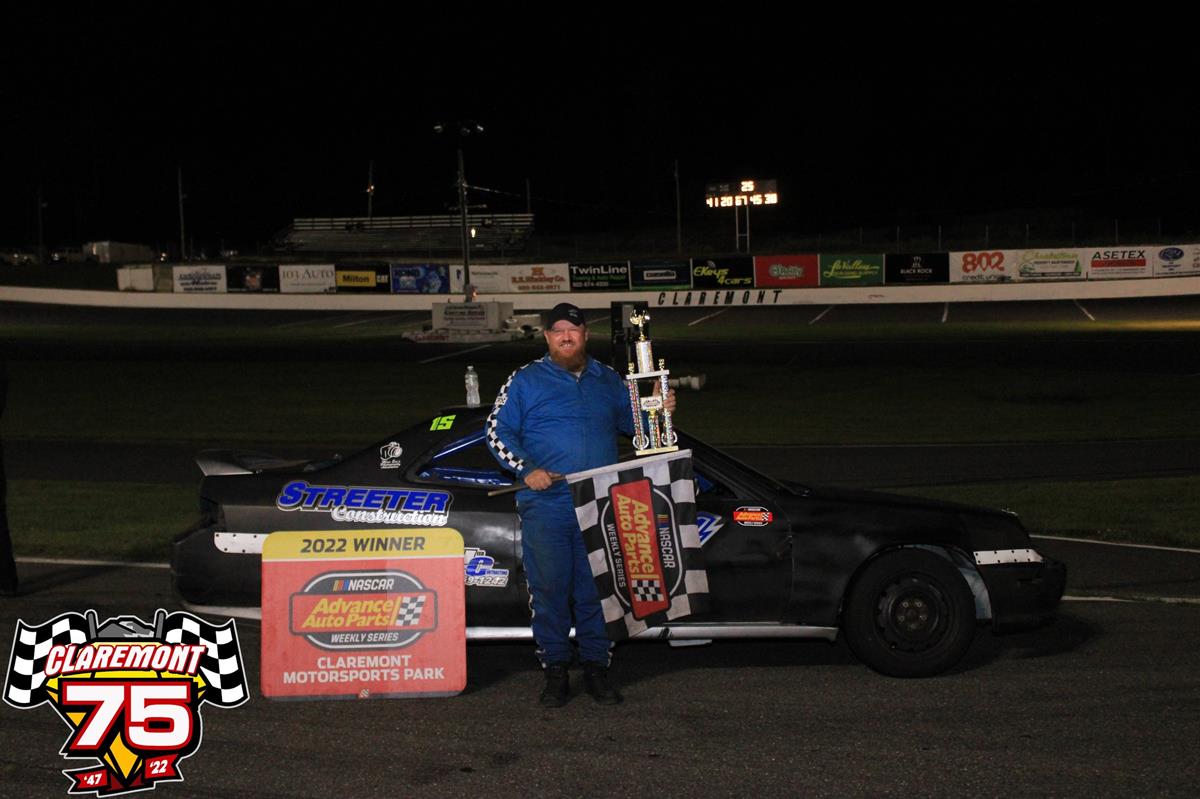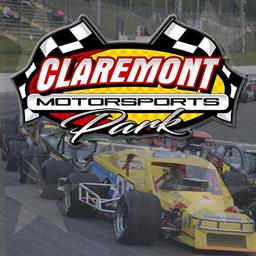 9/10/2022
Claremont Motorsports Park
---
Travis Sykes Wins First of Season Friday Night at Claremont
CLAREMONT, N.H. – Travis Sykes won his first race of the season Friday at Claremont Motorsports Park, becoming the ninth different Pure Stock winner this summer at the Thrasher Road speedplant. And while points leader Chris Chambers had a forgettable outing, he still went home atop the leader board with only the September 24 Championship Night event remaining.
Modified hot shoe Trevor Bleau found some late-race magic to win his third NHSTRA Modified event of the season and stay comfortably atop the points parade, while Mini Stock romper Greg Millette dominated his 25-lap feature, and Tim LaDuc blasted to victory in the 602 DIRT Modifieds.
Six Shooter ace Steve Miller St. outdistanced his son Steve Jr. to win for the seventh time this summer, and Xander Stillwell led early and often in the Red Neck Enduro 50-lapper, finishing with Enduro star Drake Nelson in his back pocket after leading the last 46 laps of Friday's nightcap event.
With only Championship Night remaining, there's still very much a points race in the LaValley Building Supply Pure Stock division. Chelsea, VT's Chris Chambers, still winless on the summer, had an off-night by his standards, coming home only seventh, but five-time winner JD Stockwell was only good enough for fourth, while Aiden White, only two points back entering Friday's competition, was off playing varsity football for the Stevens High School Cardinals, effectively scrubbing his title hopes.
Travis Sykes took the lead from Jim Rhodes on lap 12 and soared off to his first win of the summer. Powerhouse Andrea St. Amour was a close second, with former division champ Kyle Templeton a strong third. Chambers ended his night still six markers ahead of Stockwell.
Both Nate Wenzel and Aaron Fellows had strong shots at scoring their first NHSTRA Modified feature win Friday. Neither could stand the prosperity, while division leader Trevor Bleau made an unlikely late-race comeback from a flat tire to score his third 2022 victory.
Wenzel, from the pole, led the first 25 go-rounds, at one point holding a huge lead. Fellows, determined, took charge on lap 26. But when the first caution waved for Bleau's blown-tire spin on lap 28, neither made it through the next go-round.
Bleau, back with fresh rubber, was quickly back in front, taking the checkers just ahead of rookie Jeremy Zullo, who did a great job of ignoring all the drama unfolding around him. Wenzel, last year's Monadnock Speedway Street Stock champ, recovered for third, with Fellows in his shadow in fourth.
Rookie sensation Nick Houle had a scary moment in his In City Sugar Shack Mini Stock heat, bailing out his ride in turn two as it went up in a tower of flames. Unfazed, he ran the night's feature in a loaner, finishing three laps off the pace but still in eighth.
Greg Millette had the hot hand in the Mini Stock feature, blasting off to his fourth win of the summer. Bradon Morrie and Chris Judd were second and third, Sean Lantas fourth, and Cliff Bennett, hauling all the way from Indiana came home fifth.
Steve Miller Sr. took the lead from Andrew Scott on lap five of the caution-free Avery Insurance Six Shooter feature and never looked back en route to his seventh 2022 victory. Steve Miller Jr. held second the last 19 laps, and Robert Shaw got up for third on lap 22. Miller Sr. ended the night 24 points ahead of Miller Jr.
Tim LaDuc laid waste of the thin field in the Peanut's Auto Sales 602 Dirt Modified 25-lapper, topping his fifth CMP event of summer. Keystone State hot shoe Jeff Parker got up for second on lap 20, and Lenny Pillsbury filled the three hole.
Tim St. John led the first four laps of the Red Neck Enduro but he had Xander Stillwell, charging from row three, glued to his bumper. Stillwell took charge on lap five and then blasted off.
By the halfway mark, he'd lapped everyone but second-place Drake Nelson and held a full straightaway lead over him. Nelson, though, wasn't buying it. Steadily reeling the leader in, he knocked on lap 42 but could never quite put Stillwell behind him, as the top two hit the checkers nose-to-tail. Bruce Spencer, way back, came home third.
Long Island, N.Y. rumbler Charlie Gardino, aboard his radically modified Chevy S-10 Blazer, swept both the Spectator events in dominant fashion. Xander Stillwell finished second to Gardino in the one-on-one Spectator Drags, while Drake Nelson came home second in the 12-lap, five-car Spectator Race.
Claremont Motorsports Park will be silent next weekend but will conclude its 2022 NASCAR Advance Auto Parts points season on Saturday, September 24, with its huge 2022 Championship Night Event, including a gigantic aerial fireworks display.
CLAREMONT MOTORSPORTS PARK SEPTEMBER 9 TOP PERFORMERS
NHSTRA MODIFIED: Trevor Bleau, Jeremy Zullo, Nate Wenzel, Aaron Fellows, Greg Belisle.
602 DIRT MODIFIED: Tim LaDuc, Jeff Parker, Lenny Pillsbury, Roger Lebreche, Earl Maxham.
MINI STOCK: Greg Millette, Bradon Morrie, Chris Judd, Sean Lantas, Cliff Bennett.
PURE STOCK; Travis Sykes, Andrea St. Amour, Kyle Templeton, JD Stockwell, Jim Rhodes.
SIX SHOOTER: Steve Miller Sr., Steve Miller Jr., Robert Shaw, Andrew Scott, Lucas Bernatchy.
RED NECK ENDURO: Xander Stillwell, Drake Nelson, Bruce Spencer, Bre Nelson, Tim St. John.
---
Article Credit: Gary Dutton
Back to News