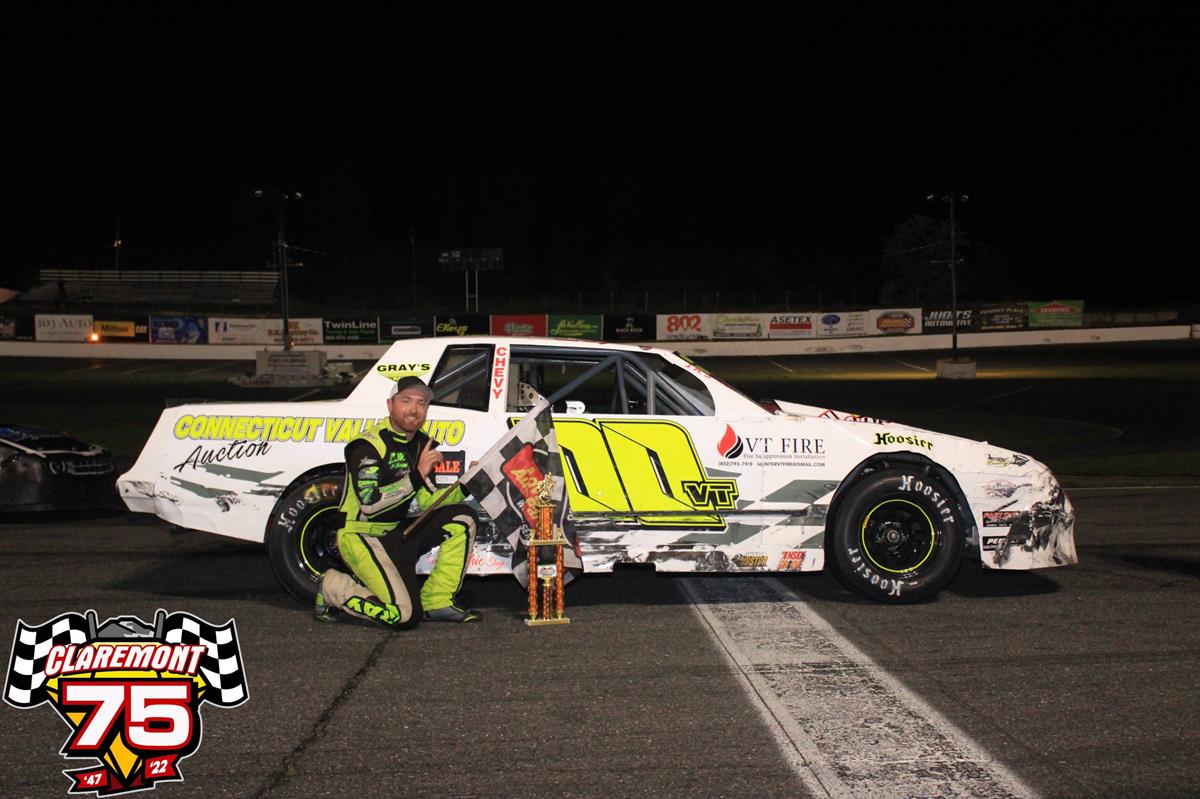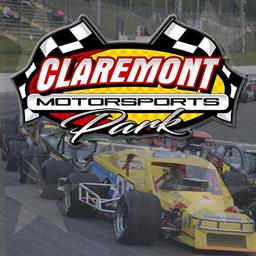 10/14/2022
Claremont Motorsports Park
---
Five Earn First Victory Lap Friday Night at Claremont
CLAREMONT, N.H. – Five drivers scored their first feature win, three the first of their career, Friday night at Claremont Motorsports Park, as the third-mile speedplant completed day one of its three-event Fall Challenge 2022 weekend.
Former track champion Jack McClay and 2022 Street Stock strongman Brandon Gray – six top threes in the blockbuster R.E. Hinkley Fuels Street Stock division this past season – were among Friday's winners, but so too were some absolute first-timers.
Chris Conroy, who spent most of this summer competing on dirt, topped the Pure Stocks, while Richard Stockwell's patience paid off in a surprise Mini Stock victory, and Tyler Scott edged his brother Jacob in their sibling battle for first career Six Shooter victory.
Gray and fellow Green Mountain Boy Matt Sonnhalter started up front in the Street Stock 25-lapper and fought tooth and nail every inch of the way before Gray took the win in a nose-to-tail finish. Ryan Bell, a weekly LMS competitor, was strong all the way in the Streeters Friday to come home third in the 19-car field.
Steve Bly and Joe Brown started up front in the Route 103 Auto Late Model Sportsman feature, and Bly would dominate the first 22 laps of the race until the event's third caution saw Bly spinning along the front chute on the restart, with potent Haydon Grenier also looping in turn two, and McClay suddenly at the point.
McClay, who ran only a partial schedule this summer, led the last three laps to take the checkers ahead of Jimmy Zullo and Clark Brooks, while the young teen billed as Lil' Aaron Fellows steered his dad's former ride to fourth.
The In City Sugar Shack Mini Stock main was a battle between Kevin Clayton and Ryan Carman. But things changed quickly as the white flag waved.
The leaders banged and clanged in turn four, with Richard Stockwell quietly steering clear of the excitement and picking up the gifted win, his first ever. Veteran Dana Shepard, third when the lap-24 uglies arrived, moved up to second, while Hailey LaClair stayed calm to win her first career trophy.
The LaValley Building Supply Pure Stocks – the highly competitive division that produced no fewer than nine different winners this summer – cranked out a tenth 2022 victor Friday.
Sunshine Towner Chris Conroy, who spent most of the summer competing on dirt track surfaces in western Vermont, started up front Friday and never looked back. Monadnock rookie Billy Graham got up for second on lap three and dogged Conroy the rest of the way but could never find his way to the front.
Justin Cousino earned his first CMP trophy in third, with Carlos Grenier and Jim Rhodes completing the top five in the caution-free 25-lapper.
In the nightcap Avery Insurance Six Shooter Non-Winners event, brothers Tyler and Jacob Scott ran one-two all the way, with Tyler prevailing for his first career win. Bucky Thibodeau, who won this race a year ago, was third in Friday's 25-lapper.
CLAREMONT MOTORSPORTS PARK OCTOBER 14 TOP PERFORMERS
STREET STOCK: Brandon Gray, Matt Sonnhalter, Ryan Bell, Joe Tetreault, Mike Williams, Dylan Zullo, Briana Akusis, Dennis Greenwood, Erik Smith, Kayleigh Eastman.
LATE MODEL SPORTSMAN: Jack McClay, Jimmy Zullo, Clark Brooks, Aaron Fellows II, Alyssa Rivera, Joe Brown, Steve Bly, Haydon Grenier, Leo Martin.
PURE STOCK: Chris Conroy, Billy Graham, Justin Cousino, Carlos Grenier, Jim Rhodes, Amy Jaycox, Ryan Lawless, Chris Carver, Seth Melcher, Freddie Rogers.
MINI STOCK: Richard Stockwell, Dana Shepard, Hailey LaClair, Ryan Carman, Deion Russell, Wayne Kendall. DQ – Kevin Clayton.
SIX SHOOTER: Tyler Scott, Jacob Scott, Bucky Thibodeau, Eric Prescott, Madison Leduc.
---
Article Credit: Gary Dutton
Back to News