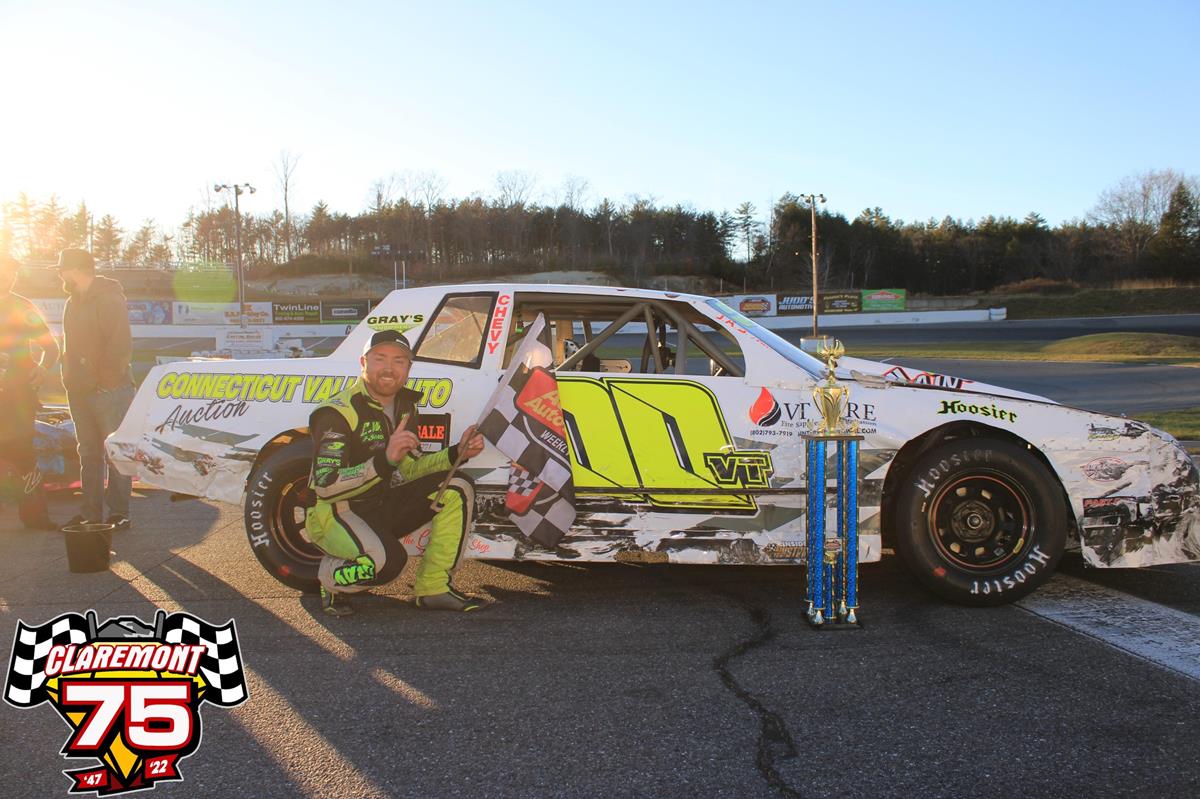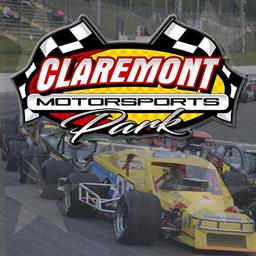 11/27/2022
Claremont Motorsports Park
---
Brandon Gray $ 1,000 Turkey Day Classic Winner at Claremont
CLAREMONT, N.H. – Brandon Gray earned $1,000 Saturday, topping the 50-lap Street Stock main event as Claremont Motorsports Park closed out its ambitious 2022 racing season with its running of the second annual Turkey Day Classic presented by Maurice Enterprises.
The East Thetford, VT hot shoe capped a strong season in the R.E..Hinkley Street Stock division by winning his last two outings, with Saturday's victory coming on the heels of his October 14 Fall Classic win at CMP. He was one of two Green Mountain State blasters charging into victory lane Saturday.
Windsor's Kodi Sabins, a two-time CMP track champ and victor here back on May 20. blew away the field to top Saturday's LaValley Building Supply Pure Stock feature, while reigning Mr. Monadnock Gordon Farnum romped in the In City Sugar Shack Mini Stock main event.
Newly crowned track Avery Insurance Six Shooter champion Steve Miller Sr. made easy work of earning his ninth 2022 victory lap Saturday, while Northwood's Justin Harris dominated the Dwarf Car feature and then came up just short of doubling up in the Street Stock main.
Veteran Four-Cylinder Enduro kingpin Matt Gauffin romped over a 50-car field in the final event of both the day and the season, with Richie Johnson victorious in the six- and eight-cylinder Enduro.
Hunter Garduno and Adam Maynard led the Street Stocks to the green, with Maynard leading lap one before giving way to CMP strongman Joe Tetreault, who had his mirror filled with Justin Beecher and Gray until Gray's bold lap-14 move brought him to the point.
Beecher got back up for second on lap 21 but went up in a giant ball of smoke three laps later, moving Tetreault and Justin Harris into the top three. Harris, fresh off his Dwarf Car victory only minutes earlier, was hyper impressive in his first career Street Stock run but, on this day, Gray was even better. Tetreault, strong all day, came home third.
Gordon Farnum led all the way in the Mini Stock 25-lapper, rocketing to victory far ahead of 2021 Monadnock champ Louie Maher. Southern tier runner Jacob Rheaume was third on the day. Farnum, a 12-time winner this summer at Monadnock, also won last year's Turkey Day Classic event here.
Like the Mini Stocks, the Pure Stocks went caution-free Saturday. Firing from row two, Sunshine Towner Chris Conroy led the first two laps but then came Kodi Sabins, who has piled up winning numbers like nobody else in the last decade's Mini Stock wars.
Saturday, Sabins won by almost half a lap over Travis Sykes, last year's Turkey Day Classic winner, and Conroy, a recent dirt track convert who scored a CMP Pure Stock victory on October 14 during the Fall Challenge weekend event.
Steve Miller Sr., who made easy work of topping his earlier heat race, took the lead from southern state racer Zach Washburn on lap ten Saturday and then rocketed off into another time zone to earn his ninth CMP feature win of the year. Washburn held strong to follow the 2022 track champ under the checkers, with Steve Miller Jr. moving up to third on lap 18 of the caution-free event.
Justin Harris dominated in both his Dwarf Car heat and feature Saturday. 2022 Series' champ Cody Hodgdon – in a fill-in role Saturday – was strong in second, with Zig Geno coming home third. Matt Gauffin, his ageless battered silver Saab again gobbling up everything in sight, rocketed past a 50-car Enduro field to reprise his first Turkey Day Classic victory of a year ago.
CLAREMONT MOTORSPORTS PARK NOVEMBER 26 TOP PERFORMERS
STREET STOCK: Brandon Gray, Justin Harris, Joe Tetreault, Mike Williams, Kayleigh Eastman.
MINI STOCK: Gordon Farnum, Louie Maher, Jacob Rheaume, Cameron Sontag, Kevin Boucher.
PURE STOCK: Kodi Sabins, Travis Sykes, Chris Conroy, Ryan Christian, Kris Russell.
SIX SHOOTER: Steve Miller Sr., Zach Washburn, Steve Miller Jr., Jenna Beaulieu, Lucas Bernatchy.
DWARF CAR: Justin Harris, Cody Hodgdon, Zig Geno.
FOUR-CYLINDER ENDURO: Matt Gauffin, Joe Kendall, Shane LaBraney.
FULL-SIZE ENDURO: Richie Johnson, Drake Nelson, Billy McCarthy.
---
Article Credit: Gary Dutton
Back to News