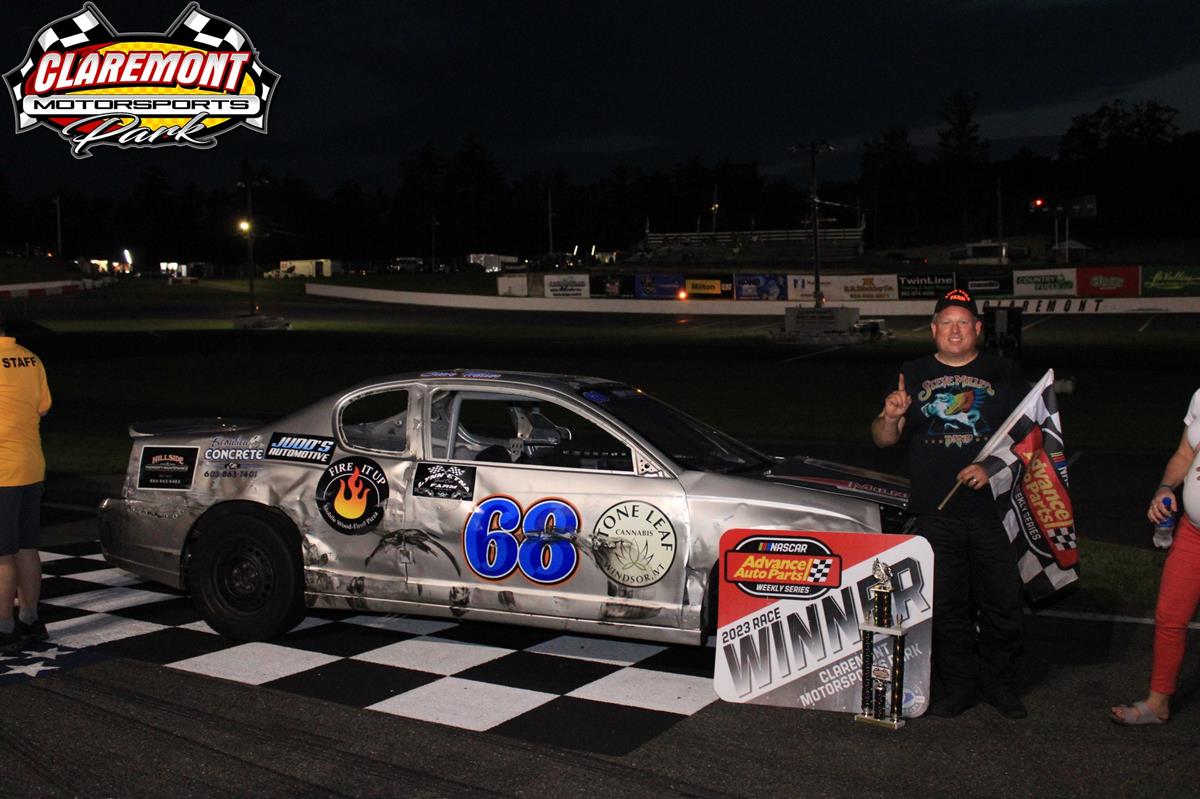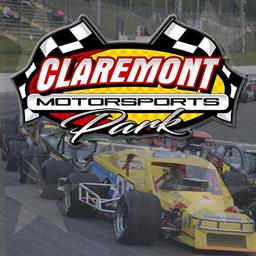 7/31/2023
Claremont Motorsports Park
---
CARON AND DURAN DOMINATE IN FRIDAY WINS AT CLAREMONT
CLAREMONT, N.H
Guy Caron and Milton Duran each scored an impressive win Friday, July 28, at Claremont Motorsports Park. Caron topped the 52-lap Dean Smith Memorial Outlaw main event, while Duran's victory came in the nightcap NHSTRA Late Model 50.
Other winners Friday at the storied Thrasher Road Speedplant included Windsor's Kodi Sabins, who came from deep in the field to win the Pure Stock 25-lapper, and Six Shooter Steve Miller Sr., who earned a look-what –I-found victory when Andrew Scott and Steve Miller Jr. clanged together on the final lap.
No one in any division Friday was as dominant as Guy Caron. The second-generation superstar led all the way in Friday's Dean Smith Memorial Race, soaring a half-lap ahead of his closest foe when the 52-lapper was checkered. Row three starter Ben Poland, a two-time 2023 winner and former track champ, got up for second on lap two and, though able to keep Caron in sight, appeared headed for the runner-up finish. But Poland slowed and then quickly exited on lap 38, leaving Caron to sail off into another time zone. Judge Joe Brown finished second on the night, with veteran hot shoe Steve Bly third. Allen Fellows, a long-ago Dean Smith teammate, racing against his grandson Aaron Jr. in this one, came home fourth, and Justin Littlewood rounded out the Outlaw top five.
Austin Erickson and Milton Duran led the R.E. Hinkley NHSTRA Late Model field to the green, with 27 cars starting Friday night's 50-lapper. Erickson was the early leader, as Duran and hometrack hot shoe Andrew Brousseau went to war behind him. The second of half a dozen cautions slowed this one on lap 16, as a multi-car tangle in turn four sent a handful of cars scurrying for help, among them Brousseau's, Matt Sonnhalter's, and rookie JD Stockwell's. When the dust had settled, it was Erickson again at the point, with Duran now draped all over him. Duran took the lead on lap 20, bringing hometracker Chris Riendeau with him, and the two would then race under a blanket until the checkers waved. Dave Greenslit came home third on the night, finishing just ahead of row-seven starter Robert Hagar. Enfield's Joe Tetreault was impressive in fifth. With Duran victorious in Friday's NHSTRA Battle For The Belt event, he's now far ahead in the four-race 2023 Belt series, having also won the first series's race at Lee.
Two-time 2023 winner Colton Martin led the first three laps of the LaValley Building Supply Pure Stock feature, then giving way to determined row-two starter Chris Conroy. Martin, though out of the lead, wasn't going away. Kodi Sabins, rocketing forward from row five, claimed second on lap nine but Conroy wouldn't budge. Trying over and over from the bottom of the track, Sabins finally found an opening as they exited turn two on the white flag lap. With Sabins scoring the impressive victory, Conroy and Martin joined him on the podium, with potent Colton Hull finishing at Martin's bumper in fourth.
Andrew Scott and Steve Miller Sr. started up front in the Avery Insurance Six Shooter feature, with the pair racing wheel-to-wheel and then nose-to-tail over the first 15 go-rounds. Steve Miller Jr., from row four, than joined them and, a lap later, had dropped his father to third. This one went green to checkers without a caution but there was some major contact, none more than the last lap brush-up in turn two that saw Miller Sr. able to dart by cleanly and speed off to victory. Trevyr Young, smooth and steady all the way, capitalized on the momentary mayhem to claim second, with Scott able to hold on for third.
Shayla Kirk led all the way in the caution-free Mini Cup 15-lapper. Skeeter Beerce, a winner here in June, came from scratch on the field to pull into Kirk's shadow on lap 13 but, a lap later, ducked pitside. Jay Paquet was strong in second, and Shawn Martin's solid night's work netted him third.
Claremont Motorsports Park will return to action next Friday, August 4, with a full card of NHSTRA oval track action. Post time is 7 p.m. at CMP.
---
Article Credit: Gary Dutton
Submitted By: Mark Beaudry
Article Media
Back to News