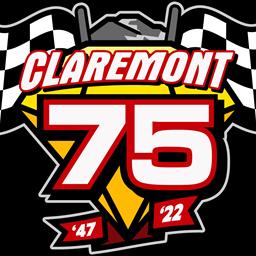 4/18/2022
Claremont Motorsports Park
---
Champions Recognized, Speedway's Opener is This Sunday
CLAREMONT, N.H. – With a huge card of racing scheduled to usher in Claremont Motorsports Park's 75th season now just a week away, the storied third-mile speedplant paused its grand opening preparation Friday to honor its 2021 top achievers.
With twin 100s next Sunday already the buzz of northern New England, CMP promoter Mike Parks hosted a full house at Lebanon's Fireside Inn banquet facility April 15, where awards were presented to those whose on-track contributions made last summer's oval track season a resounding success. Seven 2021 divisional track champions were feted at the event.
Ben Poland was honored as the Route 103 Auto Late Model Sportsman champion. On the strength of his nine 2021 feature wins, Poland led Ryan Bell, Ricky Bly, Matt Winter and Jack McClay atop the season's five best achievers. Winter was also named the LMS Rookie of The Year.
R.E. Hinkley Street Stock powerhouse Dave Greenslit rode his seven-victory season to his second consecution title. Cody Schoolcraft, with four wins, was second, followed by Joe Tetreault, Briana Akusis and Robert Hagar. Street Stock ROY honors went to Scott Wade.
In the NHSTRA Modified division, second-generation star Matt Kimball won three times to edge Bay State pilot Geoff Rollins 450-446 for the title. Walt Hammond, Cory Plummer and Todd Patnode rounded out the 2021 top five, and Andrew Martell garnered top rookie honors
Hometown speedster Haydon Grenier soared to a dozen feature wins last summer to win the In City Sugar Shack Mini Stock championship at CMP. Ryan Carman was second in points, also earning ROY honors, with Joe Olmstead, Braden Morrie and Davis Thibodeau completing 2021's top five.
Dylan Zullo took home all of the top LaValley Building Supply Pure Stock hardware Friday, winning both his division's 2021 championship and Rookie of The Year titles. The second-generation racer scored four feature wins last summer while notching 20 top ten finishes in as many events. Nick Houle, himself a four-time 2021 winner, was second, followed by Zach Richardson, Travis Sykes and J.D. Stockwell.
Dustin Thibodeau earned 17 feature wins in the Avery Insurance Six Shooters last summer, edging Robert Shaw 908-898 for his second title in a row. Shaw was named the division's top rookie, with Bucky Thibodeau, Lucas Bernatchy and John Thibodeau rounding out the 2021 Six Shooter top five.
Three-time winner Tanner Siemons of Orford, N.H. was crowned the Peanuts Auto 602 Dirt Modified champion Friday. The second-generation dirt track star finished ahead of Tim LaDuc and Todd Buckwold atop the 2021 points parade at CMP.
This Sunday, April 24, Claremont Motorsports Park will open the doors on its 75th season of oval track racing with a colossal afternoon event, including two major league 100-lap main events, as both the NHSTRA Modifieds and the Granite State Pro Stock Series come to town for the biggest opening day ever.
The Street Stocks, Late Model Sportsmen, Mini Stocks, Pure Stocks, and Six Shooters will all be in action too on Sunday to support the day's two 100-lap main events. Post time for this very special April 24 event is 2 p.m.
---
Article Credit: Gary Dutton
Submitted By: Toby Batchelder
Back to News