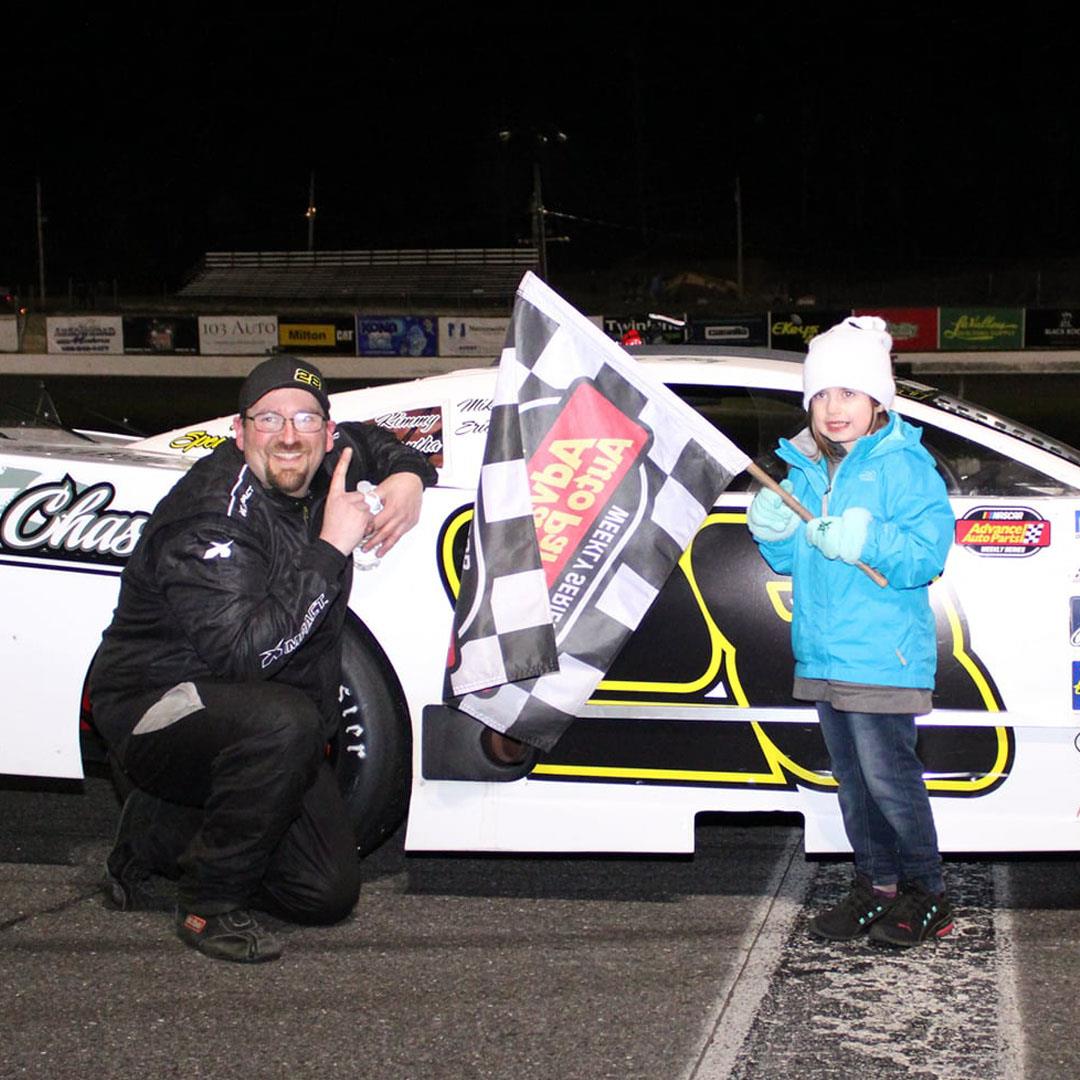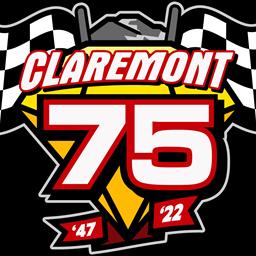 4/30/2022
Claremont Motorsports Park
---
Bly, Stockwell Repeat; Greenslit Sizzles Friday at Claremont
CLAREMONT, N.H. – Ricky Bly and J.D. Stockwell each stayed undefeated on the young season, while Street Stock master blaster Dave Greenslit – the runner-up five days earlier – roared to his first win of 2022 Friday at Claremont Motorsports Park.
Bly dominated over the second half of the Route 103 Auto/Heads Up Motorsports LMS feature, duplicating his opening day romp at the storied third-mile oval. The former track champion also won the second event of the 2021 season.
Greenslit, the two-time reigning R.E. Hinkley Street Stock champion, wired Friday's 25-lap main event, holding the point through three restarts to lead Joe Tetreault under the checkers. And while Stockwell won for the second time in five days, the young driver – still too young to hold a driver's license – pitched a masterpiece Friday, holding off veteran rocketman Kodi Sabins all the way to keep his 2022 LaValley Building Supply Pure Stock record perfect at two-for-two.
Bob Williams scored his first career CMP feature win in the In City Sugar Shack Mini Stocks, Robert Shaw topped the Avery Insurance Six Shooters, and second-generation flexible flyer pilot Tanner Siemons opened the defense of his 2021 Peanuts Auto 602 Dirt Modified title by dominating Friday's caution-free 25-lapper.
Green Mountain Boy Jessie Webster continued his mastery of CMP Spectator Racing events, guiding his BMW to victory over oval-track regular Drake Nelson, who kept it close in a Saturn.
Jack McClay led the first half of the LMS feature, keeping Ryan Bell and Ricky Bly in his shadow until a horrific lap-13 crash sent veteran wheelsman Tyler Lescord to the hospital.
After a 40-minute red flag stoppage to free Lescord from his destroyed racer, Bly wasted no time in charging to the point and then taking complete control as he duplicated his romp to victory of five days earlier.
McClay, himself a former CMP champion, led the four-car freight train next under the checkers, leading Bell, 2021 champ Ben Poland, and Jeff Murray across the finish line almost glued together.
What a show in the Pure Stock 25-lapper. Teen star JD Stockwell and veteran stomper Kodi Sabins, a former track champ, went tooth and nail at the front of the 20-car field, slowed only by a single lap-one caution.
Try as he did, Sabins could never get past the upstart Bay Stater. Driving like an old veteran, Stockwell used pick after pick to keep Sabins in his shadow over the final ten laps to earn his second win in as many tries. And while Chris Chambers never had anything for the top two, the Vermonter was impressive in third, taking the checkers just ahead of Nolan McClay and Andrea St. Amour.
Dave Greenslit started up front in the Street Stock main event and then dominated to earn his first win of the summer. .Strong and steady Joe Tetreault was second, with Andrew Brousseau impressive in third. Nightlong mechanical woes dropped opening day winner Cody Schoolcraft to 20th.
Mini Stocker Rob Williams had never even finished a race at CMP entering Friday's 20-lapper. Now, he's a feature winner. Williams took the lead from Ryan Carman on a lap-13 restart and never looked back. Carman was strong in second, with Sean Lantas third. Week-one winner Greg Millette had to watch this one from behind the wall.
Robert Shaw and Steve Miller raced in a bubble over the caution-free Six Shooter 20-lapper, with Shaw earning his third career CMP victory lap. Miller, the week-one winner, was second, with Lucas Bernatchy solid in third.
In the Dirt Mod go-round Siemons, a three-time winner a year ago, led all the way, pulling away from eventual runner-up Tim LaDuc on lap eight and never looking back. With the Orford, N.H. blaster taking the checkers far ahead of the field, LaDuc and fellow Vermonter Marty Kelly joined him in trophy row.
Claremont Motorsports Park returns to action next Friday, May 6, when the third-mile speedplant will host a five-division card of NASCAR Advance Auto Weekly Racing Series action, along with the visiting Granite State Mini Cup Series and a full round of Spectator Drags.
CMP APRIL 29 TOP TENS:
LATE MODEL SPORTSMAN: Ricky Bly, Jack McClay, Ryan Bell, Ben Poland, Jeff Murray, Camdyn Curtis, Steve Bly, Dylan Zullo, Tyler Lescord, Andrew Campbell.
STREET STOCK: Dave Greenslit, Joe Tetreault, Andrew Brousseau, Robert Hagar, Trevor Rocke, Mike Williams, Dennis Greenwood, Ronnie Carman, Jeremy Zullo, Brandon Gray.
PURE STOCK: JD Stockwell, Kodi Sabins, Chris Chambers, Nolan McClay, Andrea St. Amour, Travis Sykes, Kyle Templeton, Bruce Jaycox, Aiden White, Carlos Grenier.
MINI STOCK: Rob Williams, Ryan Carman, Sean Lantas, Lane Lantas, Dave Thibodeau, Nick Houle, DNS: Greg Millette, Braden Morrie.
SIX SHOOTER: Robert Shaw, Steve Miller Sr., Lucas Bernatchy, Eric Griffin, Steve Miller Jr., Andrew Scott, Tyler Scott.
602 DIRT MODIFIED: Tanner Siemons, Tim LaDuc, Marty Kelly, Todd Buckwold, Lenny Pillsbury, Jeff Parker.
---
Article Credit: Gary Dutton
Submitted By: Toby Batchelder
Back to News