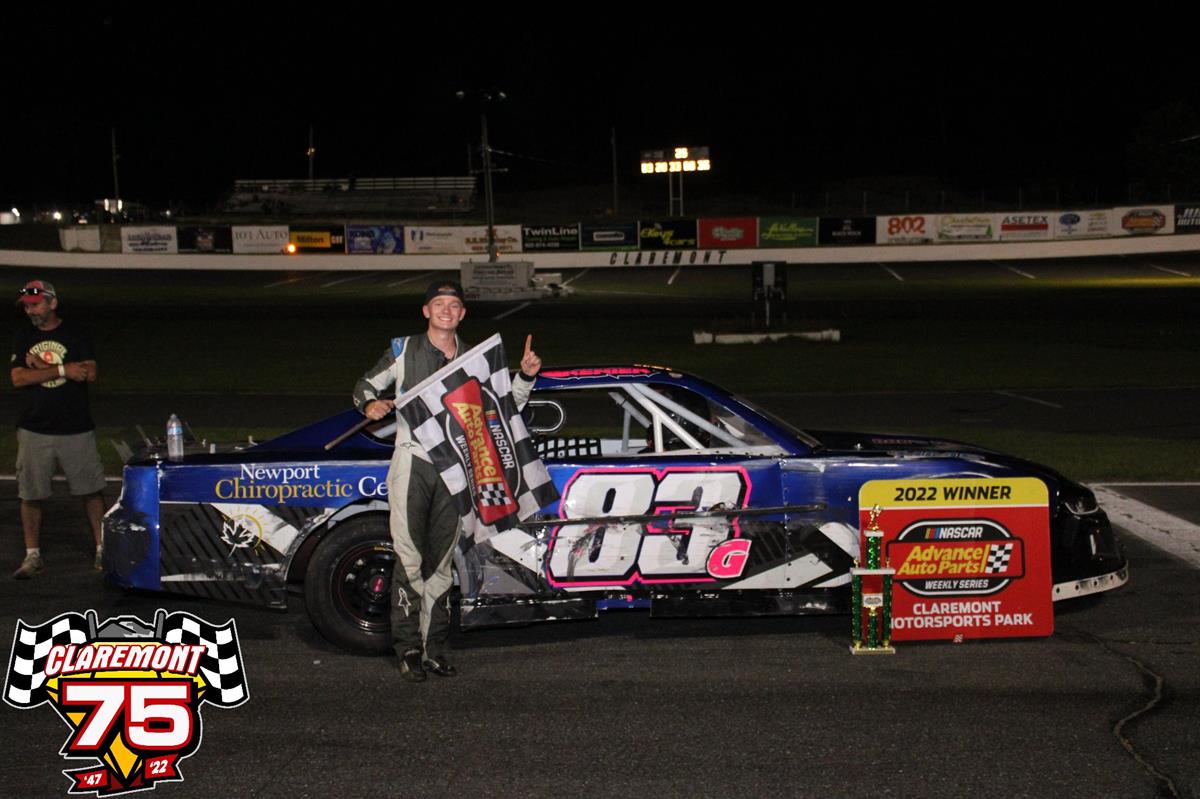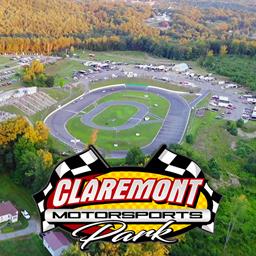 8/21/2022
Claremont Motorsports Park
---
Grenier Scores Career First in Streets at Claremont
CLAREMONT, N.H. – Haydon Grenier scored his first career Street Stock victory Friday at Claremont Motorsports Park. Trevor Bleau topped the NHSTRA Modifieds, winning his first of the summer at CMP.
Both Nick Houle, Mini Stocks, and JD Stockwell, Pure Stocks, continued to pile up victories, as did Dirt Modified ace Tim LaDuc. Six Shooter star Steve Miller Sr. ended a two-month drought Friday by romping to his sixth win of the season.
Enduro rocketman Drake Nelson shortened the nose of his ride by six inches Saturday but still rebounded to win the NHSTRA King of The Hill 50-lapper. And Andrew Harmon was gifted a victory in the visiting New England Dwarf Car feature when the top three cars ended the race in a turn-four heap.
Erik Smith and Trevor Rocke led the thundering 17-car RE Hinkley Fuels Street Stock field to the green, with Smith lead-footing it into the lap one lead, bringing Haydon Grenier, from row two, with him. Grenier rocketed through the inside groove on lap three to take the lead, with Smith and Chris Lindquist close behind.
Lindquist moved up to second on lap five, bringing Dave Greenslit with him into the top three. The all-world Street Stocker took second on lap nine but, on this night, Grenier had all bases covered, taking the win ahead of Greenslit and Matt Sonnhalter who – like Grenier – was a master of the Minis before moving up to Streets.
Firing from the pole, Aaron Fellows led the first nine laps of the NHSTRA Modified feature, with Trevor Bleau then taking over and immediately pulling away en route to his first CMP win of the summer. Former track, and NHSTRA series, champ Brian Robie got up for second on lap 20, then holding Fellows in his shadow to post the runner-up finish.
Teen Pure Stock phenom JD Stockwell, victorious a week earlier, started up front in Friday's 25-lapper and steamrolled the field to score his fourth win of the summer. Then-second Andrea St. Amour stopped atop turn three to bring out the event's only caution on lap 20, setting up a thrilling last-lap battle for the runner-up hardware.
Storming from the top groove out of turn four, rookie Aiden White snatched second from Zach Richardson as they hit the finish line inches apart. Colton Martin was fourth, and points leader Chris Chambers fifth on the night.
Bradon Morrie led most of the way in the In City Sugar Shack Mini Stock feature but looped out of the lead on lap 22, then getting a little too frisky with his front bumper as he passed Nick Houle out of the last turn, earning a two-spot penalty to end the night third.
Houle's victory was the seventh of his rookie season in the Minis. Skyler Shippee scored a career-best second-place finish in the 25-lapper.
Tim LaDuc wired the 602 Dirt Modified feature to expand his series' points lead. Tanner Siemons got up for second on lap 20, and Keystone State hot shoe Jeff Parker was third.
Drake Nelson nose-jobbed a spinning competitor on lap seven of the King of The Hill Enduro 50-lapper but charged on to take control on lap 29 and speed off to victory. Then-leader Xander Stillwell pitted on lap 24, and Nelson took full advantage. Mike Radzuik was second, and Bre Nelson came home third.
Avery Insurance Six Shooter points leader Steve Miller Sr. hadn't won since June 10 but Friday took the lead from Lucas Bernatchy on lap three and never looked back. Robert Shaw was second, with Steve Miller Jr. third. The younger Miller was, however, victorious earlier in the night when he won the on-track mullet contest.
Claremont Motorsports Park will roar back into action next Friday, August 26, when the lightning fast ISMA Supermodifieds come to town to join six divisions of NASCAR Advance Auto Parts Weekly Racing Series competition. Post time is 7 p.m.
CLAREMONT MOTORSPORTS PARK AUGUST 19 TOP PERFORMERS
STREET STOCK: Haydon Grenier, Dave Greenslit, Matt Sonnhalter, Brandon Gray, Chris Lindquist, Andrew Brousseau, Briana Akusis, Erik Smith, Jimmy Zullo, Joe Tetreault.
NHSTRA MODIFIED: Trevor Bleau, Brian Robie, Aaron Fellows, Andrew Martell, Nate Wenzel, Justin Beecher, Jeremy Zullo.
MINI STOCK: Nick Houle, Skyler Shippee, Bradon Morrie, Chris Judd, Josh Dunn, Hailey LaClair, David Thibodeau.
PURE STOCK: JD Stockwell, Aiden White, Zach Richardson, Colton Martin, Chris Chambers, Kyle Templeton, Travis Sykes, Andrea St. Amour, Amy Jaycox, Carlos Grenier.
602 DIRT MODIFIED: Tim LaDuc, Tanner Siemons, Jeff Parker, Lenny Pillsbury, Roger Labreche, Earl Maxham.
SIX SHOOTER: Steve Miller Sr., Robert Shaw, Steve Miller Jr., Ryan Nelson, Lucas Bernatchy, Trevyr Young.
KING OF THE HILL ENDURO: Drake Nelson, Michael Radzuik, Bre Nelson, Bruce Spencer, Freddie Rogers.
---
Article Credit: Gary Dutton
Back to News