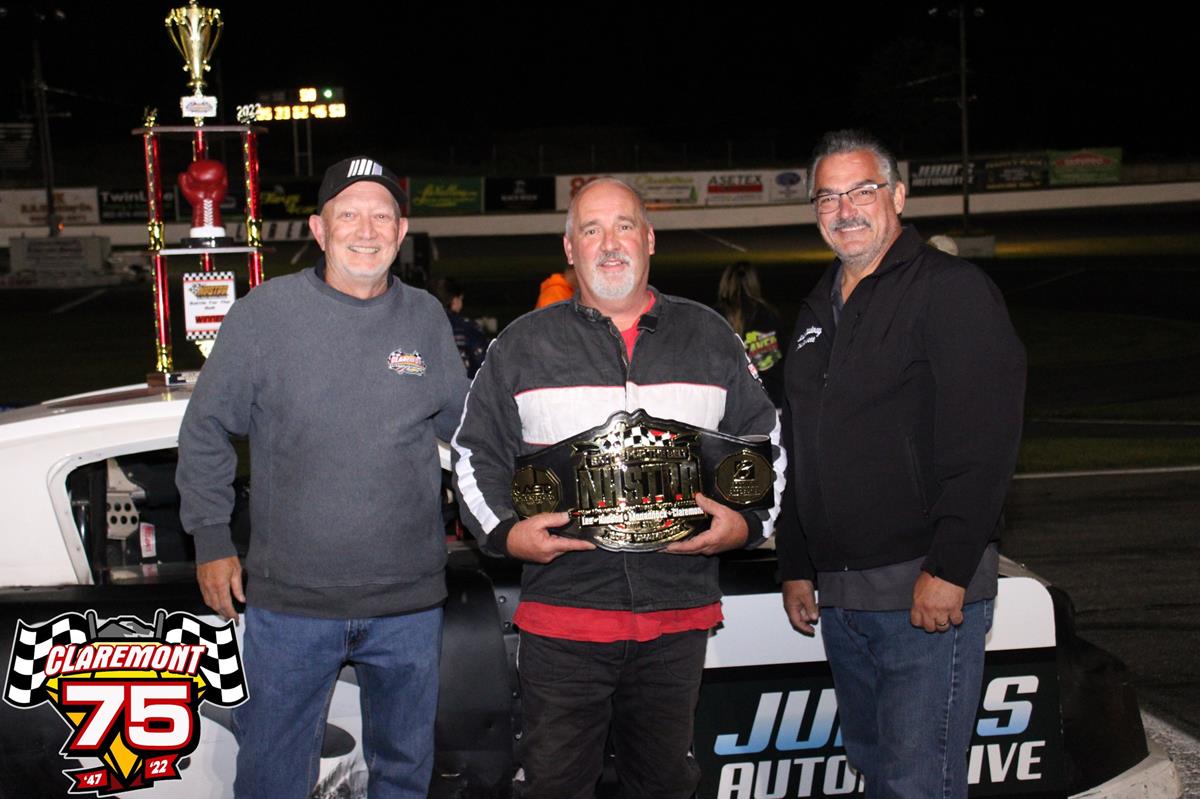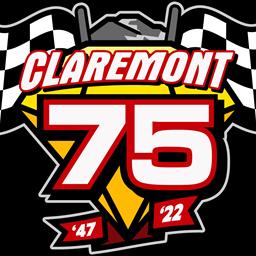 9/4/2022
Claremont Motorsports Park
---
Viens Wins Mini Belt Title, Streets to Rocke at Claremont
CLAREMONT, N.H. – Bay State Mini Stock ace Michael Viens won both the race and the title Friday at Claremont Motorsports Park to earn the NHSTRA Mini Stock 2022 Battle For The Belt title and, with it, the series' coveted championship belt.
Late Model Sportsman hot shoe Ricky Bly romped to his 11th victory of the summer Friday, while rising Street Stock star Trevor Rocke impressed with his second 2022 victory.
In the Pure Stocks, teen sensation JD Stockwell scored his third win in a row and fifth of the summer, pulling to within a dozen points of division leader Chris Chambers. Modified ace Trevor Bleau, added to his championship points lead by winning for the second time this season, and Lucas Bernatchy made easy work of earning his second Six Shooter victory lap.
Viens started Friday night's quest for the title on the front row, taking Chief Starter Brian Martin's green alongside Chris Judd. But his victory was far from easy.
Judd and Skykar Shippee raced under a blanket for the first six laps, with hometrack hot shoe Nick Houle then moving up.
Houle took the lead on lap 18 from Shippee, holding the top spot until Gordon Farnum – who entered the 50-lapper four points ahead of Viens – came from row five to take the lead on lap 22. His stay there was short, as Greg Millette blasted to the front five laps later. Millette, though, tried to move a lapper with his bumper just five laps later, ending his night and moving Farnum back to the point, now with Viens in his shadow.
Viens took the lead on lap 35, as Farnum's tires started to desert him, and though once watching Matt Sonnhalter lead for three laps, was in control the rest of the way. Sonnhalter finished at his bumper in second, with strong and steady Julia Raymond Kendall a solid third. Farnum's fourth place finish left him two points shy of the Belt championship.
In the R.E. Hinkley Fuels Street Stock 25-lapper, Rocke took the lead from fellow front row starter Erik Smith on lap six and quickly opened a huge lead. Defending track champ and two-time national champ Dave Greenslit passed Briana Akusis for second on lap 13 but would have needed either a caution flag or an act of God to catch Rocke in this one. He got neither.
Greenslit did finish second to stay comfortably atop the points parade, with Brandon Gray third on the night and Sonnhalter in his shadow in fourth.
No fewer than five cautions slowed the Route 103 Auto Late Model Sportsman feature. Nothing, though, slowed Ricky Bly. Taking the lead from Cam Curtis on lap 17, he sped off to his track-high 11th win of the season. Ben Poland was second, and Cody Schoolcraft third.
Jim Rhodes was fast early in the LaValley Building Supply Pure Stock feature but Kyle Templeton, with a bold three-across move into turn three, hit the stripe first on lap four. Four laps later, he had Stockwell knocking at his door.
The Turners Falls, Mass. teen sensation took the lead on lap 14 and never looked back. Hometown teen hot shoe Aiden White – a two-time winner already this year – got up for second on lap 21 but could advance no further, scoring the night's runner-up finish just ahead of Templeton.
Pure Stock points leader Chris Chambers – still winless this summer – was fourth on the night but went home to Chelsea, VT. still atop the points parade. White's strong run moved him to within two points of Chambers, 720-718, with Stockwell's fifth victory leaving him a close third with 708 markers with two scheduled races remaining this season.
Aaron Fellows turned the fastest lap in NHSTRA Modified time trials. But Trevor Bleau was fastest in the night's 30-lap feature. Taking the lead from Fellows on lap ten, he then drove away, winning by almost a full straightaway margin over Fellows and Modified rookie Nate Wenzel.
Lucas Bernatchy led all the way in the caution-free Avery Insurance Six Shooter 25-lapper. Robert Shaw came on strong in the closing laps to finish second, with Jacob Scott solid all night for third.
Claremont Motorsports Park returns to action next Friday, September 9, with a full five-division card of NASCAR Advance Auto Parks Weekly Racing Series action and a fan-favorite Red Neck Enduro. Post time at CMP is 7:30 p.m.
CLAREMONT MOTORSPORTS PARK SEPTEMBER 2 TOP PERFORMERS
MINI STOCK (50-lap NHSTRA Battle For The Belt Championship): Michael Viens, Matt Sonnhalter, Julia Kendall, Gordon Farnum, Emerson Cayer, Cameron Sontag, Nick Houle, Wally Brown, Skylar Shippee, Sean Lantas.
STREET STOCK: Trevor Rocke, Dave Greenslit, Brandon Gray, Matt Sonnhalter, Haydon Grenier, Briana Akusis, Andrew Brousseau, Erik Smith, Scott Wade, Chip Laquire.
LATE MODEL SPORTSMAN: Ricky Bly, Ben Poland, Cody Schoolcraft, Ryan Currier, Steve Bly, Camdyn Curtis, Dylan Zullo, Dustin Leoutsakos, Travis Cass, Craig Smith.
PURE STOCK: JD Stockwell, Aiden White, Kyle Templeton, Chris Chambers, Colton Martin, Andrea St. Amour, Amy Jaycox, Travis Sykes, Jim Rhodes, Colton Hull.
NHSTRA MODIFIED: Trevor Bleau, Aaron Fellows, Nate Wenzel, Jeremy Zullo, Greg Belisle.
SIX SHOOTERS: Lucas Bernatchy, Robert Shaw, Jacob Scott, Steve Miller Sr., Andrew Scott, Steve Miller Jr., Trevyr Young, Madison Leduc, Eric Griffin, Tyler Scott.
---
Article Credit: Gary Dutton
Submitted By: Toby Batchelder
Back to News