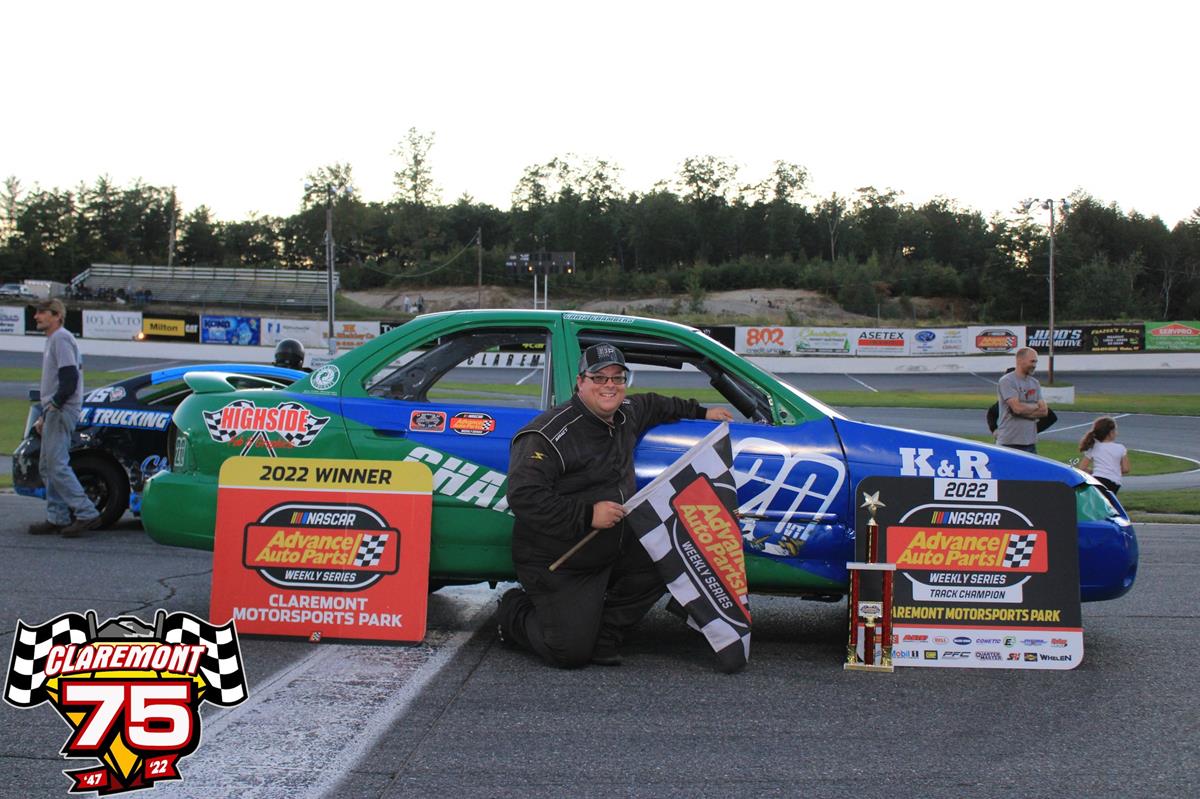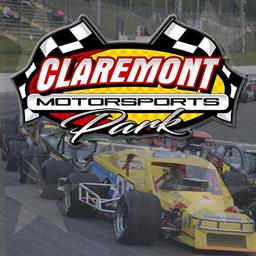 9/25/2022
Claremont Motorsports Park
---
Six 2022 Track Champions Crowned Saturday at Claremont
CLAREMONT, N.H. – Six NASCAR Weekly Racing Series champions were crowned Saturday at Claremont Motorsports Park, a quartet of those 2022 divisional titlists wrapping up their first career crown at the 75-year-old speedplant.
While Dave Greenslit added both another feature win and another track crown to his deep list of accolades, and Ricky Bly concluded his blockbuster summer by earning his second CMP crown, Trevor Bleau, Bradon Morrie, Chris Chambers, and Steve Miller Sr. each took his first post-season bow Saturday night.
Chambers, a model of consistency this summer, scored his first win Saturday, enabling him to edge Bay State teen phenom JD Stockwell for the 2022 Pure Stock title, while Morrie – his own ride crippled pitside, did all he had to aboard a non-competitive loaner to earn the Mini Stock crown only two points atop Sean Lantas.
For the record, the last R.E. Hinkley Fuels Street Stock champ not named Dave Greenslit was Bryan Town, who won the title back in 2018. Since then, Greenslit has since won four in a row, rocketed to a couple of national championships, and titled at other northeastern tracks as well. He's been busy.
Saturday, he took the lead from Joe Tetreault on lap four and left the other 19 cars in his dust en route to his tenth CMP win of the year – along with two more at Hudson – and fourth consecutive track title. Brandon Gray was second, with Matt Sonnhalter completing his rookie Street Stock season in third.
Trevor Bleau completed his first NHSTRA Modified championship with a flourish, roaring to victory the last four times out. Saturday, he took the lead from Rookie of The Year Nate Wenzel on lap eight and never looked back. Todd Patnode, who set fast time earlier in the program, was second in the caution-free 30-lapper, with Wenzel holding strong in third.
Ricky Bly didn't have to win Saturday's Route 103 Auto Late Model Sportsman feature to wear the 2022 crown. With 11 victories already under his belt this summer, he entered the points finale with title in hand.
Craig Smith, on the other hand, had everything to gain Saturday, wrapping up a big final half of the 2022 campaign by blasting to his second CMP win of the summer – those along with another at Monadnock – by dominating the final 23 laps of Saturday's main event. Cam Curtis was strong in second, with Bly finishing in his shadow before wowing the crowd with a monstrous championship smoke show.
At some point this summer, Bradon Morrie passed one single extra car. While it probably didn't seem like much at the time, that pass paid dividends Saturday, as Morrie won his first championship by only two points.
Erin Aiken dominated Saturday's In City Sugar Shack Mini Stock feature, leading Monadnock's 12-ex man Gordon Farnum under the checkers, with Sean Lantas strong in third. Finishing a very distant fourth aboard a loaner, Morrie earned the crown.
Chris Chambers entered Saturday's Pure Stock finale winless but atop the points parade. Now, he's the champion.
Chambers was second to the team car of Andrea St. Amour when the red flag halted action 19 laps into Saturday's main event. When St. Amour's ride came up lame for the restart, Chambers took over and never looked back.
Colton Martin was strong in second Saturday, with JD Stockwell's third-place run leaving him ten markers shy of the title. St. Amour rebounded to come home ninth, while Kyle Boniface's fast ride – twice into the top five with ease – ended pitside with two to go.
Maybe there's something in the water over in Grantham. Steve Miller Jr. concluded his first full season of Six Shooter racing by winning both his heat and feature races Saturday. It was his fourth victory of the summer in the Avery Insurance-sponsored division.
But it was his father, Steve Miller Sr., second on the night, who celebrated his first career track title Saturday. Storming into victory lane seven times this season, the elder Miller finished 20 points above his son in the championship chase.
While Saturday's Arrowhead Motors Presents Championship Night event concluded the speedway's 2022 points season, there's much more yet to come this year at the Thrasher Road oval. The storied third-mile will roar back into action next on October 14, 15 and 16 with its annual Fall Challenge weekend.
CLAREMONT MOTORSPORTS PARK SEPTEMBER 24 TOP TENS
LATE MODEL SPORTSMAN: Craig Smith, Cam Curtis, Ricky Bly, Cody Schoolcraft, Ryan Bell, Ben Poland, Steve Bly, Dylan Zullo, Dustin Leoutsakos, Dick LaMotte.
STREET STOCK: Dave Greenslit, Brandon Gray, Matt Sonnhalter, Andrew Brousseau, Haydon Grenier, Chris Lindquist, Tim Wenzel, Trevor Rocke, Erik Smith, Briana Akusis.
NHSTRA MODIFIED: Trevor Bleau, Todd Patnode, Nate Wenzel, Andrew Martell, Jeremy Zullo, Brian Morway, Mark Cole, Greg Belisle.
MINI STOCK: Erin Aiken, Gordon Farnum, Sean Lantas, Bradon Morrie, Pat Houle, Hailey LaClair, Wally Brown.
PURE STOCK: Chris Chambers, Colton Martin, JD Stockwell, Kyle Templeton, Craig Smith, Zach Richardson, Amy Jaycox, Colton Hull, Andrea St. Amour, Jim Rhodes.
SIX SHOOTER: Steve Miller Jr., Steve Miller Sr., Andrew Scott, Tyler Scott, Trevyr Young, Eric Griffin, Madison Leduc, Lucas Bernatchy, Robert Shaw.
---
Article Credit: Gary Dutton
Back to News