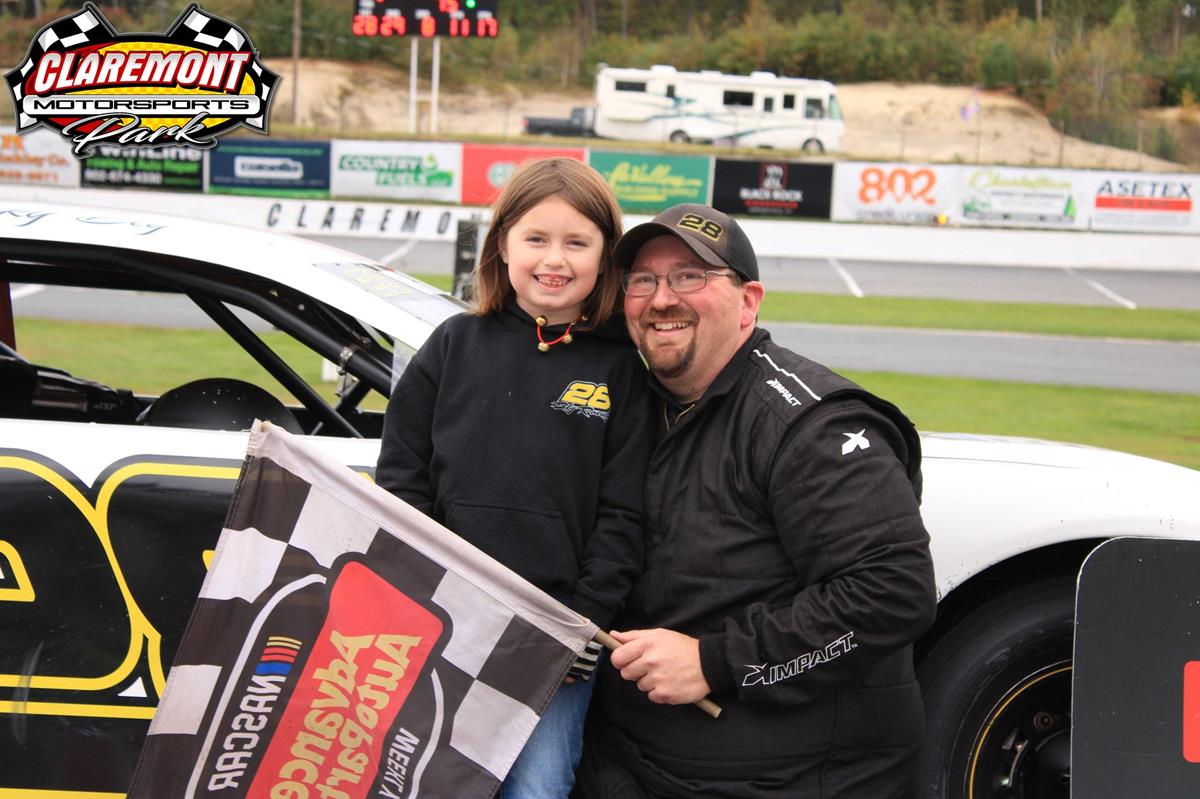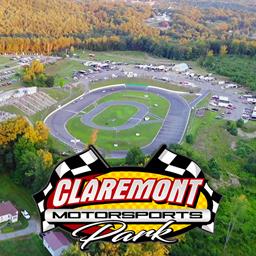 10/16/2023
Claremont Motorsports Park
---
RENFREW, RICKY BLY, AND TABOR WIN SEASON FINALE AT CLAREMONT
CLAREMONT, N.H. –
Jimmy Renfrew Jr. won one of three R&R Wholesalers Open Street Stock 20-lappers Sunday at Claremont Motorsports Park and, after all three had been checkered, was crowned overall champion of the 60-lap event.
Hometracker Matt Sonnhalter and NHSTRA Belt winner Justin Beecher won the other two 20s, but Renfrew's lower cumulative total earned him the top spot, edging Sonnhalter by a thin two-point margin.
Former CMP track champ Ricky Bly dominated the ACT Tour-type Late Model 25-lapper, holding off 15-time champ Aaron Fellows for Sunday bragging rights, while Outlaw star Guy Caron rocketed to victory in his last run of the season.
Nolan McClay, as he'd done two days earlier, dominated the Mini Stocks, and Keegan Tabor completed his first CMP campaign by topping the Pure Stocks. In the battle of Six Shooter titans, Steve Miller Sr. held off his son Steve Jr. in the latest chapter of their family rivalry.
Canadian Roger Lebreche topped the 602 Dirt Modifieds Sunday, and Canaan's Rick Sanville wired the special Bear Ridge Coupe event.
Two decades into the 21st century, it's no longer rare to see third-generation drivers in competition. Having all three generations competing on the same event card, though, is still a head-turner. A number of summers ago, Bear Ridge Speedway's racing Piersons got it done. Sunday, it was the Croydon Fellows trio; granddad Allen, son Aaron, and grandson Aaron Jr. all in action at the Thrasher Road speedplant.
Day three of the 2023 Fall Challenge event got under way with Candia's Renfrew Jr. – no stranger to CMP victory lane – wiring the first 20-lapper to take a big step toward the day's overall victory in the R&R Open Street Stock biggie.
Though Friday and Saturday Challenge winners Dave Greenslit and Milton Duran passed on Sunday's three-pack, Renfrew still faced a wealth of top tier completion. Justin Beecher, Matt Sonnhalter, Dylan Zullo, and Trevor Rocke filled out the first top five.
Round two went to Sonnhalter, who took charge on lap three and never looked back. Renfrew was second in this go-round, followed by Adam Lovejoy, Beecher, and Rocke. Entering the third segment, Renfrew held a one-point advantage over Sonnhalter.
And while Beecher did all he could to overtake the top two, his third segment win wasn't enough, Renfrew, second again, locked up the top spot. Sonnhalter was third in this one, with Lovejoy and Josh Girard rounding out the top five.
If the drivers weren't fully focused on bragging rights Sunday, their many fans in the grandstand surely were, as Ricky Bly and Aaron Fellows sat side-by-side on row one as the 75-lap ACT Tour-type Late Model main went green.
This one, though, was over quickly, as a sudden wobble dropped Fellows back to fourth and Bly blasted off to victory. Fellows, racing with no brakes, got back up to second on lap 53 but could only close to within five lengths of Bly. Chris Roberts, strong and steady all day, came home third, checkering just ahead of Chip Grenier and Kyle Goodnow
Guy Caron, as he'd done many times this summer, blew away the field in the Brodie Ladue State Farm Outlaw 25. Often racing in his own time zone Sunday, he rocketed to victory.
Sunday's runner-up, though, was just as pleased with his afternoon performance. Involved in the crash of the decade a year ago, and then thrashed and trashed mightily Friday night, Tyler Lescord blasted back to finish a fan-favorite second. Travis Cass was the bronze medal finisher, with Randy Cole Jr. and Cole Littlewood rounding out the top five.
Andrea St. Amour and Keegan Tabor set on row one as the LaValley Building Supply Pure Stock feature went green. A frontchute brushup sent St. Amour looping into the turn-one wall and moved her stepdad, 2022 track champ Chris Chambers, alongside Tabor.
Carlos Grenier was strongly in the hunt too, but a lap nine jingle saw both Chambers and Grenier climbing the hill pitside and long-ago Mod pilot David Smith suddenly up to second. With Smith holding strong to earn the runner-up hardware, St. Amour's magnificent march back through the field netted her third. Zach Richardson was fourth on the day, and Bay State hot shoe Jimmy Zellman came home fifth.
As he'd done in Friday night's Fall Challenge event, Unity's Nolan McClay took no prisoners en route to the Mini Stock victory. Hometrack hot shoe Erin Aiken kept him close until suddenly dipping pitside on lap 16. At the checker's, it was Rick Lamotte second and Colton Hull third.
Steve Miller Jr. finished glued to his father's bumper in Saturday's Six Shooter feature. That, though, was for second and third; on Sunday they did it again, this time with the senior Miller picking up the win. Trevyn Young came home third in Sunday's season finale.
Canadian ace Roger Lebreche blasted to victory in Sunday's 602 Dirt Modified feature. Brent Warren was second, and Tim Martin third. In the Bear Ridge Coupe main event, Rick Sanville held Jeff Robbins at bay to score the win. Heat winner Jason Horniak was third in the feature, with Jeremy Hodge and Steven Gardner rounding out the top five.
---
Article Credit: Gary Dutton
Submitted By: Mark Beaudry
Article Media
Back to News