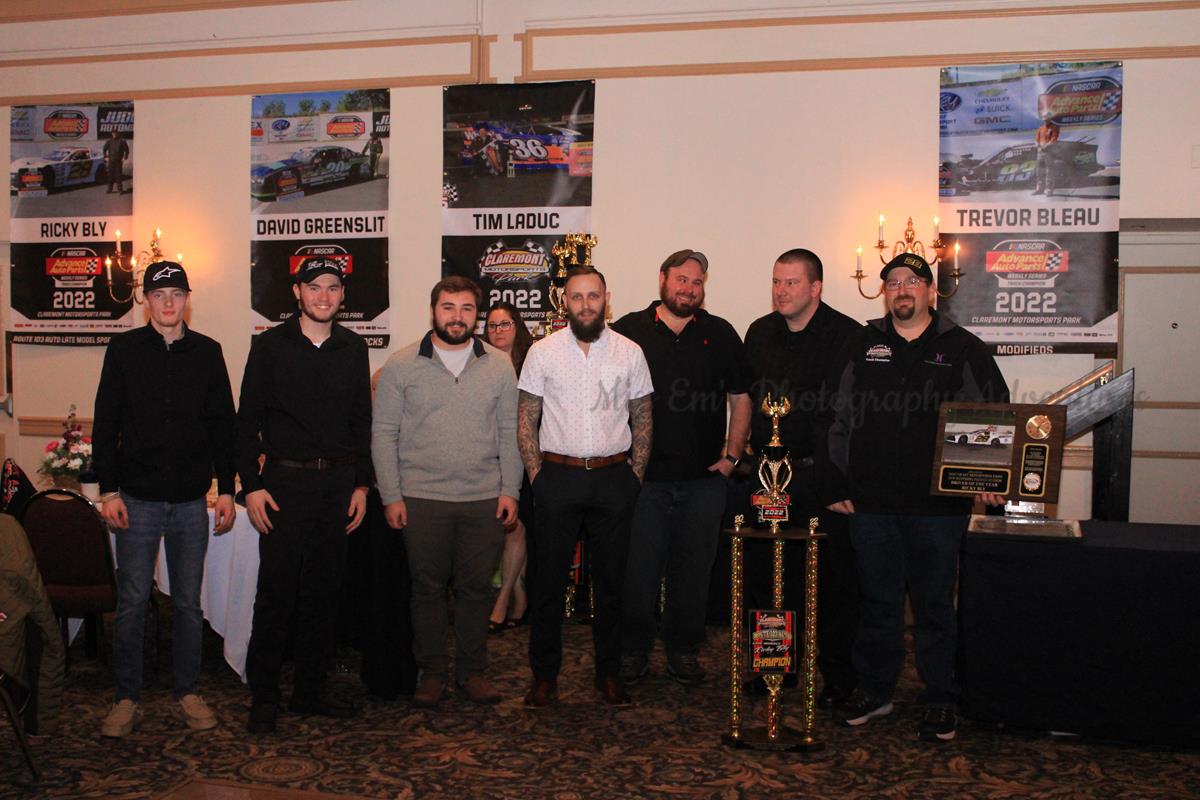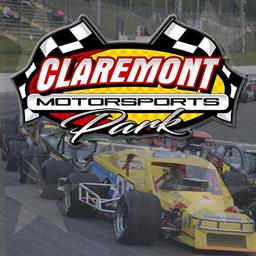 1/17/2023
Claremont Motorsports Park
---
2022 Champions honored at banquet.
LEBANON, N.H. – Seven 2022 divisional champions and many other top
achievers of the 2022 racing season at Claremont Motorsports Park were honored
Saturday, January 14, as the 70-year-old speedplant saluted the stars of season past and bid a fond farewell to outgoing promoter Mike Parks. Parks, whose five-year plan to restore vitality to the Thrasher Road speedplant was cut short after three seasons of positive growth at the third-mile oval, spoke fondly of his time there. Stating how honored he'd been to stand at the helm of the track at which he'd grown up, he spoke glowingly of his accomplishments.
From his first night of the then-pandemic-quarantined empty grandstands, to the recent packed pits of his 2022 Turkey Day Classic, he noted the track's steady path forward, including the return after four decades of the ISMA Super Modifieds and, after a 15-year hiatus, the NASCAR Whelen Modifieds.
And, he concluded, the sport has a huge immediate local growth potential. Calling out numerous teenaged drivers in attendance at Saturday's packed awards banquet, he said the sport here in the region has an "unbelievably bright future."
Dave Greenslit, perhaps the most dominant driver in New England over the past decade, was honored as the 2022 R.E. Hinkley Fuels Street Stock champion at CMP. The ten-time 2022 winner, earned his fourth consecutive – fifth overall – track title at the
Thrasher Road oval, those along with much regional and national success attained at the same time. Greenslit was one of six different 2022 Street Stock winners this past summer, with no fewer than 43 different teams signing in to compete.
Ricky Bly, an 11-time 2022 feature winner in the Route 102 Auto/Heads Up
Motorsports Late Model Sportsman division was awarded his second track LMS championship. The Sunapee star was also presented an award from Mainely Motorsports honoring him as their 2022 New Hampshire Driver of the Year.
T.J. Bleau won half of the eight NHSTRA Modified events contested last summer at CMP to earn his first track title there. Rookie Of The Year honoree Nate Wenzel finished second, and Aaron Fellows third.
Bradon Morrie survived a handful of blown engines to earn his first championship in the In City Sugar Shack Mini Stock division. Sean Lantas finished only two points behind him, and ROY Nick Houle was third on the season.
Green Mountain Boy Chris Chambers earned his only feature win of the summer on championship night in the LaValley Building Supply Pure Stock division but it was enough to boost him into the championship, edging out Bay State teen phenom JD Stockwell. Andrea St. Amour finished 2022 close behind in third.
Fourty-six different Pure Stock teams competed at CMP in 2022, with ten
different drivers scoring feature wins. Hometown teen Aiden White sat atop the points parade when he took time off in early September to play varsity football for Claremont's Stevens High School Cardinals.
Second-year driver Steve Miller was crowned the 2022 Avery Insurance Six
Shooter champion. His son, Steve Jr., finished second on the year in his very successful rookie campaign, and two-time 2022 winner Lucas Bernatchy was third on the year.
Second-generation dirt tracker Tim LaDuc, whose father, Flying Farmer Charlie LaDuc, competed here way back in the '60s, was crowned king of the 2022 Peanut's Auto 602 Dirt Modifieds. Jeff Parker – hauling all the way from Pennsylvania – was second on the summer, with Lenny Pillsbury third.
Honored Saturday as the 2022 CMP divisional Rookies Of The Year were Colton Martin, Pure Stock; Steve Miller Jr., Six Shooter; Nick Houle, Mini Stock; Haydon Grenier, Street Stock: Dylan Zullo, Late Model Sportsman; and Nate Wenzel, NHSTRA Modified.
CLAREMONT MOTORSPORTS PARK 2022 SEASONAL TOP TENS
STREET STOCK: DAVE GREENSLIT, Brandon Gray, Andrew Brousseau, Haydon Grenier, Matt Sonnhalter, Trevor Rocke, Briana Akusis, Dennis Greenwood, Erik Smith, Joe Tetreault.
LATE MODEL SPORTSMAN: RICKY BLY, Ben Poland, Cam Curtis, Dylan Zullo, Craig Smith, Steve Bly, Jack McClay, Cody Schoolcraft, Ryan Bell, Andrew Campbell.
NHSTRA MODIFIED: T.J. BLEAU, Nate Wenzel, Aaron Fellows, Andrew Martell, Jeremy Zullo, Brian Robie, Greg Belisle, Justin Beecher, Matt Kimball, Ben Byrne.
MINI STOCK: BRADON MORRIE: Sean Lantas, Nick Houle, David Thibodeau, Chris Judd, Wayne Kendall, Greg Millette, Josh Dunn, Hailey LeClair, Skylar Shippee.
PURE STOCK: CHRIS CHAMBERS, JD Stockwell, Andrea St. Amour, Colton Martin, Aiden White, Kyle Templeton, Travis Sykes, Amy Jaycox, Nolan McClay, Colton Hull.
SIX SHOOTER: STEVE MILLER, Steve Miller Jr., Lucas Bernatchy, Robert Shaw, Andrew Scott, Tyler Scott, Jacob Scott, Madison Leduc, Trevor Young.
602 DIRT MODIFIED: TIM LADUC, Jeff Parker, Lenny Pillsbury, Tanner Siemons, Marty Kelly, Brian Whittemore, Roger Lebreche, Earl Maxham, Vince Quenneville Jr., Matt Lashua.
---
Article Credit: Gary Dutton
Submitted By: Mark Beaudry
Article Media
Back to News