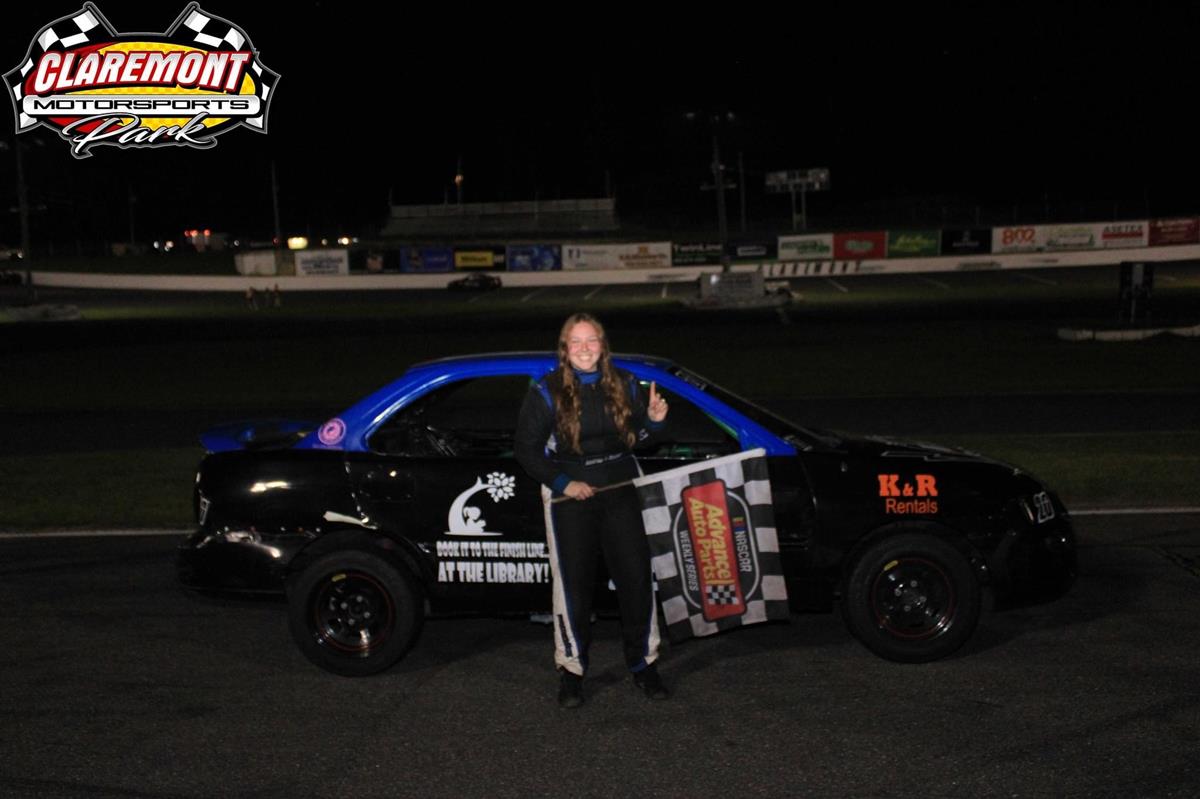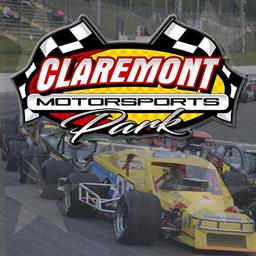 7/3/2023
Claremont Motorsports Park
---
BEECHER TOPS 25-CAR LATE MODEL FIELD FRIDAY AT CLAREMONT HULL AND STOCKWELL SPLIT LAFONT MEMORIAL TWIN 24s
CLAREMONT, N.H. – Colton Hull and JD Stockwell each won 24-lap Cody LaFont Memorial Race feature events in Pure Stock action Friday at Claremont Motorsports Park, with Andrea St. Amour, on the strength of her two top-three runs, declared the overall winner.
If the big crowd on hand thought they'd have to wait until event's end to enjoy the night's Independence Day weekend fireworks display, the 25-car Hinkley Fuel Company Late Model field got things started a little early, blasting their way through 35 highly-charged laps.
Former speedway champ Ben Poland left little doubt as to who had all bases covered in the Brody Ladue State Farm Outlaws, blasting to his second win of the young season, and Robert Shaw dominated the Avery Insurance Six Shooters Friday to earn his first victory lap of the summer.
Dave Aiken and Nolan McClay led the 20-car Pure Stock field to the green as the first LaFont 24 began. With Colton Hull, from row three, quickly joining them at the front, Aiken, McClay, and Hull raced under a blanket for much of the first 11 laps.
When McClay ducked pitside during a lap-12 caution, Aiken then made it a one-car race, opening large leads as he sped off to an apparent victory. But Hull stayed strong to take the checkers second, a performance that would earn him the post-race victory
With Andrea St. Amour holding third the last dozen laps, she would move up to second when Aiken came up lame in post-race tech, elevating Hull to his first place finish.
A top-nine redraw put JD Stockwell, aboard the CJ Johnson ride for the night, on the pole for the nightcap 24-lapper, from where he never looked back en route to victory in the caution-free second 24. Aiden White, St. Amour, and potent Colton Martin battled all the way in this one, with White earning the runner-up hardware, and St. Amour bringing home another podium finish with her second podium run of the night.
Starting Dave Greenslit up front is never a good idea for the rest of the field. Unless he gets pushed out of the way. The Late Model 35-lapper looked to be a classic battle between Greenslit and Justin Beecher as the 25-car field went to battle.
When Greenslit got bopped on lap three, it moved Matt Sonnhalter and Beecher to row one, Sonnhalter then taking charge and holding the point until Beecher took over on lap seven and quickly pulled away.
Relative CMP newcomer Austin Erickson got up for second on lap 12, but this one belonged to Beecher. Greenslit impressed with his charge back to the top three on lap 27. Robert Hagar, a force all night, came home fourth, and Chris Lindquist completed the top five.
Charlestown charger Ben Poland led all the way in the Outlaw 30-lapper, with Guy Caron draped all over him the first 23 go-rounds. It took five cautions to put this one in the books, and the fifth one saw Caron leaving on the hook.
Jeff Murray got up for second over the final seven laps, bringing potent Joe Brown with him, but it was Poland scoring Friday's win, taking the checkers eight lengths ahead of the runner-up Murray.
Robert Shaw romped to victory in the Avery Insurance Six Shooter 20-lap feature. Blasting off into a different time zone by lap ten in the caution-free event, he cruised to an easy victory. Trevor Young was second on the night, and Andrew Scott came home third.
Skeeter Beerce dominated both his races as the New England Pro Mini Cup Tour made its first visit of the summer at CMP. Sweeping both the heat and 15-lap feature race, Beerce led Shayla Kirk under the checkers in the main event.
Claremont Motorsports Park will return to action next on Friday, July 28, when it hosts the first night of a two-day racing event.
CLAREMONT MOTORSPORTS PARK JUNE 30 TOP PERFORMERS
PURE STOCK CODY LAFONT MEMORIAL 1st 24 LAP: Colton Hull, Andrea St. Amour, Colton Martin, Aiden White.
PURE STOCK CODY LAFONT MEMORIAL 2ND 24 LAP: JD Stockwell, Aiden White, Andrea St. Amour, Colton Martin..
LATE MODEL: Justin Beecher, Austin Erickson, Dave Greenslit, Robert Hagar, Chris Lindquist.
OUTLAW: Ben Poland, Jeff Murray, Joe Brown, Aaron Fellows Jr., Dustin Leoutsakos.
SIX SHOOTER: Robert Shaw, Trevor Young, Andrew Scott, Jacob Scott, Steve Miller Jr.
---
Article Credit: Gary Dutton
Submitted By: Mark Beaudry
Back to News