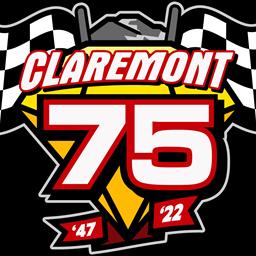 5/13/2022 - Claremont Motorsports Park
Claremont, NH
Sonny Fleury Memorial 150 with Cone Race Madness plus Enduro
We race in memory of one of the patriarchs of CMP, Sonny Fleury, as well as our first cone race and enduro of the season.
We also welcome the cast and crew of the movie "If I Could Ride" as they will serve as grand marshals of the event. Our very own Donnie Miller (The Golden Jet) wrote and co-produced the movie which premieres on Sunday, May 15 at the Lebanon Opera House.
Lori Oz will be performing the national anthem as well!
Feature Running Order
Avery Insurance Six Shooters - 20 Laps
LaValley Building Supply Pure Stocks - 25 Laps
In City Sugar Shack Mini Stocks - 25 Laps
R.E. Hinkley Street Stocks - 25 Laps
103 Auto | Heads Up Motorsports Late Model Sportsman - 25 Laps
NHSTRA Modifieds - 30 Laps
4-Cylinder Enduro - 50 Laps
Grandstand Admission
Adults 13+ - $ 15
Seniors 65+ - $ 10
Children 6-12 - $ 5
Ages 5 & under are free
Pit admission
With NASCAR License - $ 30
Without NASCAR License - $ 35
NHSTRA Modifieds

6 entries

Late Model Sportsman

14 entries

Street Stocks

18 entries

Mini Stocks

10 entries

Six Shooters

8 entries

Pure Stocks

19 entries

4-Cylinder Enduro
Full Event Information on MyRacePass
NHSTRA Modifieds
Finish
Start
#
Competitor
Hometown
+/-
1
1
15SC
Andrew Martell Charlestown, NH
Charlestown, NH
-
2
3
95
Trevor Bleau Troy, NH
Troy, NH
1
3
4
29NH
Aaron Fellows Croydon, NH
Croydon, NH
1
4
5
77
Walter Hammond Canaan, NH
Canaan, NH
1
5
2
03
Nathan Wenzel Granby, MA
Granby, MA
-3
6
6
6
Ben Byrne
-
Finish
Start
#
Competitor
Hometown
Time
1
3
15SC
Andrew Martell Charlestown, NH
Charlestown, NH
13.742
2
5
03
Nathan Wenzel Granby, MA
Granby, MA
13.742
3
6
95
Trevor Bleau Troy, NH
Troy, NH
13.742
4
1
29NH
Aaron Fellows Croydon, NH
Croydon, NH
13.742
5
2
77
Walter Hammond Canaan, NH
Canaan, NH
13.742
6
4
6
Ben Byrne
13.742
Late Model Sportsman
Finish
Start
#
Competitor
Hometown
+/-
1
7
28
Ricky Bly Sunapee, NH
Sunapee, NH
6
2
3
77
Camdyn Curtis Baltimore, VT
Baltimore, VT
1
3
4
23
Craig Smith Newport, NH
Newport, NH
1
4
5
16
Jack McClay Claremont, NH
Claremont, NH
1
5
14
42
Scott Boisvert Lebanon, NH
Lebanon, NH
9
6
2
10
Steve Bly Windsor, VT
Windsor, VT
-4
7
6
00
Ben Poland Charlestown, NH
Charlestown, NH
-1
8
9
17
Andrew Campbell Claremont, NH
Claremont, NH
1
9
1
16Z
Dylan Zullo Claremont, NH
Claremont, NH
-8
10
8
33
Steven Paquette Hampton Falls, NH
Hampton Falls, NH
-2
11
11
32
Travis Cass Claremont, NH
Claremont, NH
-
DNS
12
02NH
Greg Belisle Claremont, NH
Claremont, NH
-
DNS
13
3NH
Jeff Murray Claremont, NH
Claremont, NH
-
DNS
10
99
Dustin Leoutsakos Claremont, NH
Claremont, NH
-
Finish
Start
#
Competitor
Hometown
+/-
1
3
77
Camdyn Curtis Baltimore, VT
Baltimore, VT
2
2
5
28
Ricky Bly Sunapee, NH
Sunapee, NH
3
3
4
16
Jack McClay Claremont, NH
Claremont, NH
1
4
7
33
Steven Paquette Hampton Falls, NH
Hampton Falls, NH
3
Top 4 transfer
5
1
17
Andrew Campbell Claremont, NH
Claremont, NH
-4
6
6
02NH
Greg Belisle Claremont, NH
Claremont, NH
-
DNS
2
99
Dustin Leoutsakos Claremont, NH
Claremont, NH
-
Finish
Start
#
Competitor
Hometown
+/-
1
4
00
Ben Poland Charlestown, NH
Charlestown, NH
3
2
2
10
Steve Bly Windsor, VT
Windsor, VT
-
3
5
32
Travis Cass Claremont, NH
Claremont, NH
2
4
3
23
Craig Smith Newport, NH
Newport, NH
-1
Top 4 transfer
5
1
16Z
Dylan Zullo Claremont, NH
Claremont, NH
-4
6
7
42
Scott Boisvert Lebanon, NH
Lebanon, NH
1
DNS
6
3NH
Jeff Murray Claremont, NH
Claremont, NH
-
Street Stocks
Finish
Start
#
Competitor
Hometown
+/-
1
3
01
Robert Hagar Windsor, VT
Windsor, VT
2
2
10
20
David Greenslit Claremont, NH
Claremont, NH
8
3
7
00VT
Brandon Gray East Thetford, VT
East Thetford, VT
4
4
4
31K
Cody Schoolcraft Claremont, NH
Claremont, NH
-
5
1
83G
Haydon Grenier Claremont, NH
Claremont, NH
-4
6
8
81
Andrew Brousseau Claremont, NH
Claremont, NH
2
7
2
02
Briana Akusis Claremont, NH
Claremont, NH
-5
8
9
73
Joe Tetreault Enfield, NH
Enfield, NH
1
9
6
10
Jeremy Zullo Claremont, NH
Claremont, NH
-3
10
5
07
Mike Williams Franklin, NH
Franklin, NH
-5
11
15
79
Trevor Rocke Enfield, NH
Enfield, NH
4
12
17
85VT
Chris Riendeau Ascutney, VT
Ascutney, VT
5
13
14
73NH
Dennis Greenwood Newport, NH
Newport, NH
1
14
16
85
Kayleigh Eastman Sunapee, NH
Sunapee, NH
2
15
11
06NM
Scott Wade Charlestown, NH
Charlestown, NH
-4
16
13
7
Erik Smith Perkinsville, VT
Perkinsville, VT
-3
17
12
19
Jim Carley Newport, NH
Newport, NH
-5
18
18
95
Chris Colburn Claremont, NH
Claremont, NH
-
Finish
Start
#
Competitor
Hometown
+/-
1
6
00VT
Brandon Gray East Thetford, VT
East Thetford, VT
5
2
8
20
David Greenslit Claremont, NH
Claremont, NH
6
3
3
02
Briana Akusis Claremont, NH
Claremont, NH
-
4
4
31K
Cody Schoolcraft Claremont, NH
Claremont, NH
-
Top 4 transfer
5
7
73
Joe Tetreault Enfield, NH
Enfield, NH
2
6
2
73NH
Dennis Greenwood Newport, NH
Newport, NH
-4
7
1
06NM
Scott Wade Charlestown, NH
Charlestown, NH
-6
DNS
9
95
Chris Colburn Claremont, NH
Claremont, NH
-
DNS
5
79
Trevor Rocke Enfield, NH
Enfield, NH
-
Finish
Start
#
Competitor
Hometown
+/-
1
2
83G
Haydon Grenier Claremont, NH
Claremont, NH
1
2
3
01
Robert Hagar Windsor, VT
Windsor, VT
1
3
4
07
Mike Williams Franklin, NH
Franklin, NH
1
4
5
10
Jeremy Zullo Claremont, NH
Claremont, NH
1
Top 4 transfer
5
6
81
Andrew Brousseau Claremont, NH
Claremont, NH
1
6
8
85VT
Chris Riendeau Ascutney, VT
Ascutney, VT
2
7
7
85
Kayleigh Eastman Sunapee, NH
Sunapee, NH
-
8
1
7
Erik Smith Perkinsville, VT
Perkinsville, VT
-7
9
9
19
Jim Carley Newport, NH
Newport, NH
-
Mini Stocks
Finish
Start
#
Competitor
Hometown
+/-
1
8
07GM
Greg Millette Newport, NH
Newport, NH
7
2
2
53
Nick Houle Granby, MA
Granby, MA
-
3
5
99
Bradon Morrie
2
4
3
8
Sean Lantas Newport, NH
Newport, NH
-1
5
4
24
David Thibodeau Hartland, VT
Hartland, VT
-1
6
1
27NH
Lane Lantas Claremont, NH
Claremont, NH
-5
7
9
25W
Wayne Kendall
2
8
6
15
Hailey LaClair Claremont, NH
Claremont, NH
-2
9
7
51VT
Chris Judd Hartland, VT
Hartland, VT
-2
10
10
471
Eric Pomasko
-
Six Shooters
Finish
Start
#
Competitor
Hometown
+/-
1
3
68
Steve Miller Grantham, NH
Grantham, NH
2
2
2
07S
Robert Shaw Perkinsville, VT
Perkinsville, VT
-
3
4
13
Andrew Scott Perkinsville, VT
Perkinsville, VT
1
4
8
25X
Ryan Partridge Franklin, NH
Franklin, NH
4
5
5
118
Eric Griffin Chester, VT
Chester, VT
-
6
7
44
Tyler Scott Perkinsville, VT
Perkinsville, VT
1
7
1
79
Steve Miller Jr Grantham, NH
Grantham, NH
-6
8
6
25
Lucas Bernatchy Claremont, NH
Claremont, NH
-2
Finish
Start
#
Competitor
Hometown
+/-
1
4
07S
Robert Shaw Perkinsville, VT
Perkinsville, VT
3
2
2
79
Steve Miller Jr Grantham, NH
Grantham, NH
-
3
5
68
Steve Miller Grantham, NH
Grantham, NH
2
4
6
13
Andrew Scott Perkinsville, VT
Perkinsville, VT
2
Top 4 transfer
5
8
25X
Ryan Partridge Franklin, NH
Franklin, NH
3
6
1
118
Eric Griffin Chester, VT
Chester, VT
-5
7
7
44
Tyler Scott Perkinsville, VT
Perkinsville, VT
-
8
3
25
Lucas Bernatchy Claremont, NH
Claremont, NH
-5
Pure Stocks
Finish
Start
#
Competitor
Hometown
+/-
1
8
14
Nolan McClay Unity, NH
Unity, NH
7
2
5
29
Bruce Jaycox Clarksville, NH
Clarksville, NH
3
3
4
671
Kyle Templeton Claremont, NH
Claremont, NH
1
4
1
4
Colton Martin Claremont, NH
Claremont, NH
-3
5
3
5W
Aiden White Claremont, NH
Claremont, NH
-2
6
6
20VT
Chris Chambers Chelsea, VT
Chelsea, VT
-
7
14
41
Travis Sykes Hartland, VT
Hartland, VT
7
8
13
24
Colton Hull Fairlee, VT
Fairlee, VT
5
9
19
20
Andrea St. Amour Chelsea, VT
Chelsea, VT
10
10
2
65VT
Doug Nelson Springfield, VT
Springfield, VT
-8
11
12
88
Chris Carver Charlestown, NH
Charlestown, NH
1
12
10
77
Chad "Chooch" Snide Springfield, VT
Springfield, VT
-2
13
9
45
JD Stockwell Turner Falls, MA
Turner Falls, MA
-4
14
15
27
Amy Jaycox Hartland, VT
Hartland, VT
1
15
18
79P
Phillip Mason Claremont, NH
Claremont, NH
3
16
16
1NH
Carlos Grenier Charlestown, NH
Charlestown, NH
-
17
17
85
Brandon Picknell North Haverhill, NH
North Haverhill, NH
-
18
11
43VT
Chris Bingham Charlestown, NH
Charlestown, NH
-7
DNS
7
44
Jacob Fowler Enfield, NH
Enfield, NH
-
Finish
Start
#
Competitor
Hometown
+/-
1
5
29
Bruce Jaycox Clarksville, NH
Clarksville, NH
4
2
6
44
Jacob Fowler Enfield, NH
Enfield, NH
4
3
3
65VT
Doug Nelson Springfield, VT
Springfield, VT
-
4
7
77
Chad "Chooch" Snide Springfield, VT
Springfield, VT
3
Top 4 transfer
5
2
24
Colton Hull Fairlee, VT
Fairlee, VT
-3
6
1
43VT
Chris Bingham Charlestown, NH
Charlestown, NH
-5
7
4
79P
Phillip Mason Claremont, NH
Claremont, NH
-3
Finish
Start
#
Competitor
Hometown
+/-
1
6
14
Nolan McClay Unity, NH
Unity, NH
5
2
1
4
Colton Martin Claremont, NH
Claremont, NH
-1
3
4
5W
Aiden White Claremont, NH
Claremont, NH
1
4
2
41
Travis Sykes Hartland, VT
Hartland, VT
-2
Top 4 transfer
5
5
20
Andrea St. Amour Chelsea, VT
Chelsea, VT
-
6
3
1NH
Carlos Grenier Charlestown, NH
Charlestown, NH
-3
Finish
Start
#
Competitor
Hometown
+/-
1
4
671
Kyle Templeton Claremont, NH
Claremont, NH
3
2
5
20VT
Chris Chambers Chelsea, VT
Chelsea, VT
3
3
6
45
JD Stockwell Turner Falls, MA
Turner Falls, MA
3
4
2
27
Amy Jaycox Hartland, VT
Hartland, VT
-2
Top 4 transfer
5
3
85
Brandon Picknell North Haverhill, NH
North Haverhill, NH
-2
6
1
88
Chris Carver Charlestown, NH
Charlestown, NH
-5