Our Fall Challenge 2022 is shaping up to the be the best yet. Three days! Big events! One great weekend. Full details released soon.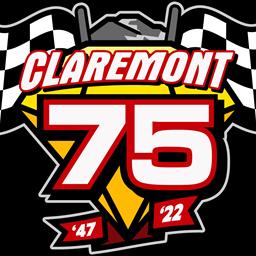 8/19/2022 - Claremont Motorsports Park
Claremont, NH
80's Night -$ 10 GS Admission -$ 2 Bud Light/Coors Light-NAAPWS w/ NE Dwarf Cars plus KOTH Enduro
80's Night with $ 2 Bud Light, Coors Light and Miller Lite!
Mullet Contest
All sorts of 80's music!
FEATURE RUNNING ORDER - 8:00 PM EST.
Avery Insurance Six Shooters - 20 Laps
LaValley Building Supply Pure Stocks - 25 Laps
In City Sugar Shack Mini Stocks - 25 Laps
New England Dwarf Cars - 25 Laps
Peanut's Auto Sales 602 DIRT Modifieds - 25 Laps
R.E. Hinkley Street Stocks - 25 Laps
NHSTRA Modifieds - 25 Laps
NHSTRA King of the Hill - 4-Cylinder Enduro - 50 Laps
Grandstand Admission
Adults 13+ - $ 10
Children 6-12 - $ 5
Ages 5 & under are free
Pit admission
With NASCAR License - $ 30
Without NASCAR License - $ 35
NHSTRA Modifieds

7 entries

Street Stocks

18 entries

Mini Stocks

8 entries

Six Shooters

10 entries

Pure Stocks

19 entries

602 DIRT Modifieds

6 entries

4-Cylinder Enduro
New England Dwarf Cars
Full Event Information on MyRacePass
NHSTRA Modifieds
Finish
Start
#
Competitor
Hometown
+/-
1
3
83
Trevor Bleau Troy, NH
Troy, NH
2
2
4
25NH
Brian Robie Sunapee, NH
Sunapee, NH
2
3
1
29NH
Aaron Fellows Croydon, NH
Croydon, NH
-2
4
7
15SC
Andrew Martell Charlestown, NH
Charlestown, NH
3
5
2
03
Nathan Wenzel Granby, MA
Granby, MA
-3
6
5
77
Justin Beecher Billerica, MA
Billerica, MA
-1
7
6
46
Jeremy Zullo Claremont, NH
Claremont, NH
-1
Finish
Start
#
Competitor
Hometown
Time
1
6
83
Trevor Bleau Troy, NH
Troy, NH
13.778
2
5
25NH
Brian Robie Sunapee, NH
Sunapee, NH
13.900
3
3
29NH
Aaron Fellows Croydon, NH
Croydon, NH
13.908
4
2
77
Justin Beecher Billerica, MA
Billerica, MA
13.999
5
1
03
Nathan Wenzel Granby, MA
Granby, MA
14.011
6
4
46
Jeremy Zullo Claremont, NH
Claremont, NH
14.044
7
7
15SC
Andrew Martell Charlestown, NH
Charlestown, NH
14.062
Street Stocks
Finish
Start
#
Competitor
Hometown
+/-
1
4
83G
Haydon Grenier Claremont, NH
Claremont, NH
3
2
8
20
David Greenslit Claremont, NH
Claremont, NH
6
3
7
33VT
Matt Sonnhalter White River Junction, VT
White River Junction, VT
4
4
10
00VT
Brandon Gray East Thetford, VT
East Thetford, VT
6
5
6
35
Chris Lindquist
1
6
9
81
Andrew Brousseau Claremont, NH
Claremont, NH
3
7
5
02
Briana Akusis Claremont, NH
Claremont, NH
-2
8
1
7
Erik Smith Perkinsville, VT
Perkinsville, VT
-7
9
12
10
Jimmy Zullo Claremont, NH
Claremont, NH
3
10
11
73
Joe Tetreault Enfield, NH
Enfield, NH
1
11
3
79
Trevor Rocke Enfield, NH
Enfield, NH
-8
12
14
96
Chip Laquire Franklin, NH
Franklin, NH
2
13
16
85
Kayleigh Eastman Sunapee, NH
Sunapee, NH
3
14
2
73NH
Dennis Greenwood Newport, NH
Newport, NH
-12
15
13
12
Mike Salois Goshen, NH
Goshen, NH
-2
16
15
24
Lane Lantas Claremont, NH
Claremont, NH
-1
17
18
19
Jim Carley Newport, NH
Newport, NH
1
DNS
17
95
Chris Colburn Claremont, NH
Claremont, NH
-
Finish
Start
#
Competitor
Hometown
+/-
1
2
79
Trevor Rocke Enfield, NH
Enfield, NH
1
2
3
02
Briana Akusis Claremont, NH
Claremont, NH
1
3
5
81
Andrew Brousseau Claremont, NH
Claremont, NH
2
4
4
33VT
Matt Sonnhalter White River Junction, VT
White River Junction, VT
-
Top 4 transfer
5
1
73NH
Dennis Greenwood Newport, NH
Newport, NH
-4
6
6
73
Joe Tetreault Enfield, NH
Enfield, NH
-
7
7
24
Lane Lantas Claremont, NH
Claremont, NH
-
8
8
95
Chris Colburn Claremont, NH
Claremont, NH
-
9
9
19
Jim Carley Newport, NH
Newport, NH
-
Finish
Start
#
Competitor
Hometown
+/-
1
3
83G
Haydon Grenier Claremont, NH
Claremont, NH
2
2
5
20
David Greenslit Claremont, NH
Claremont, NH
3
3
6
00VT
Brandon Gray East Thetford, VT
East Thetford, VT
3
4
4
35
Chris Lindquist
-
Top 4 transfer
5
1
7
Erik Smith Perkinsville, VT
Perkinsville, VT
-4
6
9
10
Jimmy Zullo Claremont, NH
Claremont, NH
3
7
2
12
Mike Salois Goshen, NH
Goshen, NH
-5
8
8
85
Kayleigh Eastman Sunapee, NH
Sunapee, NH
-
9
7
96
Chip Laquire Franklin, NH
Franklin, NH
-2
Mini Stocks
Finish
Start
#
Competitor
Hometown
+/-
1
4
53
Nick Houle Granby, MA
Granby, MA
3
2
7
51
Skyler Shippee Chesterfield, NH
Chesterfield, NH
5
3
1
99
Bradon Morrie
-2
4
3
51VT
Chris Judd Hartland, VT
Hartland, VT
-1
5
2
11NH
Josh Dunn Enfield, NH
Enfield, NH
-3
6
6
15
Hailey LaClair Claremont, NH
Claremont, NH
-
7
5
24
David Thibodeau Hartland, VT
Hartland, VT
-2
Finish
Start
#
Competitor
Hometown
+/-
1
2
99
Bradon Morrie
1
2
5
53
Nick Houle Granby, MA
Granby, MA
3
3
4
51VT
Chris Judd Hartland, VT
Hartland, VT
1
4
3
11NH
Josh Dunn Enfield, NH
Enfield, NH
-1
5
7
51
Skyler Shippee Chesterfield, NH
Chesterfield, NH
2
6
1
24
David Thibodeau Hartland, VT
Hartland, VT
-5
7
6
15
Hailey LaClair Claremont, NH
Claremont, NH
-1
DNS
8
13X
Wally Brown Canaan, NH
Canaan, NH
-
Six Shooters
Finish
Start
#
Competitor
Hometown
+/-
1
5
68
Steve Miller Grantham, NH
Grantham, NH
4
2
4
07S
Robert Shaw Perkinsville, VT
Perkinsville, VT
2
3
7
79
Steve Miller Jr Grantham, NH
Grantham, NH
4
4
8
06
Ryan Nelson Derry, NH
Derry, NH
4
5
3
25
Lucas Bernatchy Claremont, NH
Claremont, NH
-2
6
9
7
Trevyr Young White River Jct, VT
White River Jct, VT
3
DNS
6
44M
Madison Leduc
-
DNS
2
13
Andrew Scott Perkinsville, VT
Perkinsville, VT
-
DNS
1
28
Jacob Scott Springfield, VT
Springfield, VT
-
DQ
10
44
Tyler Scott Perkinsville, VT
Perkinsville, VT
-
Finish
Start
#
Competitor
Hometown
+/-
1
3
68
Steve Miller Grantham, NH
Grantham, NH
2
2
1
28
Jacob Scott Springfield, VT
Springfield, VT
-1
3
2
25
Lucas Bernatchy Claremont, NH
Claremont, NH
-1
4
4
79
Steve Miller Jr Grantham, NH
Grantham, NH
-
5
5
7
Trevyr Young White River Jct, VT
White River Jct, VT
-
Pure Stocks
Finish
Start
#
Competitor
Hometown
+/-
1
1
45
JD Stockwell Turner Falls, MA
Turner Falls, MA
-
2
11
5W
Aiden White Claremont, NH
Claremont, NH
9
3
4
79
Zach Richardson Alstead, NH
Alstead, NH
1
4
10
4
Colton Martin Claremont, NH
Claremont, NH
6
5
9
20VT
Chris Chambers Chelsea, VT
Chelsea, VT
4
6
5
671
Kyle Templeton Claremont, NH
Claremont, NH
-1
7
6
41
Travis Sykes Hartland, VT
Hartland, VT
-1
8
3
20
Andrea St. Amour Chelsea, VT
Chelsea, VT
-5
9
8
27
Amy Jaycox Hartland, VT
Hartland, VT
-1
10
12
1NH
Carlos Grenier Charlestown, NH
Charlestown, NH
2
11
2
38
Jim Rhodes Springfield, NH
Springfield, NH
-9
12
13
24
Colton Hull Fairlee, VT
Fairlee, VT
1
13
17
54
Jeffrey Turcotte Farmington, NH
Farmington, NH
4
14
15
43VT
Chris Bingham Charlestown, NH
Charlestown, NH
1
15
7
29
Bruce Jaycox Clarksville, NH
Clarksville, NH
-8
16
18
57JR
Jeff Ayotte Marlow, NH
Marlow, NH
2
17
16
4X
Justin Cousino Claremont, NH
Claremont, NH
-1
18
19
79P
Phillip Mason Claremont, NH
Claremont, NH
1
19
14
88
Chris Carver Charlestown, NH
Charlestown, NH
-5
Finish
Start
#
Competitor
Hometown
+/-
1
1
45
JD Stockwell Turner Falls, MA
Turner Falls, MA
-
2
6
20VT
Chris Chambers Chelsea, VT
Chelsea, VT
4
3
7
5W
Aiden White Claremont, NH
Claremont, NH
4
4
3
79
Zach Richardson Alstead, NH
Alstead, NH
-1
5
4
41
Travis Sykes Hartland, VT
Hartland, VT
-1
6
2
38
Jim Rhodes Springfield, NH
Springfield, NH
-4
7
8
4X
Justin Cousino Claremont, NH
Claremont, NH
1
8
9
54
Jeffrey Turcotte Farmington, NH
Farmington, NH
1
DNS
5
88
Chris Carver Charlestown, NH
Charlestown, NH
-
Finish
Start
#
Competitor
Hometown
+/-
1
2
20
Andrea St. Amour Chelsea, VT
Chelsea, VT
1
2
4
29
Bruce Jaycox Clarksville, NH
Clarksville, NH
2
3
6
4
Colton Martin Claremont, NH
Claremont, NH
3
4
3
671
Kyle Templeton Claremont, NH
Claremont, NH
-1
5
5
27
Amy Jaycox Hartland, VT
Hartland, VT
-
6
8
1NH
Carlos Grenier Charlestown, NH
Charlestown, NH
2
7
1
24
Colton Hull Fairlee, VT
Fairlee, VT
-6
8
7
43VT
Chris Bingham Charlestown, NH
Charlestown, NH
-1
9
9
57JR
Jeff Ayotte Marlow, NH
Marlow, NH
-
602 DIRT Modifieds
Finish
Start
#
Competitor
Hometown
+/-
1
1
36
Tim LaDuc Orwell, VT
Orwell, VT
-
2
3
2NH
Tanner Siemons Orford, NH
Orford, NH
1
3
2
58
Jeff Parker Havertown , PA
Havertown , PA
-1
4
5
70
Lenny Pillsbury Cornish, NH
Cornish, NH
1
5
4
100
Roger Lebreche St. Remy, QC
St. Remy, QC
-1
6
6
21
Earl Maxham
-
Finish
Start
#
Competitor
Hometown
+/-
1
1
36
Tim LaDuc Orwell, VT
Orwell, VT
-
2
3
58
Jeff Parker Havertown , PA
Havertown , PA
1
3
4
2NH
Tanner Siemons Orford, NH
Orford, NH
1
4
6
100
Roger Lebreche St. Remy, QC
St. Remy, QC
2
5
5
21
Earl Maxham
-
6
2
70
Lenny Pillsbury Cornish, NH
Cornish, NH
-4