3 Days of Heart Pounding Action

GET RECOGNIZED WITH MRP DRIVER PROFILES MyRacePass gives drivers a simple way to inform their fans on the latest happenings on the race team. Claim your FREE MRP Profile today so race fans can keep up with your team with the MyRacePass app or website by searching for you and seeing your driver profile anywhere, anytime!

2022 NAAPWS CHAMPIONS
Congrats to TJ Bleau, Ricky Bly, David Greenslit, Braden Morrie, Steve Miller, and Chris Chambers on your championships!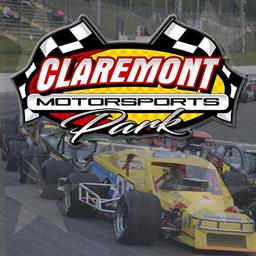 8/19/2022 - Claremont Motorsports Park
Claremont, NH
80's Night -$ 10 GS Admission -$ 2 Bud Light/Coors Light-NAAPWS w/ NE Dwarf Cars plus KOTH Enduro
80's Night with $ 2 Bud Light, Coors Light and Miller Lite!
Mullet Contest
All sorts of 80's music!
FEATURE RUNNING ORDER - 8:00 PM EST.
Avery Insurance Six Shooters - 20 Laps
LaValley Building Supply Pure Stocks - 25 Laps
In City Sugar Shack Mini Stocks - 25 Laps
New England Dwarf Cars - 25 Laps
Peanut's Auto Sales 602 DIRT Modifieds - 25 Laps
R.E. Hinkley Street Stocks - 25 Laps
NHSTRA Modifieds - 25 Laps
NHSTRA King of the Hill - 4-Cylinder Enduro - 50 Laps
Grandstand Admission
Adults 13+ - $ 10
Children 6-12 - $ 5
Ages 5 & under are free
Pit admission
With NASCAR License - $ 30
Without NASCAR License - $ 35
Asetex Modifieds

7 entries

RE Hinkley Late Models

18 entries

Avery Insurance Six Shooters

10 entries

LaValley Building Supply Pure Stocks

19 entries

Mini Stocks

8 entries

602 DIRT Modifieds

6 entries

4-Cylinder Enduro
R&R Open Street Stocks
Full Event Information on MyRacePass
Asetex Modifieds
Finish
Start
#
Competitor
Hometown
+/-
1
3
83
Trevor Bleau Troy, NH
Troy, NH
2
2
4
25NH
Brian Robie Sunapee, NH
Sunapee, NH
2
3
1
29NH
Aaron Fellows Croydon, NH
Croydon, NH
-2
4
7
15SC
Andrew Martell Charlestown, NH
Charlestown, NH
3
5
2
03
Nathan Wenzel Granby, MA
Granby, MA
-3
6
5
77
Justin Beecher Billerica, MA
Billerica, MA
-1
7
6
46
Jeremy Zullo Claremont, NH
Claremont, NH
-1
Finish
Start
#
Competitor
Hometown
Time
1
6
83
Trevor Bleau Troy, NH
Troy, NH
13.778
2
5
25NH
Brian Robie Sunapee, NH
Sunapee, NH
13.900
3
3
29NH
Aaron Fellows Croydon, NH
Croydon, NH
13.908
4
2
77
Justin Beecher Billerica, MA
Billerica, MA
13.999
5
1
03
Nathan Wenzel Granby, MA
Granby, MA
14.011
6
4
46
Jeremy Zullo Claremont, NH
Claremont, NH
14.044
7
7
15SC
Andrew Martell Charlestown, NH
Charlestown, NH
14.062
RE Hinkley Late Models
Finish
Start
#
Competitor
Hometown
+/-
1
4
83G
Haydon Grenier Claremont, NH
Claremont, NH
3
2
8
20
David Greenslit Claremont, NH
Claremont, NH
6
3
7
33VT
Matt Sonnhalter White River Junction, VT
White River Junction, VT
4
4
10
00VT
Brandon Gray East Thetford, VT
East Thetford, VT
6
5
6
35
Chris Lindquist
1
6
9
81
Andrew Brousseau Claremont, NH
Claremont, NH
3
7
5
02
Briana Akusis Claremont, NH
Claremont, NH
-2
8
1
7
Erik Smith Perkinsville, VT
Perkinsville, VT
-7
9
12
10
Jimmy Zullo Claremont, NH
Claremont, NH
3
10
11
73
Joe Tetreault Enfield, NH
Enfield, NH
1
11
3
79
Trevor Rocke Enfield, NH
Enfield, NH
-8
12
14
96
Chip Laquire Franklin, NH
Franklin, NH
2
13
16
85
Kayleigh Eastman Sunapee, NH
Sunapee, NH
3
14
2
73NH
Dennis Greenwood Newport, NH
Newport, NH
-12
15
13
12
Mike Salois Goshen, NH
Goshen, NH
-2
16
15
24
Lane Lantas Claremont, NH
Claremont, NH
-1
17
18
19
Jim Carley Newport, NH
Newport, NH
1
DNS
17
95
Chris Colburn Claremont, NH
Claremont, NH
-
Finish
Start
#
Competitor
Hometown
+/-
1
2
79
Trevor Rocke Enfield, NH
Enfield, NH
1
2
3
02
Briana Akusis Claremont, NH
Claremont, NH
1
3
5
81
Andrew Brousseau Claremont, NH
Claremont, NH
2
4
4
33VT
Matt Sonnhalter White River Junction, VT
White River Junction, VT
-
Top 4 transfer
5
1
73NH
Dennis Greenwood Newport, NH
Newport, NH
-4
6
6
73
Joe Tetreault Enfield, NH
Enfield, NH
-
7
7
24
Lane Lantas Claremont, NH
Claremont, NH
-
8
8
95
Chris Colburn Claremont, NH
Claremont, NH
-
9
9
19
Jim Carley Newport, NH
Newport, NH
-
Finish
Start
#
Competitor
Hometown
+/-
1
3
83G
Haydon Grenier Claremont, NH
Claremont, NH
2
2
5
20
David Greenslit Claremont, NH
Claremont, NH
3
3
6
00VT
Brandon Gray East Thetford, VT
East Thetford, VT
3
4
4
35
Chris Lindquist
-
Top 4 transfer
5
1
7
Erik Smith Perkinsville, VT
Perkinsville, VT
-4
6
9
10
Jimmy Zullo Claremont, NH
Claremont, NH
3
7
2
12
Mike Salois Goshen, NH
Goshen, NH
-5
8
8
85
Kayleigh Eastman Sunapee, NH
Sunapee, NH
-
9
7
96
Chip Laquire Franklin, NH
Franklin, NH
-2
Avery Insurance Six Shooters
Finish
Start
#
Competitor
Hometown
+/-
1
5
68
Steve Miller Grantham, NH
Grantham, NH
4
2
4
07S
Robert Shaw Perkinsville, VT
Perkinsville, VT
2
3
7
79
Steve Miller Jr Grantham, NH
Grantham, NH
4
4
8
06
Ryan Nelson Derry, NH
Derry, NH
4
5
3
25
Lucas Bernatchy Claremont, NH
Claremont, NH
-2
6
9
7
Trevyr Young White River Jct, VT
White River Jct, VT
3
DNS
6
44M
Madison Leduc
-
DNS
2
13
Andrew Scott Perkinsville, VT
Perkinsville, VT
-
DNS
1
28
Jacob Scott Springfield, VT
Springfield, VT
-
DQ
10
44
Tyler Scott Perkinsville, VT
Perkinsville, VT
-
Finish
Start
#
Competitor
Hometown
+/-
1
3
68
Steve Miller Grantham, NH
Grantham, NH
2
2
1
28
Jacob Scott Springfield, VT
Springfield, VT
-1
3
2
25
Lucas Bernatchy Claremont, NH
Claremont, NH
-1
4
4
79
Steve Miller Jr Grantham, NH
Grantham, NH
-
5
5
7
Trevyr Young White River Jct, VT
White River Jct, VT
-
LaValley Building Supply Pure Stocks
Finish
Start
#
Competitor
Hometown
+/-
1
1
45
JD Stockwell Turner Falls, MA
Turner Falls, MA
-
2
11
5W
Aiden White Claremont, NH
Claremont, NH
9
3
4
79
Zach Richardson Alstead, NH
Alstead, NH
1
4
10
4
Colton Martin Claremont, NH
Claremont, NH
6
5
9
20VT
Chris Chambers Chelsea, VT
Chelsea, VT
4
6
5
671
Kyle Templeton Claremont, NH
Claremont, NH
-1
7
6
41
Travis Sykes Hartland, VT
Hartland, VT
-1
8
3
20
Andrea St. Amour Chelsea, VT
Chelsea, VT
-5
9
8
27
Amy Jaycox Hartland, VT
Hartland, VT
-1
10
12
1NH
Carlos Grenier Charlestown, NH
Charlestown, NH
2
11
2
38
Jim Rhodes Springfield, NH
Springfield, NH
-9
12
13
24
Colton Hull Fairlee, VT
Fairlee, VT
1
13
17
54
Jeffrey Turcotte Farmington, NH
Farmington, NH
4
14
15
43VT
Chris Bingham Charlestown, NH
Charlestown, NH
1
15
7
29
Bruce Jaycox Clarksville, NH
Clarksville, NH
-8
16
18
57JR
Jeff Ayotte Marlow, NH
Marlow, NH
2
17
16
4X
Justin Cousino Claremont, NH
Claremont, NH
-1
18
19
79P
Phillip Mason Claremont, NH
Claremont, NH
1
19
14
88
Chris Carver Charlestown, NH
Charlestown, NH
-5
Finish
Start
#
Competitor
Hometown
+/-
1
1
45
JD Stockwell Turner Falls, MA
Turner Falls, MA
-
2
6
20VT
Chris Chambers Chelsea, VT
Chelsea, VT
4
3
7
5W
Aiden White Claremont, NH
Claremont, NH
4
4
3
79
Zach Richardson Alstead, NH
Alstead, NH
-1
5
4
41
Travis Sykes Hartland, VT
Hartland, VT
-1
6
2
38
Jim Rhodes Springfield, NH
Springfield, NH
-4
7
8
4X
Justin Cousino Claremont, NH
Claremont, NH
1
8
9
54
Jeffrey Turcotte Farmington, NH
Farmington, NH
1
DNS
5
88
Chris Carver Charlestown, NH
Charlestown, NH
-
Finish
Start
#
Competitor
Hometown
+/-
1
2
20
Andrea St. Amour Chelsea, VT
Chelsea, VT
1
2
4
29
Bruce Jaycox Clarksville, NH
Clarksville, NH
2
3
6
4
Colton Martin Claremont, NH
Claremont, NH
3
4
3
671
Kyle Templeton Claremont, NH
Claremont, NH
-1
5
5
27
Amy Jaycox Hartland, VT
Hartland, VT
-
6
8
1NH
Carlos Grenier Charlestown, NH
Charlestown, NH
2
7
1
24
Colton Hull Fairlee, VT
Fairlee, VT
-6
8
7
43VT
Chris Bingham Charlestown, NH
Charlestown, NH
-1
9
9
57JR
Jeff Ayotte Marlow, NH
Marlow, NH
-
Mini Stocks
Finish
Start
#
Competitor
Hometown
+/-
1
4
53
Nick Houle Granby, MA
Granby, MA
3
2
7
51
Skyler Shippee Chesterfield, NH
Chesterfield, NH
5
3
1
99
Braden Morrie Springfield, VT
Springfield, VT
-2
4
3
51VT
Chris Judd Hartland, VT
Hartland, VT
-1
5
2
11NH
Josh Dunn Enfield, NH
Enfield, NH
-3
6
6
15
Hailey LaClair Claremont, NH
Claremont, NH
-
7
5
24
David Thibodeau Hartland, VT
Hartland, VT
-2
Finish
Start
#
Competitor
Hometown
+/-
1
2
99
Braden Morrie Springfield, VT
Springfield, VT
1
2
5
53
Nick Houle Granby, MA
Granby, MA
3
3
4
51VT
Chris Judd Hartland, VT
Hartland, VT
1
4
3
11NH
Josh Dunn Enfield, NH
Enfield, NH
-1
5
7
51
Skyler Shippee Chesterfield, NH
Chesterfield, NH
2
6
1
24
David Thibodeau Hartland, VT
Hartland, VT
-5
7
6
15
Hailey LaClair Claremont, NH
Claremont, NH
-1
DNS
8
13X
Wally Brown Canaan, NH
Canaan, NH
-
602 DIRT Modifieds
Finish
Start
#
Competitor
Hometown
+/-
1
1
36
Tim LaDuc Orwell, VT
Orwell, VT
-
2
3
2NH
Tanner Siemons Orford, NH
Orford, NH
1
3
2
58
Jeff Parker Havertown , PA
Havertown , PA
-1
4
5
70
Lenny Pillsbury Cornish, NH
Cornish, NH
1
5
4
100
Roger Lebreche St. Remy, QC
St. Remy, QC
-1
6
6
21
Earl Maxham
-
Finish
Start
#
Competitor
Hometown
+/-
1
1
36
Tim LaDuc Orwell, VT
Orwell, VT
-
2
3
58
Jeff Parker Havertown , PA
Havertown , PA
1
3
4
2NH
Tanner Siemons Orford, NH
Orford, NH
1
4
6
100
Roger Lebreche St. Remy, QC
St. Remy, QC
2
5
5
21
Earl Maxham
-
6
2
70
Lenny Pillsbury Cornish, NH
Cornish, NH
-4