Our Fall Challenge 2022 is shaping up to the be the best yet. Three days! Big events! One great weekend. Full details released soon.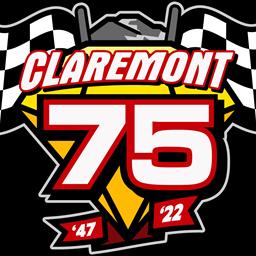 9/24/2022 - Claremont Motorsports Park
Claremont, NH
Championship Night with Fireworks Presented by Arrowhead Motors
On-track party from 4-5 PM. Come meet your favorite driver and get their autograph.
Racing at 5:15 PM
Fireworks provided by Noise "R" Us in Newport, NH. 8:30 PM
NHSTRA Modifieds
103 Auto | Heads Up Motorsports Late Model Sportsman
R.E. Hinkley Street Stocks
In City Sugar Shack Mini Stocks
Avery Insurance Six Shooters
LaValley Building Supply Pure Stocks
Grandstand Admission
Adults 13+ - $ 15
Seniors 65+ - $ 10
Children 6-12 - $ 5
Ages 5 & under are free
Pit admission
With NASCAR License - $ 30
Without NASCAR License - $ 35
NHSTRA Modifieds

8 entries

Late Model Sportsman

12 entries

Street Stocks

21 entries

Mini Stocks

9 entries

Six Shooters

9 entries

Pure Stocks

17 entries
Full Event Information on MyRacePass
NHSTRA Modifieds
Finish
Start
#
Competitor
Hometown
+/-
1
3
83
Trevor Bleau Troy, NH
Troy, NH
2
2
5
2X
Todd Patnode Swanzey, NH
Swanzey, NH
3
3
2
03
Nathan Wenzel Granby, MA
Granby, MA
-1
4
7
15SC
Andrew Martell Charlestown, NH
Charlestown, NH
3
5
1
46
Jeremy Zullo Claremont, NH
Claremont, NH
-4
6
4
33
Brian Morway Cornish Flat, NH
Cornish Flat, NH
-2
7
8
71
Mark Cole Lebanon, NH
Lebanon, NH
1
8
6
02
Greg Belisle Claremont, NH
Claremont, NH
-2
Finish
Start
#
Competitor
Hometown
Time
1
6
2X
Todd Patnode Swanzey, NH
Swanzey, NH
2
8
83
Trevor Bleau Troy, NH
Troy, NH
3
5
03
Nathan Wenzel Granby, MA
Granby, MA
4
4
46
Jeremy Zullo Claremont, NH
Claremont, NH
5
3
33
Brian Morway Cornish Flat, NH
Cornish Flat, NH
6
1
71
Mark Cole Lebanon, NH
Lebanon, NH
7
2
02
Greg Belisle Claremont, NH
Claremont, NH
8
7
15SC
Andrew Martell Charlestown, NH
Charlestown, NH
Late Model Sportsman
Finish
Start
#
Competitor
Hometown
+/-
1
3
23
Craig Smith Newport, NH
Newport, NH
2
2
4
77
Camdyn Curtis Baltimore, VT
Baltimore, VT
2
3
7
28
Ricky Bly Sunapee, NH
Sunapee, NH
4
4
5
31K
Cody Schoolcraft Claremont, NH
Claremont, NH
1
5
8
8NH
Ryan Bell Acworth, NH
Acworth, NH
3
6
6
00
Ben Poland Charlestown, NH
Charlestown, NH
-
7
2
10
Steve Bly Windsor, VT
Windsor, VT
-5
8
1
16Z
Dylan Zullo Claremont, NH
Claremont, NH
-7
9
10
99
Dustin Leoutsakos Claremont, NH
Claremont, NH
1
10
9
18
Dick LaMotte White River Junction, VT
White River Junction, VT
-1
11
11
3NH
Jeff Murray Claremont, NH
Claremont, NH
-
12
12
17
Andrew Campbell Claremont, NH
Claremont, NH
-
Finish
Start
#
Competitor
Hometown
+/-
1
2
23
Craig Smith Newport, NH
Newport, NH
1
2
4
28
Ricky Bly Sunapee, NH
Sunapee, NH
2
3
3
31K
Cody Schoolcraft Claremont, NH
Claremont, NH
-
4
1
16Z
Dylan Zullo Claremont, NH
Claremont, NH
-3
5
5
99
Dustin Leoutsakos Claremont, NH
Claremont, NH
-
Top 5 transfer
6
6
17
Andrew Campbell Claremont, NH
Claremont, NH
-
Finish
Start
#
Competitor
Hometown
+/-
1
2
77
Camdyn Curtis Baltimore, VT
Baltimore, VT
1
2
3
00
Ben Poland Charlestown, NH
Charlestown, NH
1
3
1
10
Steve Bly Windsor, VT
Windsor, VT
-2
4
6
8NH
Ryan Bell Acworth, NH
Acworth, NH
2
5
5
3NH
Jeff Murray Claremont, NH
Claremont, NH
-
Top 5 transfer
6
4
18
Dick LaMotte White River Junction, VT
White River Junction, VT
-2
Street Stocks
Finish
Start
#
Competitor
Hometown
+/-
1
8
20
David Greenslit Claremont, NH
Claremont, NH
7
2
6
00VT
Brandon Gray East Thetford, VT
East Thetford, VT
4
3
7
33VT
Matt Sonnhalter White River Junction, VT
White River Junction, VT
4
4
4
81
Andrew Brousseau Claremont, NH
Claremont, NH
-
5
14
83G
Haydon Grenier Claremont, NH
Claremont, NH
9
6
9
35
Chris Lindquist
3
7
10
83
Tim Wenzel
3
8
5
79
Trevor Rocke Enfield, NH
Enfield, NH
-3
9
3
7
Erik Smith Perkinsville, VT
Perkinsville, VT
-6
10
12
02
Briana Akusis Claremont, NH
Claremont, NH
2
11
16
10
Jimmy Zullo Claremont, NH
Claremont, NH
5
12
11
73NH
Dennis Greenwood Newport, NH
Newport, NH
-1
13
13
24
Lane Lantas Claremont, NH
Claremont, NH
-
14
19
19
Jim Carley Newport, NH
Newport, NH
5
15
1
12
Mike Salois Goshen, NH
Goshen, NH
-14
16
2
73
Joe Tetreault Enfield, NH
Enfield, NH
-14
17
15
95
Chris Colburn Claremont, NH
Claremont, NH
-2
18
20
90
Ryan Bell Acworth, NH
Acworth, NH
2
19
18
91X
Xander Stillwell
-1
20
17
91
Robert Hagar Windsor, VT
Windsor, VT
-3
DNS
21
14
Earl Moul Springfield, VT
Springfield, VT
-
Finish
Start
#
Competitor
Hometown
+/-
1
4
81
Andrew Brousseau Claremont, NH
Claremont, NH
3
2
7
35
Chris Lindquist
5
3
5
79
Trevor Rocke Enfield, NH
Enfield, NH
2
4
6
33VT
Matt Sonnhalter White River Junction, VT
White River Junction, VT
2
5
2
73
Joe Tetreault Enfield, NH
Enfield, NH
-3
6
3
02
Briana Akusis Claremont, NH
Claremont, NH
-3
Top 6 transfer
7
1
73NH
Dennis Greenwood Newport, NH
Newport, NH
-6
8
8
91
Robert Hagar Windsor, VT
Windsor, VT
-
DNS
9
91X
Xander Stillwell
-
Finish
Start
#
Competitor
Hometown
+/-
1
6
20
David Greenslit Claremont, NH
Claremont, NH
5
2
5
00VT
Brandon Gray East Thetford, VT
East Thetford, VT
3
3
2
7
Erik Smith Perkinsville, VT
Perkinsville, VT
-1
4
8
83
Tim Wenzel
4
5
1
12
Mike Salois Goshen, NH
Goshen, NH
-4
6
7
10
Jimmy Zullo Claremont, NH
Claremont, NH
1
Top 6 transfer
7
3
24
Lane Lantas Claremont, NH
Claremont, NH
-4
8
10
95
Chris Colburn Claremont, NH
Claremont, NH
2
9
9
19
Jim Carley Newport, NH
Newport, NH
-
10
4
83G
Haydon Grenier Claremont, NH
Claremont, NH
-6
Mini Stocks
Finish
Start
#
Competitor
Hometown
+/-
1
4
33
Erin Aiken Claremont, NH
Claremont, NH
3
2
3
46NH
Gordon Farnum Fitzwilliam, NH
Fitzwilliam, NH
1
3
2
8
Sean Lantas Newport, NH
Newport, NH
-1
4
7
99
Bradon Morrie
3
5
6
57
Pat Houle
1
6
8
15
Hailey LaClair Claremont, NH
Claremont, NH
2
7
1
13X
Wally Brown Canaan, NH
Canaan, NH
-6
DNS
5
51
Skyler Shippee Chesterfield, NH
Chesterfield, NH
-
DNS
9
24
David Thibodeau Hartland, VT
Hartland, VT
-
Finish
Start
#
Competitor
Hometown
+/-
1
4
13X
Wally Brown Canaan, NH
Canaan, NH
3
2
8
46NH
Gordon Farnum Fitzwilliam, NH
Fitzwilliam, NH
6
3
9
33
Erin Aiken Claremont, NH
Claremont, NH
6
4
5
8
Sean Lantas Newport, NH
Newport, NH
1
5
3
15
Hailey LaClair Claremont, NH
Claremont, NH
-2
6
2
51
Skyler Shippee Chesterfield, NH
Chesterfield, NH
-4
7
7
57
Pat Houle
-
8
1
24
David Thibodeau Hartland, VT
Hartland, VT
-7
DNS
6
99
Bradon Morrie
-
Six Shooters
Finish
Start
#
Competitor
Hometown
+/-
1
2
79
Steve Miller Jr Grantham, NH
Grantham, NH
1
2
5
68
Steve Miller Grantham, NH
Grantham, NH
3
3
3
13
Andrew Scott Perkinsville, VT
Perkinsville, VT
-
4
6
44
Tyler Scott Perkinsville, VT
Perkinsville, VT
2
5
1
7
Trevyr Young White River Jct, VT
White River Jct, VT
-4
6
7
118
Eric Griffin Chester, VT
Chester, VT
1
7
8
44M
Madison Leduc
1
8
9
25
Lucas Bernatchy Claremont, NH
Claremont, NH
1
DQ
4
07S
Robert Shaw Perkinsville, VT
Perkinsville, VT
-
Finish
Start
#
Competitor
Hometown
+/-
1
2
79
Steve Miller Jr Grantham, NH
Grantham, NH
1
2
3
13
Andrew Scott Perkinsville, VT
Perkinsville, VT
1
3
4
07S
Robert Shaw Perkinsville, VT
Perkinsville, VT
1
4
5
68
Steve Miller Grantham, NH
Grantham, NH
1
5
8
44
Tyler Scott Perkinsville, VT
Perkinsville, VT
3
6
1
7
Trevyr Young White River Jct, VT
White River Jct, VT
-5
7
6
118
Eric Griffin Chester, VT
Chester, VT
-1
8
7
44M
Madison Leduc
-1
DNS
9
25
Lucas Bernatchy Claremont, NH
Claremont, NH
-
Pure Stocks
Finish
Start
#
Competitor
Hometown
+/-
1
4
20VT
Chris Chambers Chelsea, VT
Chelsea, VT
3
2
5
4
Colton Martin Claremont, NH
Claremont, NH
3
3
7
45
JD Stockwell Turner Falls, MA
Turner Falls, MA
4
4
6
671
Kyle Templeton Claremont, NH
Claremont, NH
2
5
17
97
Craig Smith Unitu, NH
Unitu, NH
12
6
8
79
Zach Richardson Alstead, NH
Alstead, NH
2
7
2
27
Amy Jaycox Hartland, VT
Hartland, VT
-5
8
14
24
Colton Hull Fairlee, VT
Fairlee, VT
6
9
3
20
Andrea St. Amour Chelsea, VT
Chelsea, VT
-6
10
1
38
Jim Rhodes Springfield, NH
Springfield, NH
-9
11
10
88
Chris Carver Charlestown, NH
Charlestown, NH
-1
12
9
27OG
Kyle Boniface Winchester, NH
Winchester, NH
-3
13
12
43VT
Chris Bingham Charlestown, NH
Charlestown, NH
-1
14
11
1NH
Carlos Grenier Charlestown, NH
Charlestown, NH
-3
15
13
41
Travis Sykes Hartland, VT
Hartland, VT
-2
16
15
29
Bruce Jaycox Clarksville, NH
Clarksville, NH
-1
17
16
129
Freddie Rogers Ludlow, VT
Ludlow, VT
-1
Finish
Start
#
Competitor
Hometown
+/-
1
5
20VT
Chris Chambers Chelsea, VT
Chelsea, VT
4
2
7
45
JD Stockwell Turner Falls, MA
Turner Falls, MA
5
3
6
671
Kyle Templeton Claremont, NH
Claremont, NH
3
4
9
27OG
Kyle Boniface Winchester, NH
Winchester, NH
5
5
3
27
Amy Jaycox Hartland, VT
Hartland, VT
-2
Top 5 transfer
6
1
88
Chris Carver Charlestown, NH
Charlestown, NH
-5
7
4
41
Travis Sykes Hartland, VT
Hartland, VT
-3
8
2
43VT
Chris Bingham Charlestown, NH
Charlestown, NH
-6
9
8
29
Bruce Jaycox Clarksville, NH
Clarksville, NH
-1
Finish
Start
#
Competitor
Hometown
+/-
1
7
97
Craig Smith Unitu, NH
Unitu, NH
6
2
4
4
Colton Martin Claremont, NH
Claremont, NH
2
3
2
38
Jim Rhodes Springfield, NH
Springfield, NH
-1
4
3
20
Andrea St. Amour Chelsea, VT
Chelsea, VT
-1
5
6
79
Zach Richardson Alstead, NH
Alstead, NH
1
Top 5 transfer
6
5
24
Colton Hull Fairlee, VT
Fairlee, VT
-1
7
1
1NH
Carlos Grenier Charlestown, NH
Charlestown, NH
-6
8
8
129
Freddie Rogers Ludlow, VT
Ludlow, VT
-