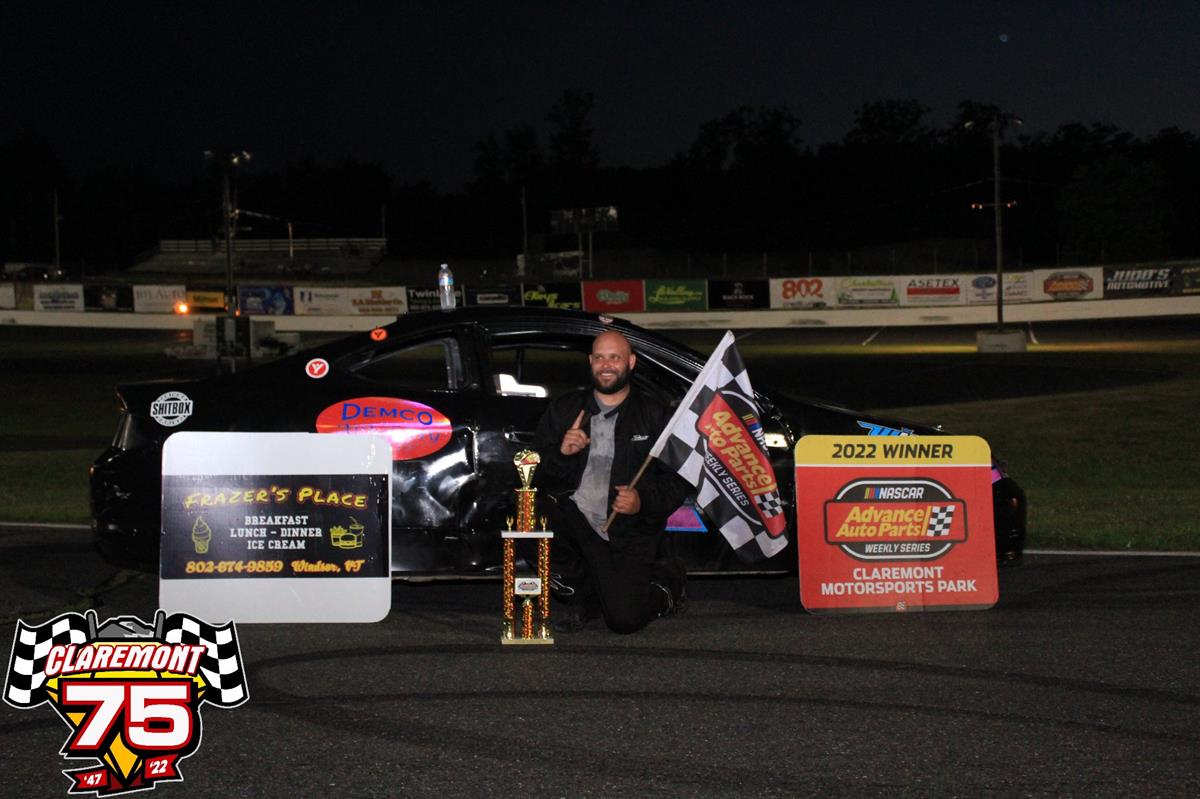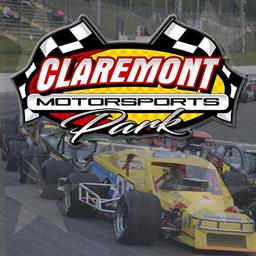 7/23/2022
Claremont Motorsports Park
---
Boniface and McClay Earn LaFont Checkers at Claremont
CLAREMONT, N.H. – Kyle Boniface and Nolan McClay each won a 24-lap Cody LaFont Memorial race Friday, July 22, at Claremont Motorsports Park, as 31 LaValley Building Suppy Pure Stocks squared off in the sixth annual LaFont tribute event.
And, on the 12th completed CMP event of the season, both Trevor Rocke and Cody Schoolcraft turned in career-first performances, Rocke earning his first R.E Hinkley Fuels Street Stock victory lap, and Schoolcraft matching that feat in the Route 103 Auto/Heads Up Motorsports Late Model Sportsmen.
Mini Stock ace Greg Millette roared to his third win of the summer, with 602 Dirt Modified veteran Tim LaDuc also scoring his third of the year. Robert Shaw romped to victory for the second time this season in the Six Shooters, and Jimmy Zellman blew away the field in the 15-lap Pure Stock B feature.
With a pair of $850 winner's prizes on the line in the LaFont Memorial twins, things were bound to be fast and furious. Rookie Aiden White, already a feature winner this summer, took charge on the opening lap of the first 24, with Kyle Templeton in his shadow.
Monadnock regular Kyle Boniface was up to second by lap five, then running glued to the younger driver's bumper until low-lining to the front on lap 16 and charging off to the big payday ahead of White and Andrea St. Amour.
In the nightcap, Nolan McClay led all the way, taking the lead from Billy Graham on lap one and never looking back. Travis Sykes, who had struggled in round one, impressed in second this time around, taking the checkers just ahead of Graham, Craig Smith, and Chris Chambers.
Trevor Rocke survived three restarts and the overwhelming pressure of Chris Riendeau over the final five laps to win his first Street Stock feature in impressive style.
With Riendeau second, the swarming pack came out of the final turn three-across, with Brandon Gray nipping Matt Sonnhalter for third. Street Stock Super Man Dave Greenslit finished behind the wall, credited with 14th on the night.
Cody Schoolcraft led all the way in the Late Model Sportsman 25-lapper to score his first career victory. Nine-time winner Ricky Bly, involved in a lap-one wobble with Steve Bly, was never a factor in this one, leaving on the hook on lap 13 but later returning many laps down to finish fifth on the night.
Cam Curtis, strong in second when disaster came calling, also left on the hook. Craig Smith finished his strong night's work in second, with rookie Dylan Zullo earning his first LMS trophy in third.
Greg Millette took the lead from Nick Houle on lap four of the In City Sugar Shack Mini Stock feature and rocketed off into another time zone to score his third 2022 victory. Chris Judd was strong in second, and Bradon Morrie came home third.
Eric Griffin led early in the Six Shooter feature, giving way to Steve Miller Jr. on lap five. Charging from row four, Robert Shaw took the lead on lap eight and darted off to win by a country mile. Miller Jr. and Andrew Scott joined him in trophy row.
Tim LaDuc led all the way in the Peanut's Auto 602 Dirt Modified 25-lapper. Tyler Siemons got up for second on lap 12 and reeled the leader in but had to settle for second, finishing at LaDuc's bumper. Marty Kelly was third.
Claremont Motorsports Park returns to action next Friday, July 29, when JDV Promotions presents one of the biggest events of the year when the NASCAR Whelen Modifieds come to town to battle in the 150-lap Clash At Claremont.
CLAREMONT MOTORSPORTS PARK JULY 22 TOP PERFORMERS
PURE STOCK CODY LAFONT MEMORIAL 24-LAP RACE 1: Kyle Boniface, Aiden White, Andrea St. Amour, JD Stockwell, Chris Chambers, Kyle Templeton, Craig Smith, Jim Rhodes, Nolan McClay, Ricky Fisette.
PURE STOCK CODY LAFONT MEMORIAL 24-LAP RACE 2: Nolan McClay, Travis Sykes, Billy Graham, Craig Smith, Chris Chambers, Kyle Templeton, JD Stockwell, Aiden White, Colton Martin, Andrew Harmon.
STREET STOCK: Trevor Rocke, Chris Riendeau, Brandon Gray, Matt Sonnhalter, Erik Smith, Dennis Greenwood, Andrew Brousseau, Mike Salois, Briana Akusis, Jim Carley.
LATE MODEL SPORTSMAN: Cody Schoolcraft, Craig Smith, Dylan Zullo, Chris Riendeau, Ricky Bly, Cam Curtis, Steve Bly.
MINI STOCK: Greg Millette, Chris Judd, Bradon Morrie, Bob Williams, Nick Houle, Wayne Kendall, Sean Lantas, Dave Thibodeau, David Pratt.
SIX SHOOTER: Robert Shaw, Steve Miller Jr., Andrew Scott, Jacob Scott, Steve Miller Sr., Tyler Scott, Lucas Bernatchy, Eric Griffin, Madison Leduc, Mark Moales.
602 DIRT MODIFIED: Tim LaDuc, Tanner Siemons, Marty Kelly, Todd Buckwald, Lenny Pillsbury.
---
Article Credit: Gary Dutton
Back to News