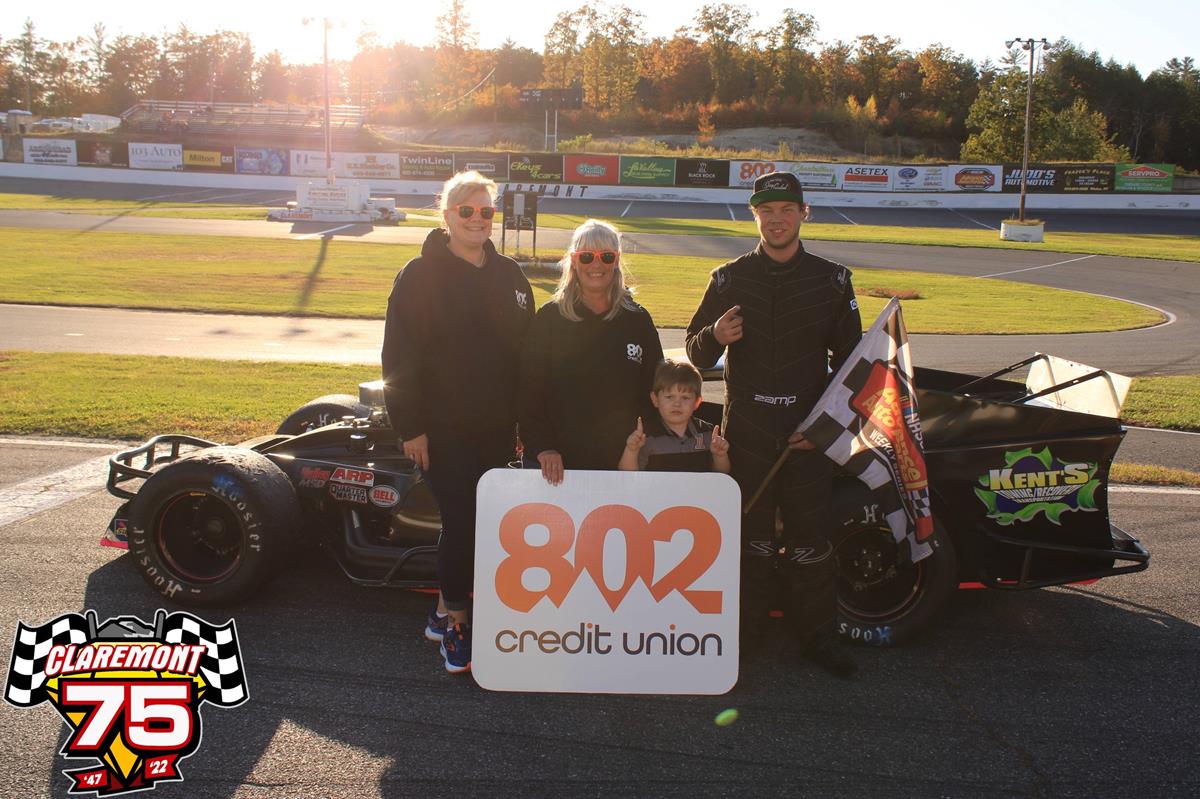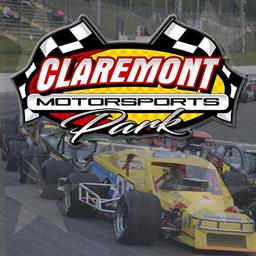 10/15/2022
Claremont Motorsports Park
---
2022 Champs Bleau, Bly, Greenslit and Miller Each Tak $ 1K Victory Laps on Fall Challenge Day 2
CLAREMONT, N.H.- Four of Claremont Motorsports Park's newly crowned 2022 divisional champions each punctuated his newest achievement by earning a $1,000 victory lap Saturday on day two of the 75-year-old speedway's Fall Challenge 2022 weekend.
Trevor Bleau, Dave Greenslit, Ricky Bly, and Steve Miller Sr. each picked up a $1,000 victory Saturday at the Thrasher Road oval.
Bleau led all the way in the caution-free NHSTRA Modified 40-lapper, leading former track champs Brian Robie and Matt Kimball under the checkers for his fifth win of the year. Robie, who set fast time with a lap at 13.815 seconds in earlier qualifying, got up for second on lap three but could never quite find his way to the front.
Bly took charge on a lap-14 restart from two-time 2022 winner Craig Smith and never looked back en route to his 12th win this season in the Route 103 Auto/Heads Up Motorsports Late Model Sportsman 50-lapper Saturday.
Slowed only by a lap-13 red flag for Alyssa Rivera's engine fire, this one went quickly into the books with Smith holding strong in second the final 37 laps, and Cam Curtis coming home third.
In the R.E. Hinkley Fuels Street Stock 50-lapper, Greenslit took the lead from fellow row-one starter Trevor Rocke on lap four and then held on through nine cautions to score his 11th victory of the season, with Geoff Rollins earning the runner-up hardware at his bumper.
With Greenslit scoring the $1,000 win and Rollins strong in second, Brandon Gray, who'd won his first of the summer the night before on night one of the Fall Challenge event, was third in the 25-car field. Matt Sonnhalter and Rocke rounded out the top five.
Steve Miller Sr., whose first career win came exactly a year ago in the inaugural CMP Fall Challenge, punctuated his 2022 Avery Insurance Six Shooter championship by winning the division's longest-ever race – 35 laps – Saturday and, with it, the $1,000 winner's purse.
Former CMP Street Stock champ Scott Vien finished second to Miller in Saturday's Six Shooter main event, with Miller's son, Steve Jr., a four-time 2022 winner himself, charging to third in the 11-car field.
The LaValley Building Supply Pure Stock $1,000 winner was still uncertain at night's end, with that race's finish unofficial pending final tech inspection determinations.
The In City Sugar Shack Mini Stock feature was slim in numbers as many opted out of Saturday's event, choosing to save their equipment to improve their chances in Sunday's $2,000-to-win event. Bob Williams prevailed Saturday to earn his second CMP victory lap of the year.
Monadnock dominator and 2022 champion Gordon Farnum sat in the top spot when his ride grenaded on lap 11, with Williams then taking charge and holding September 24 CMP winner Erin Aiken in his shadow to win Saturday's 25-lapper. Veteran Pat Houle earned the third-place trophy.
In support card action Saturday, the New England Dwarf Car Series put on one of the best shows of the afternoon, with Plaistow, N.H. ace Duane Skofield leading hot shoes Justin Harris and Cody Hodgdon under the checkers in a three-car blanket finish, with Hodgdon wrapping up the 2022 series championship.
Rob Richardi of Taunton, Mass. led all the way in the Pro 4 Modified feature, scoring the win Saturday ahead of Ryan McPartland and Kurt Lester. Skeeter "Hot Shoes" Bearce of Miford, N.H. topped the Granite State Mini Cup feature, taking the checkers ahead of 2022 series champion Shayla Kirk and Shawn Sargent. In the Slingshot/Ridge Runner 15-lapper, Dave Cameron of Alfred, Maine was victorious ahead of Kris Knox and Seth Drown.
CLAREMONT MOTORSPORTS PARK OCTOBER 15 TOP PERFORMERS
NHSTRA MODIFIED: Trevor Bleau, Brian Robie, Matt Kimball, Nate Wenzel, Cory Plummer, Mike Smith, Geoff Rollins, Jeremy Zullo, Travis Cass, Keith Patnode.
STREET STOCK: Dave Greenslit, Geoff Rollins, Brandon Gray, Matt Sonnhalter, Trevor Rocke, Joe Tetreault, Mike Williams, Kenny Thompson, Clark Brooks, Kayleigh Eastman.
LATE MODEL SPORTSMAN: Ricky Bly, Craig Smith, Cam Curtis, Steve Bly, Jack McClay, Ryan Currier, Clark Brooks, Ryan Bell, Chris Riendeau, George Brooks,
PURE STOCK (Official): Colton Martin, Chris Chambers, Nolan McClay, Aiden White, Andrea St. Amour, Craig Smith, Kyle Templeton, Carlos Grenier, Jim Rhodes, Brad Zahensky
MINI STOCK: Bob Williams, Erin Aiken, Pat Houle, Dana Shepard, Gordon Farnum.
SIX SHOOTER: Steve Miller Sr., Scott Vien, Steve Miller Jr., Ryan Partridge, Jacob Scott, Andrew Scott, Lucas Bernatchy, Jim Wilson, Tyler Scott, Michael Yeaton.
---
Article Credit: Gary Dutton
Back to News