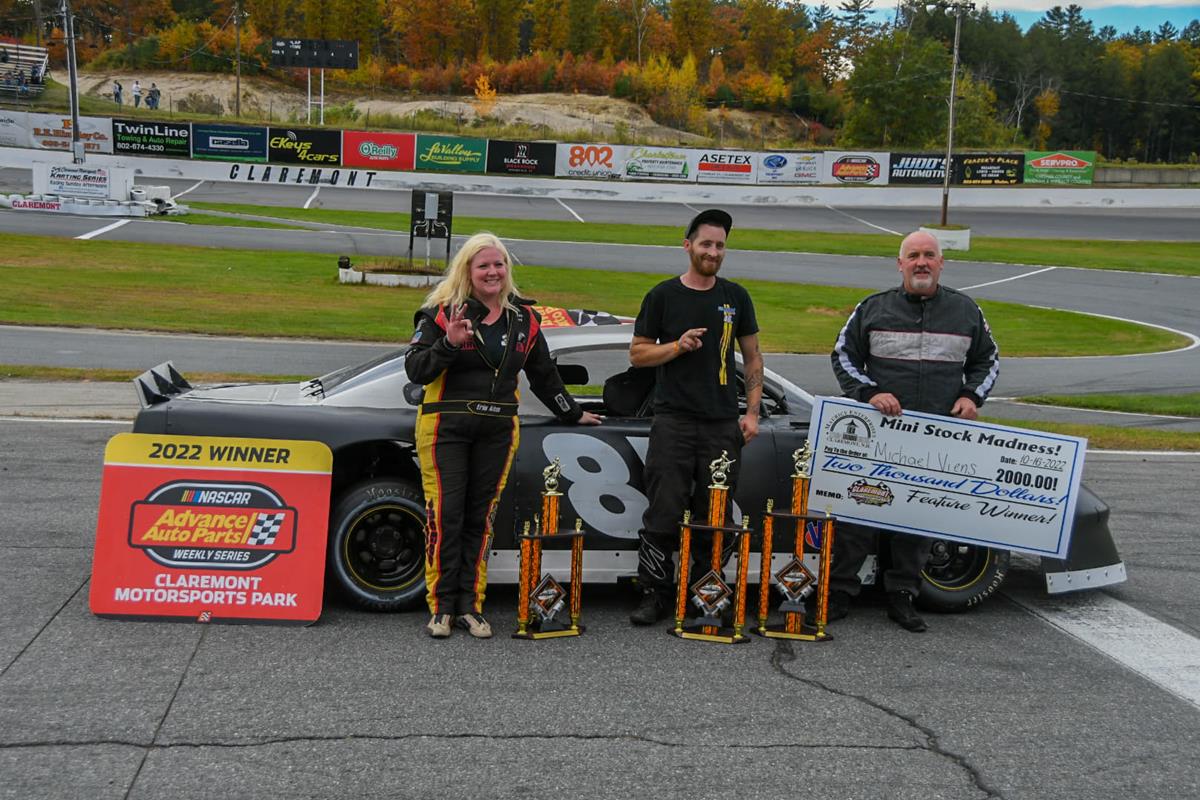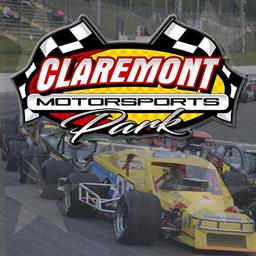 10/17/2022
Claremont Motorsports Park
---
Outsiders Viens and Brooks Big Sunday Winners at Claremont
CLAREMONT, N.H. – Bay State hot shoe Michael Viens scored his second big win of the season Sunday at Claremont Motorsports Park, topping the Maurice Enterprises Mini Stock Madness 50-lap main event and, with the win, pocketing a cool $2,000.
Viens wasn't the only one celebrating Sunday at the Thrasher Road speedplant, as a handful of drivers earned their first career CMP victory lap on the third and final day of the oval's Fall Challenge 2022 event presented by Key Chevrolet, Buick, GMC of Newport, and 14-year-old Colton Martin won his second feature race in as many days, Sunday's complete with a rousing victory lap.
Teens Cam Curtis and Clark Brooks each won his first CMP feature Sunday, Curtis topping the Late Model Sportsman 25-lapper, and Brooks scoring a $1,000 win in the 50-lap Open Street Stock main event.
Southern tier racer Jeremy Hayes romped to his first CMP win in the Six Shooters, Canadian pilot Roger Lebreche topped the Peanuts Auto 602 DIRT Mods, and Jeff Robbins won the Sportsman Coupe feature.
Viens, who won an NHSTRA Battle For The Belt 50-lapper here on September 2, took the lead from Gordon Farnum on lap 30 Sunday and never looked back. A lap-47 caution brought Farnum to his door but he prevailed to take the checkers by half a length. With Farnum second, Saturday night's In City Sugar Shack Mini Stock winner Erin Aiken came home third.
Brooks, who holds the speedway record for youngest feature winner after a Pure Stock victory five years ago, had his way for most of Sunday's Open Street Stock 50, but never had it easy.
Taking the lead from Tanner Woodward on lap four, he set fast time until watching Woodward power back to the point on lap 42. Six laps later, Brooks was back at the front, inching ahead on lap 47 and then holding off Geoff Rollins and Woodward to score the big win.
Martin's fourth win of the season came just a day after he'd won the $1,000 first prize here Saturday night. Saturday's victory, though, came after the first two cars under the checkers both bombed in the tech line, denying the young driver an on-track victory celebration.
Sunday's win, though, left no doubt! A picture of patience for a dozen laps, Martin rode in Andrea St. Amour's shadow until the Chelsea, VT. pilot opened the door ever so little and Martin stormed right in.
St. Amour stayed strong in second, with Chris Conroy's second strong run in as many days netting him third.
Cam Curtis led all the way to earn his first career Route 103 Auto/Heads Up Motorsports Late Model Sportsman feature. He ran the 25-lapper error free to hold off track champ Ricky Bly. Ryan Bell, one of a quartet of drivers doing double duty Sunday, came home third.
Hayes had never won at CMP before Sunday's Avery Insurance Six Shooter feature. The way he drove, you'd have thought he'd been here forever. Taking charge on lap two, Hayes drove off into another time zone, taking the checkers a half lap ahead of 2022 track champ Steve Miller Sr. Miller's son, Steve Jr., made a last-lap blast to snatch third from Jacob Scott.
Hauling all the way from Quebec Sunday, Roger Lebreche made sure he got his money's worth. Leading all the way, he scored the 602 DIRT Modified win ahead of former track champ Tanner Siemons and Vince Quenneville. Tim LaDuc, fourth Sunday, had plenty to celebrate too, earning the 2022 CMP DIRT Modified championship on the strength of his five-win season.
Jason Gray won the Sportsman Coupe qualifier, nipping Jeff Robbins as the Bear Ridge competitors made their annual pilgrimage to CMP but, in the feature, it was Robbins getting the upper hand. Taking charge on lap seven, he led Gray and Jason Horniak under the checkers to conclude the caution-free 25-lapper.
Claremont Motorsports Park will be back in action one more time this year, as speedway promoter Mike Parks rolls out the second annual Turkey Day Classic on Saturday, November 26. Bring your own stuffing and cranberry sauce; CMP will provide five great divisions of racing.
CLAREMONT MOTORSPORTS PARK OCTOBER 16 TOP PERFORMERS
MINI STOCK 50: Michael Viens, Gordon Farnum, Erin Aiken, Matt Sonnhalter, Louie Maher, Dana Shepard, Julia Kendall, Eric Pomasko, Garrett LaBounty, Cody LeBlanc.
STREET STOCK 50: Clark Brooks, Geoff Rollins, Tanner Woodward, Chris Riendeau, Brandon Gray, Trevor Rocke, Justin Prescott, Jim Storace, Andrew Brousseau, Haydon Grenier.
LATE MODEL SPORTSMAN: Camdyn Curtis, Ricky Bly, Ryan Bell, Steve Bly, Craig Smith, Jack McClay, Clark Brooks, Dennis Bell, George Brooks.
PURE STOCK: Colton Martin, Andrea St. Amour, Chris Conroy, Nolan McClay, Chris Chambers, Aiden White, Carlos Grenier, Jim Rhodes, Keegan Tabor, Chris Bingham.
SIX SHOOTER: Jeremy Hayes, Steve Miller Sr., Steve Miller Jr., Jacob Scott, Andrew Scott, Tyler Scott, Paul Colburn.
602 DIRT MODIFIED: Roger Lebreche, Tanner Siemons, Vince Quenneville, Tim LaDuc, Jeff Parker, Lenny Pillsbury, Brian Whittimore.
SPORTSMAN COUPE: Jeff Robbins, Jason Gray, Jason Horniak, Beany O'Haire, Tyler Stygles, Alexander Pushee, Cooper Hodge.
---
Article Credit: Gary Dutton
Back to News